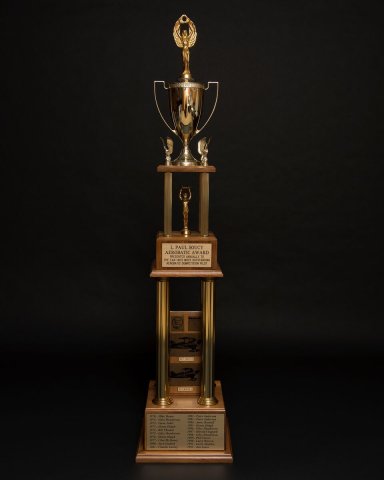 Origin
The award was conceived and donated by L. Paul Soucy of Louisville, Kentucky. Mr. Soucy was one of the first members of IAC and the Board of Directors. His purpose was to recognize not only skilled pilots but also those who supported a minimum number of contests as well as the IAC Championships in Fond du Lac, Wisconsin. He died in 1971.
Criteria

The purpose of the award is to recognize the IAC competition pilot who achieves the highest percentage of points possible during a contest season and who also competes in three or more contests, one of which is the U.S. National Aerobatic Championships.
Procedures

The IAC Awards Chairman will determine the winner of this award using the contest results submitted to IAC headquarters by individual contest directors. Generally, the top ten pilots are compiled and this information later published in Sport Aerobatics. The information will be kept confidential until the awards banquet. The plaque will be ordered by the Executive Director.
Presentation

Recipient trophies are funded by IAC and consist of a laser cut plaque with a photograph of the permanent trophy set in the plaque.  The master trophy remains on display at the IAC Pavilion in Oshkosh, Wisconsin. The plaque is presented at the IAC Annual Gathering Dinner at EAA Air Venture.