The award was conceived and donated by L. Paul Soucy of Louisville, Kentucky. Mr. Soucy was one of the first members of IAC and the Board of Directors. His purpose was to recognize not only skilled pilots but also those who supported a minimum number of contests as well as the U.S. National Aerobatic Championships. He died in 1971.
Congratulations to Kevin Elizondo who is recognized as the IAC competition pilot who achieved the highest percentage of points possible during the 2015 contest season by competing in three or more contests, one of which is the U.S. National Aerobatic Championships. The master trophy remains on display at the IAC Pavilion in Oshkosh, Wisconsin. A laser cut plaque with a photograph of the permanent trophy set in the plaque will be awarded to Kevin during the IAC Gathering dinner on Friday night, July 29th, in the Nature Center at EAA AirVenture, Oshkosh, Wisconsin.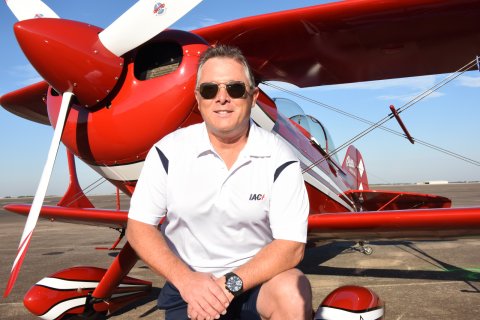 In the 2015 contest season Kevin flew in five contests as a Sportsman Power competitor in the Southwest Region and flew at Nationals scoring an overall average of 86.90%.
Contests Flown;
Hammerhead Round up
Duel in the Desert
Coalinga Western Showdown
Happiness is Delano
Borrego AKROFEST
U.S. National Championships
Past winners and additional information on the L. Paul Soucy Trophy may be found here.