EAA AirVenture - July 24 - July 30, 2023 - Oshkosh, Wisconsin USA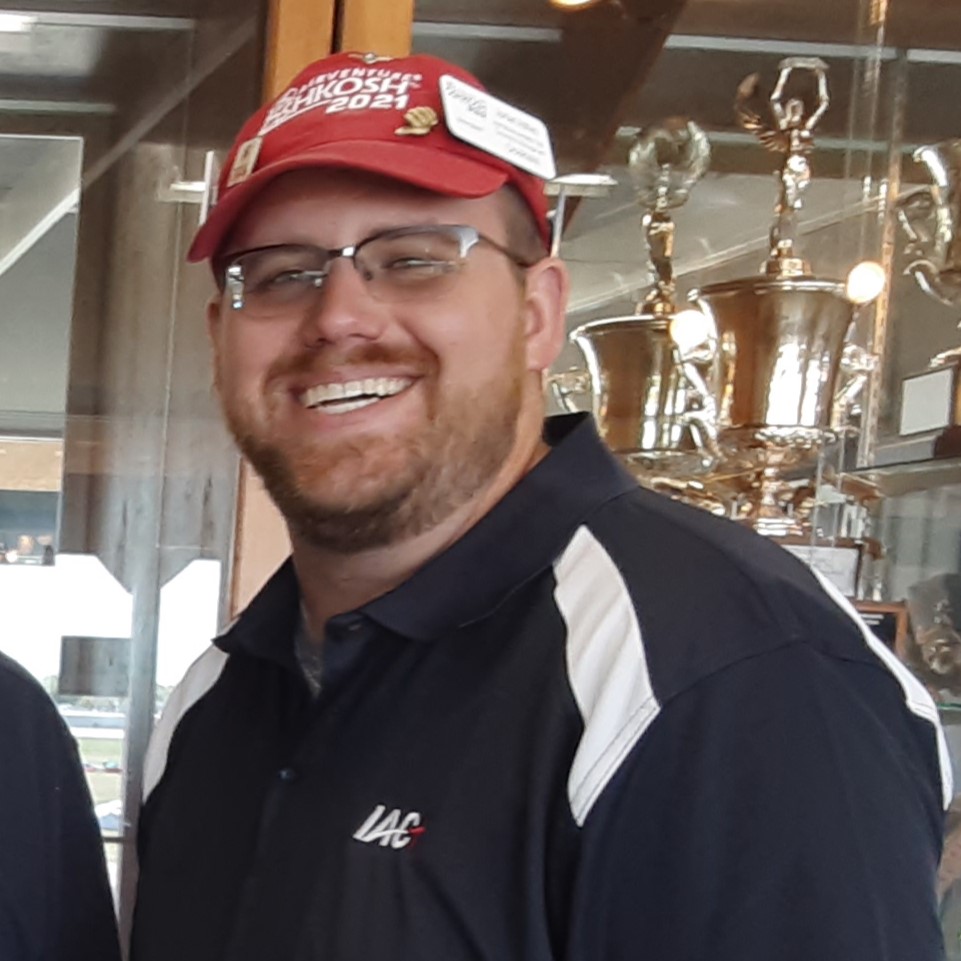 At the IAC fall board meeting Jordan Ashley was confirmed unanimously as 2023 AirVenture Chairman. This will be Jordan's second year as AirVenture Chairman. Jordan marks 2023 as his 28th year at AirVenture and 15th year as a volunteer. 
For 2023, the IAC is celebrating its theme

of: "Safety, Grassroots & Homebuilt Aerobatics." 
"This year, we will focus on topics accessible not only to IAC members who compete but to encourage pilots of all kinds of airplanes capable of flying aerobatics to fly them safely
", said Jordan. "
This would include anyone flying an aerobatic capable
experimental ship such as some models of Vans RV's, EAA biplanes, Citabrias and members of the Warbird community who prefer to fly their own version of gentleman aerobatics. 
A barrel roll is a barrel roll when rolling at 90 degrees a second or 400 and a loop is a loop, even if it has a
5,000-foot diameter!  
EAA AirVenture will run on the following dates: Monday, July 24 through Sunday, July 30, 2023.
The IAC's Aerobatic Center is right in the middle of the action at Air Show center. The building is open to the public for shopping in air-conditioned comfort (one of the few buildings on site with air conditioning). We have many friendly members that will be happy to share their aerobatic knowledge with you.
The IAC Aerobatic Center at AirVenture will operate as follows:
Sunday, July 24 from 1200 to 1700
Monday through Thursday, July 25-28 from 0800-1900
Friday, July 29 and Saturday July 30 from 0800-1700
Sunday, July 31 from 0800 to 1200
All Central Daylight Time (CDT)
---
IAC Forums and other volunteer opportunities

A full range of seminars and forums will also be held during the course of the week. Seminars will take place at the IAC Vicki Cruse Educational Pavilion at the IAC Aerobatic Center from Tuesday, July 24 through Friday, July 28 starting each morning at 8:30am.
VOLUNTEER: The IAC Aerobatic Headquarters is run by volunteers who help with merchandise, greet guests and talk aerobatics. If you are interested in serving as a volunteer for a week, a day or an hour CLICK HERE
---


MEET and GREET

Stop by the IAC Aerobatics Center and see these IAC members that are performing in the daily air shows. They will arrive after their performance during the daytime airshow (3:30-6:30)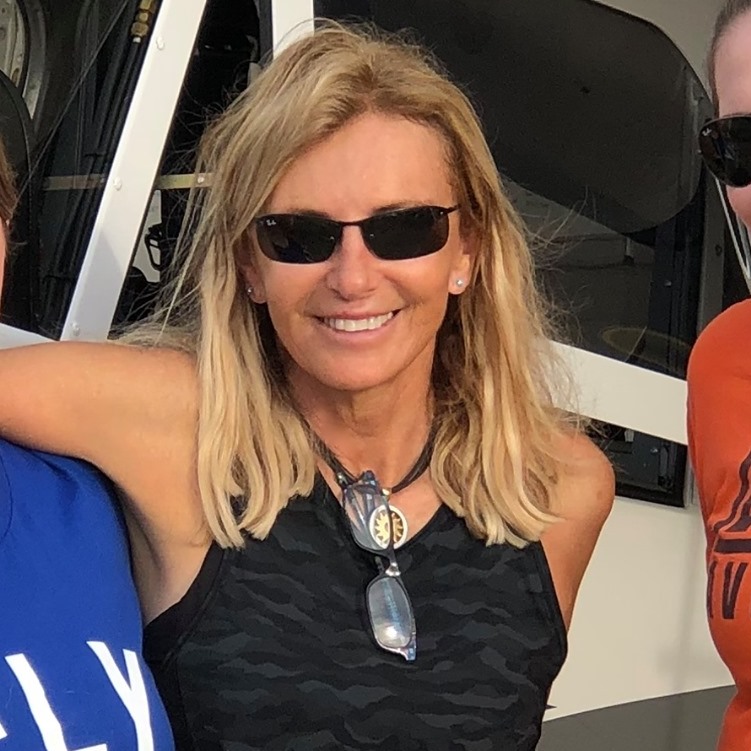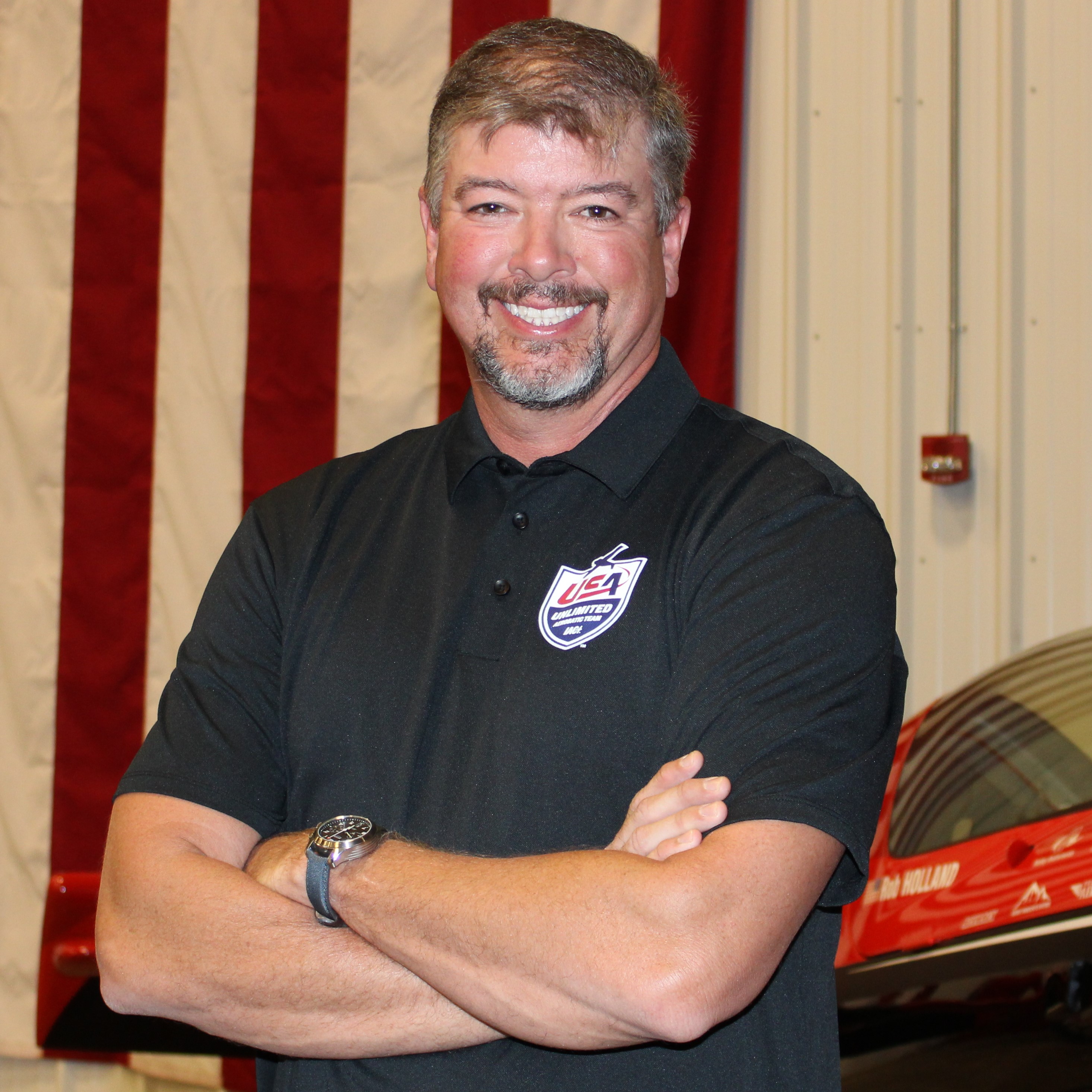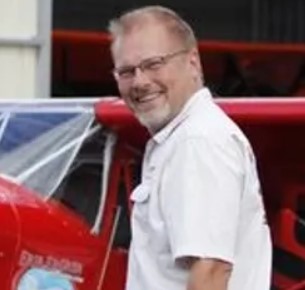 ---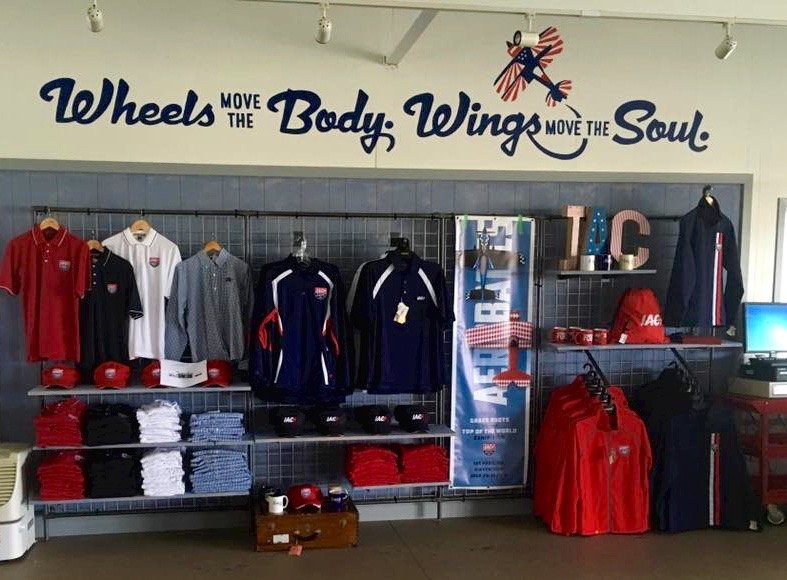 IAC will hold its a IAC Annual Membership meeting in the Vicki Cruse Educational Pavilion at the IAC Aerobatic Center at 8:30a.m on Friday, July 28, 2022.
The IAC member gathering, and dinner will be held at the EAA Nature Center from 6:00p.m. to 8:00p.m. also on Friday. 
---
Registration for IAC chapter camping is closed. 
---
The 2023 NOTAM which describes AirVenture arrival and departure procedures can be downloaded in a digital version at www.EAA.org, or order a free printed copy via that website or by calling EAA Membership Services at 800-564-6322.
The NOTAM describes the sign that pilots should bring in their airplanes with "IAC" printed in bold letters. This sign will be shown to EAA Parking personnel so they can direct you to the IAC parking area. It is a simple and efficient system for printing and carriage in your aircraft. Pdf of a sample sign is attached at the bottom of this page for printing.
Pre-Register to *park your aircraft airshow center in the IAC parking area! LINK.   We can also direct you were to sign up to be judged by the EAA for their "Lindy" awards.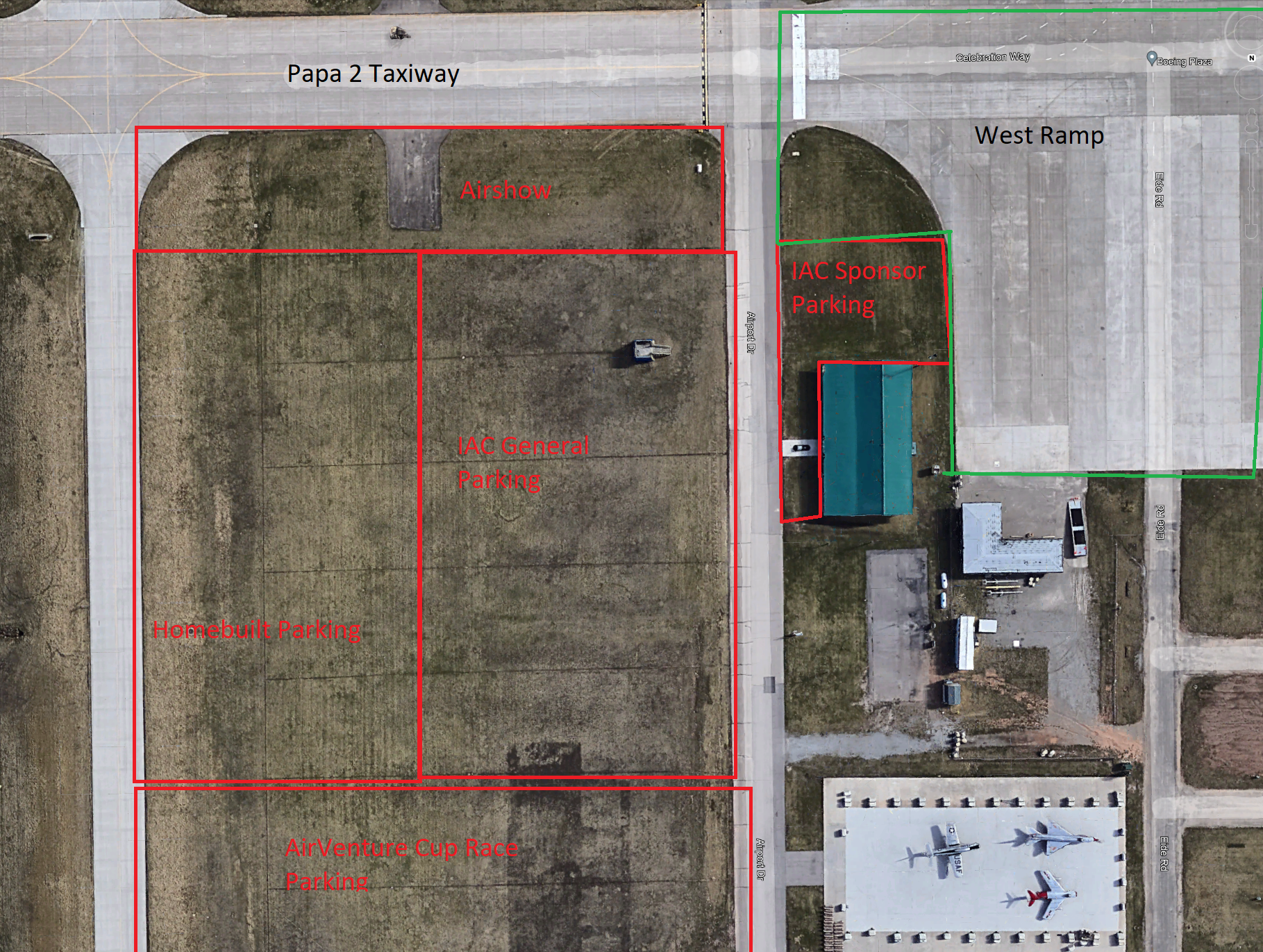 After being directed to the IAC Parking area by EAA Parking personnel (showing them your "IAC" sign will assist them), pilots should proceed to the IAC Aerobatic Center to check in with IAC personnel, let us know you have arrived, and to sign our Guest Book. All aircraft should be registered with EAA Aircraft Registration as well and directions will be provided at the IAC Aerobatic Center if you are not familiar.
IAC Aircraft – Bring Your Own Tie-Downs
All aircraft must be tied down and EAA Parking advises us that the best solution is to bring your own tiedowns. Tiedowns are available commercially at the AirVenture site and loaners are also available from EAA, but these sources cannot be counted on if arrivals are "after hours" or supplies run low. Please plan to bring your own equipment. EAA has the "Claw" tie-down device on sale and comes highly recommended.
IAC PARKING PLAN 2023
Your friendly AirVenture Chair here. We're looking forward to seeing many of you in a few weeks at AirVenture. If you're flying-in, please make sure you have an "IAC" page printed in bold letters for the marshallers. Also, remember that they have no idea you can't see them when they stand right in front of you so take your time when taxiing under power. Since we're parking along the west side of the grass, plan for a good long push off the taxiway and bring a few pieces of plywood for your tires if it looks like it's going to be wet. See you there!
IAC Treasurer, AirVenture Chair and Collegiate Program Chair
*Please note that parking spaces directly in front and at the side of the IAC Aerobatic Center building have been reserved with our AirVenture sponsors as of May 1, 2023. All other areas are first come first serve.
---
The IAC is grateful to the following sponsors for their support of the IAC at 2023 AirVenture. If you are interested in becoming a sponsor contact Steve Kurtzahn, Executive Director at: exedir [at] iac.org
Extra Aircraft

- What began as an experimental one-man, Walter Extra, operation has grown into an international success story. Today, that initiative is the championship-based EXTRA aircraft line-up.

https://www.extraaircraft.com/

MX Aircraft

-  MX Aircraft Co. specializes in the production and sales of the MX2 and MXS line of Sport, Aerobatic and Race aircraft. 

http://www.mxaircraft.com/

Aura Aero -

a digital and eco-efficient aeronautical manufacturer, industrializes disruptive technologies for the aviation of tomorrow, by designing and manufacturing low-carbon emission aircraft with unrivalled efficiency.  

https://aura-aero.com/en/&nbsp

;
CAN'T MAKE IT TO AIRVENTURE?
Follow all the IAC action on our social media links: Facebook, Instagram, and Twitter.

 
ABOUT IAC
The IAC currently has 40 chapters scattered throughout the United States, Canada, Argentina and Norway. The chapters are the foundation of the organization hosting aerobatic judge schools, practice days, open houses and up to 40 sanctioned competitions a year. Chapter locator. In light of the IAC's aerobatic endeavors around the world, it is easy to think that its main concern lies in major competitions. Though they are an important part of the IAC competition activity, the true story of the IAC's grass roots efforts lies in the regional competitions it sanctions each year.
IAC members enjoy many benefits of membership some of which are; an aerobatic judges school program, the Achievement Award program (Achievements recognized in non-competition and competition environments), the Collegiate program, government relations representation, a safety committee providing technical and safety tips, and scholarships for aerobatic and upset training.