Sponsors of the 2019 US National Aerobatic Championships
Platinum Sponsors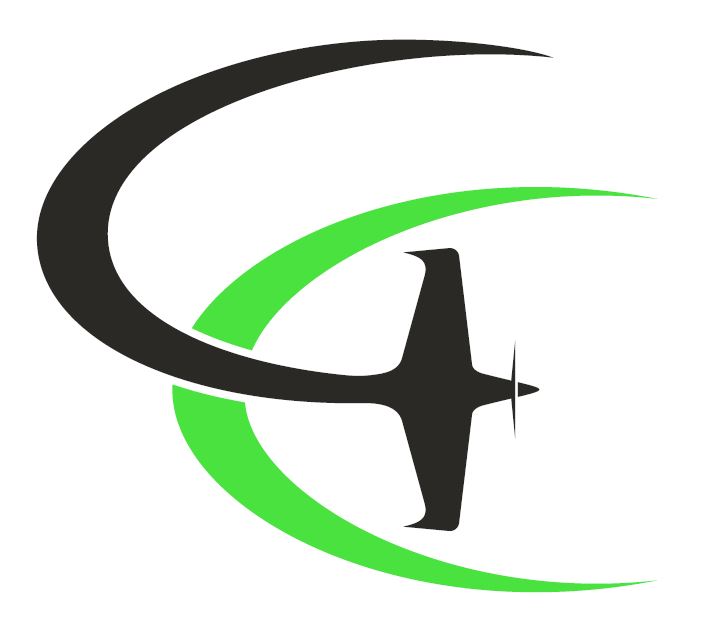 Game Composites was co-founded in 2013  by Philipp Steinbach, an engineer, designer and an accomplished aerobatic pilot, along with Steuart Walton, a young lawyer, businessman and pilot.Game Composites set out with the desire to design, certify and produce "the world's best aerobatic and touring aircraft".
The initial production of the GB1 GameBird prototype and testing progressed through 2014. In July of 2015 the first flight of prototype aircraft G-IGBI took place. In July 2016 the EASA Validation Flight Test was conducted and the first public display at Airventure in Oshkosh, WI took place.
In August of 2017, Gamebird was issued a type certificate by the FAA. The aircraft and the factory in Bentonville, AR has undergone FAA inspections for certification in the U.S. in the aerobatic category. www.gamecomposites.com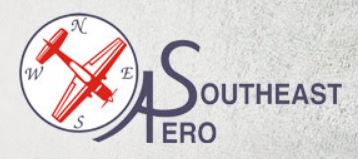 Southeast Aero, in St Augustine Florida, opened its doors in 1992 as an aircraft sales and services business with an experienced team of professional and technicians and craftsmen. They are factory-authorized service center for Sirrus Design, Cessna Singe Engine, Extra Aircraft and Diamond Aircraft, although they frequently take care of other models.
They offer a Avionics Repair Station, specializing in Garmin, Avidyne,STEC and Aspen products. And serve as a dealer for most major avionics manufacturers. They have extensive experience in composite repairs and painting as well. http://southeastaero.com/default.htm
Gold Sponsors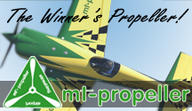 MT-Propeller Entwicklung GmbH was founded in 1981 by Gerd Muehlbauer and is well known in the world of general aviation as the leading manufacturer of natural composite propellers for single and twin engine aircraft, airships, wind tunnels and other special applications.
Since 1968 Gerd Muehlbauer has been working intensively as chief engineer in composite propeller design and development. MT-Propeller operates out of its main office at the Airport Straubing-Wallmuehle (EDMS) in Germany, where highly skilled people are producing the highest quality of natural composite propellers. For U.S. and Canadian customers there is an MT-Propeller Service Center in DeLand, Florida and several authorized service stations throughout the whole world.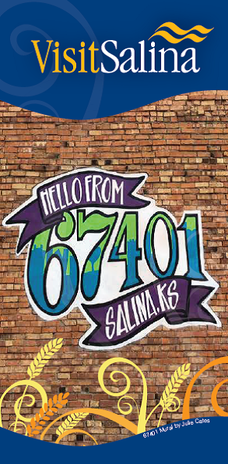 Salina Area Chamber of Commerce is a not-for-profit state voluntary chartered organization of business, industry, professional men and women and individuals working together to build a healthy economy and improve the quality of life. More than 1,200 firms, representing about 1,450 members, make up the Chamber's membership.
https://www.salinakansas.org/visit-salina.html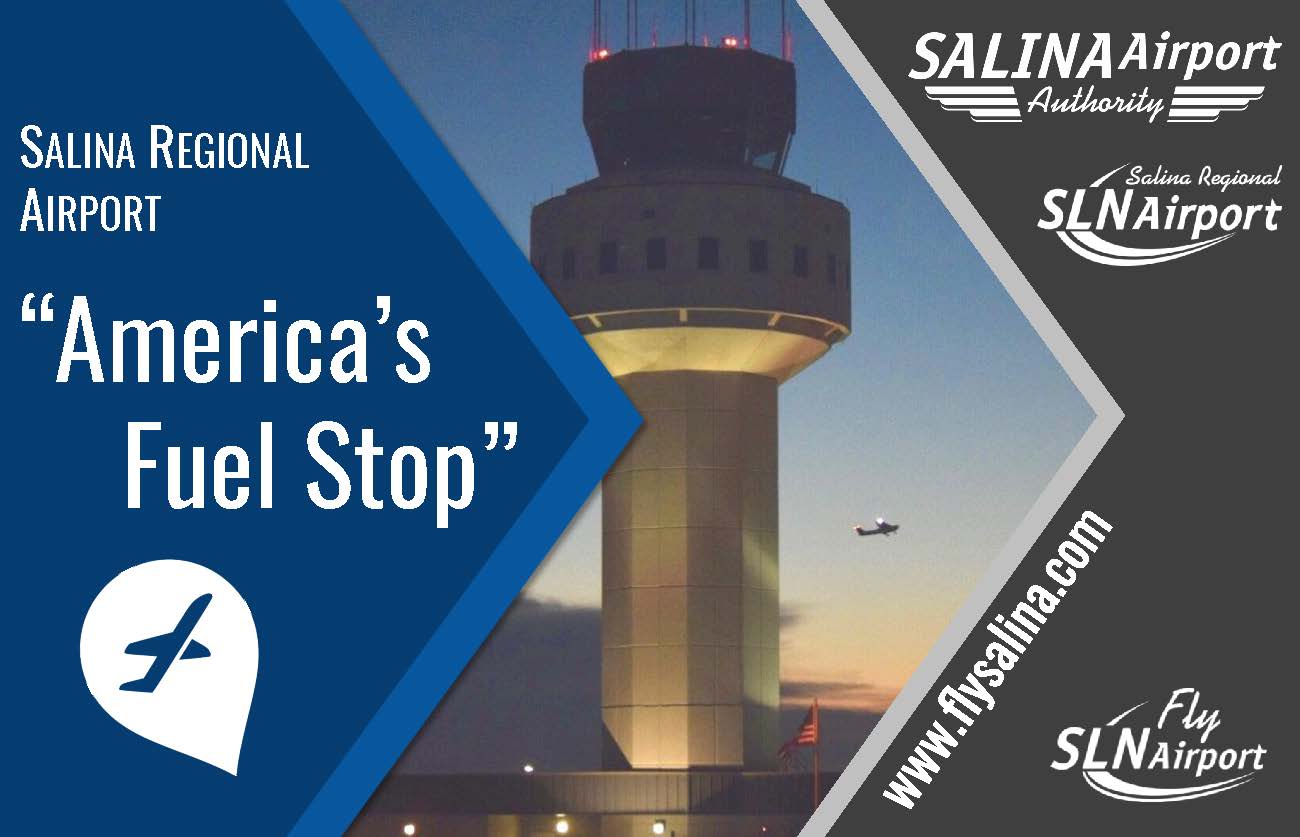 Salina Regional Airport. Salina Regional Airport has a primary runway at 12,300 feet with ample aircraft parking. The Salina Regional  Airport is the home base for a wide variety of businesses and operations.
The Airport's world-class FBO, Avflight Salina, annually delivers aviation fuel to thousands of business jets and military aircraft.  This has earned Salina the moniker, "America's Fuel Stop." 

Avflight. Avflight is a privately-owned international company  serving the aviation industry with a tradition of innovation for the past 20+ years. Avflight supports the safe, convenient and expeditious movement of people and goods around the globe.
U.S. National Aerobatic Championships participants will receive fuel at a discounted price while at the Nationals. See the Special Rules and Procedures page for discount and fuel form.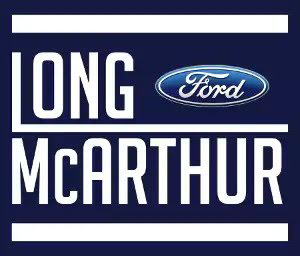 Long-McArthur Ford. Long-McArthur Ford is devoted to helping and serving their customers to the best of their ability. They believe the cars they offer are the highest quality and ideal for the needs of those attending Nationals.
In addition to being the official car rental company for Nationals, they are supplying a van for judge transportation and a truck to move contest equipment.
See details about car sizes and rates: https://www.iac.org/nationals-2019-car-rental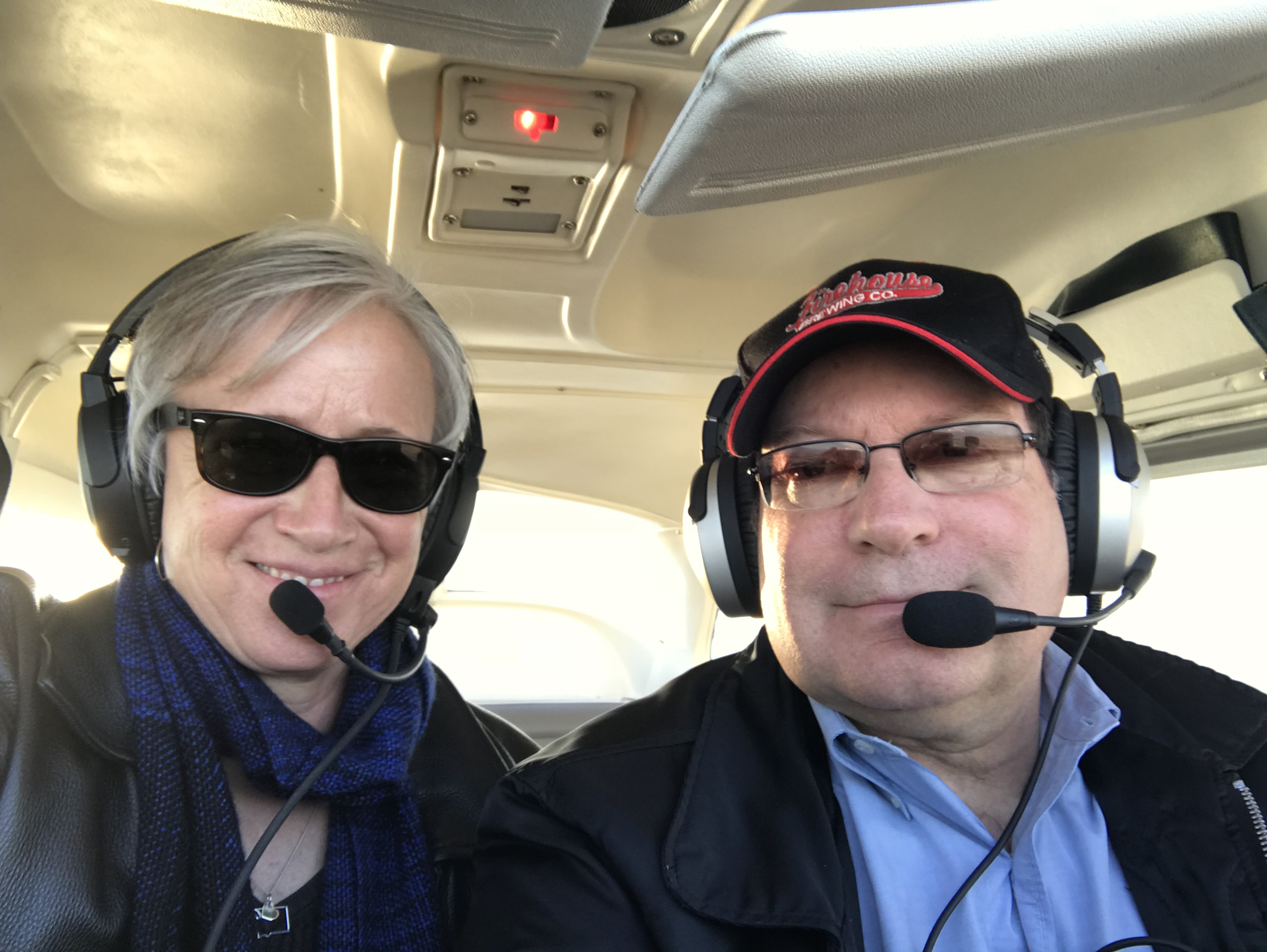 Jerry and Peggy Riedinger. 

Jerry and Peggy are IAC members from the state of Washington, IAC67. Jerry flies as a competition pilot in the Advanced category and Peggy is a National and International Judge. Peggy is currently the IAC Northwest Regional Director.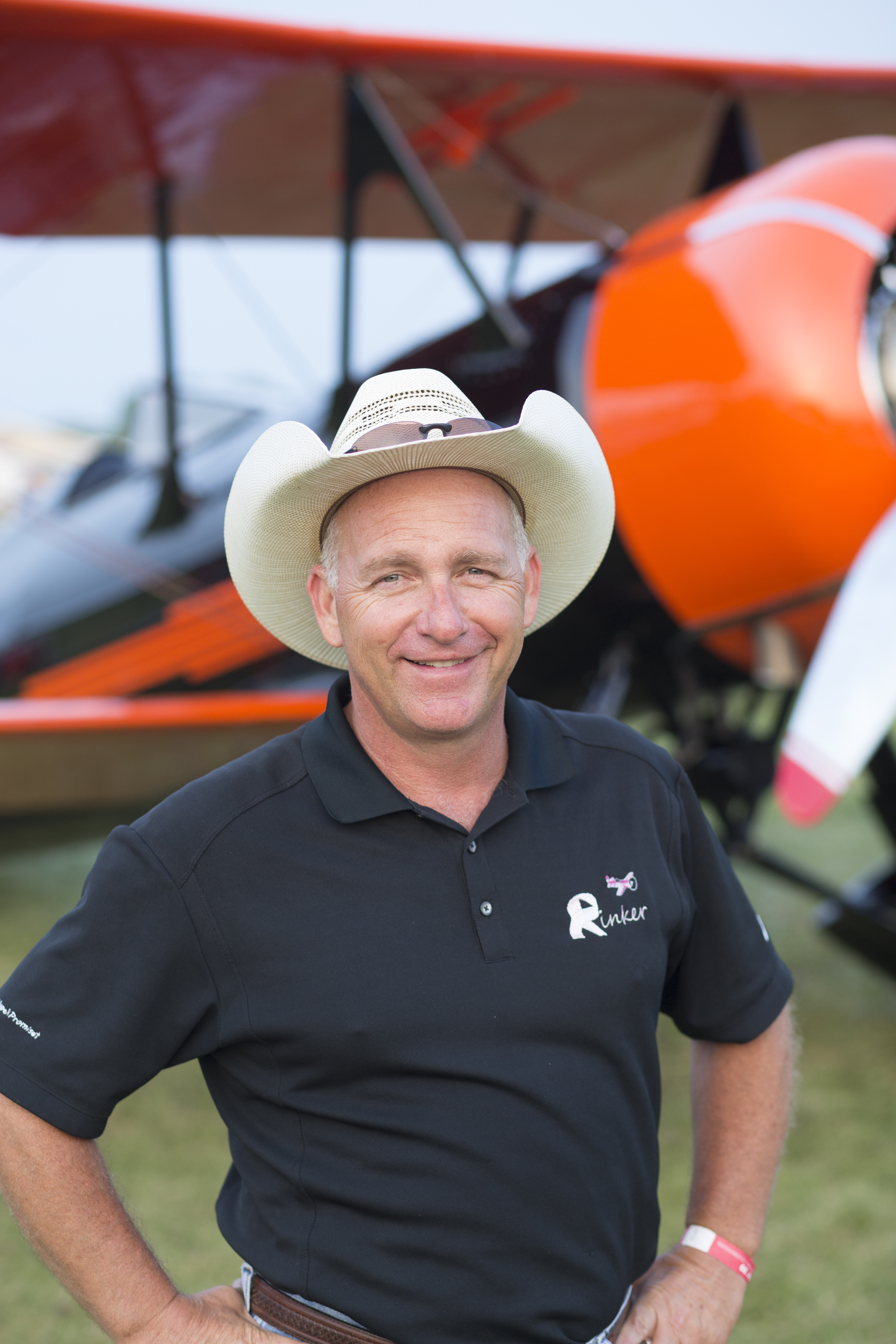 Mike Rinker. Mike is an active IAC member from Tennessee and currently serves at the Southeast Regional Director. He began flying 1984 and basic aerobatics in the late 1980s. Mike has competed in numerous competitions and was a member of the 2007 US Unlimited Aerobatic team in Grenada, Spain.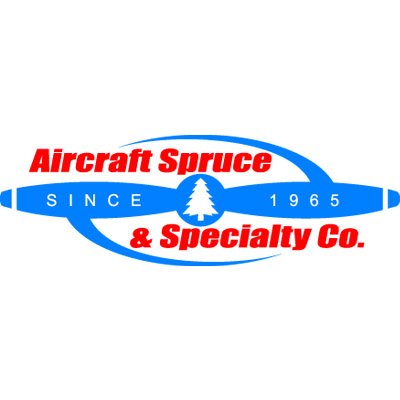 Aircraft Spruce & Specialty Company strives to carry everything a pilot could need, including pilot supplies and aircraft parts, always at the lowest prices. Aircraft Spruce supplies components for a wide variety of homebuilt aircraft including the Lancair, Vans Aircraft, Cozy, Starduster and Europa, as well as factory built parts for Cessna, Piper, Beech, and Mooney. Products include Garmin avionics, tools, charts, propellers, spruce, software, instruments, aircraft engines, aviation headsets, landing gear components, and composite materials.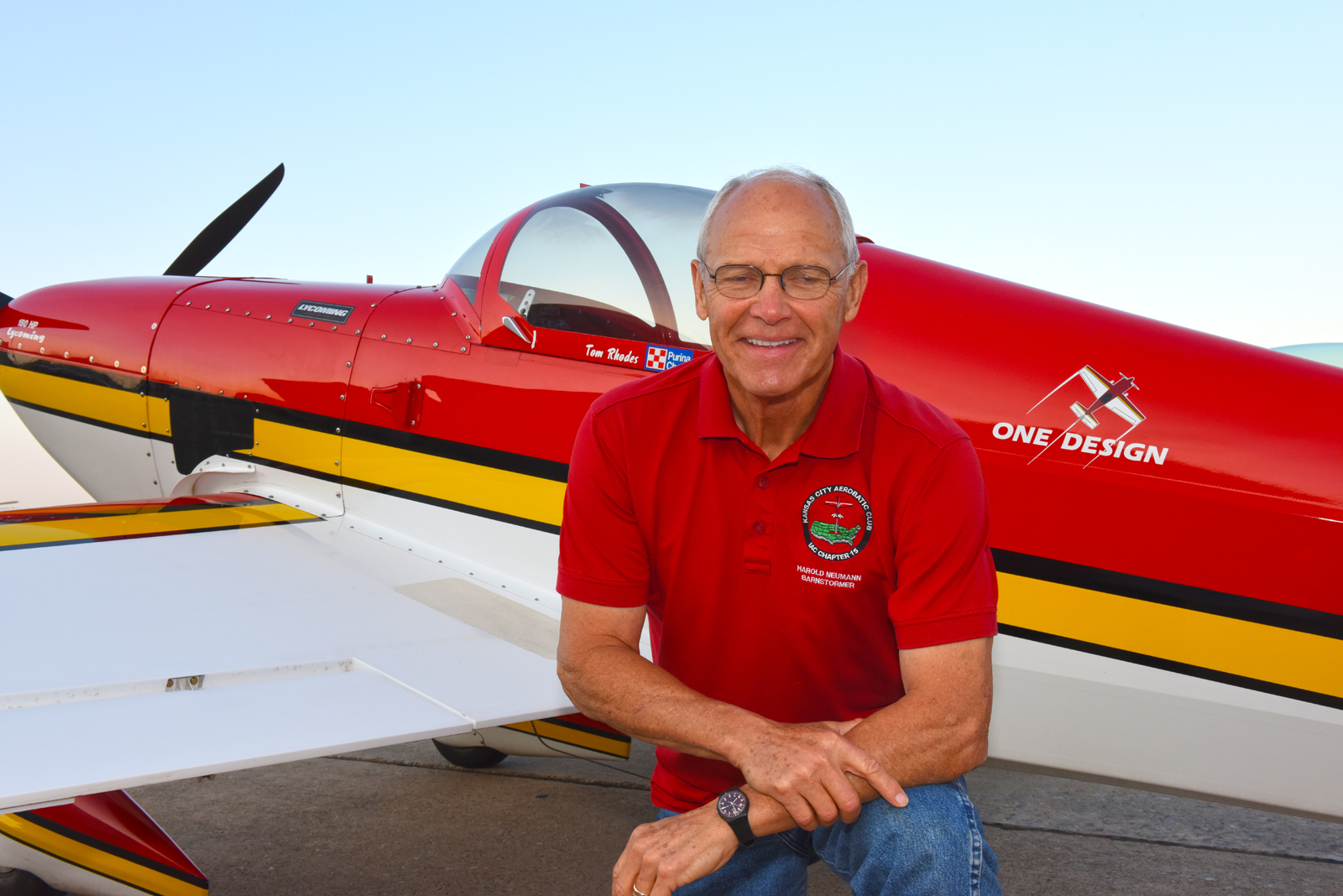 Tom Rhodes is an active member, pilot and contest judge of the International Aerobatic Club. Tom has numerous IAC awards including second place trophies at the U.S. National Aerobatic Championshps in Intermediate and Sportsman categories. He is currently acting on the IAC Board of Directors as the South Central Regional Director.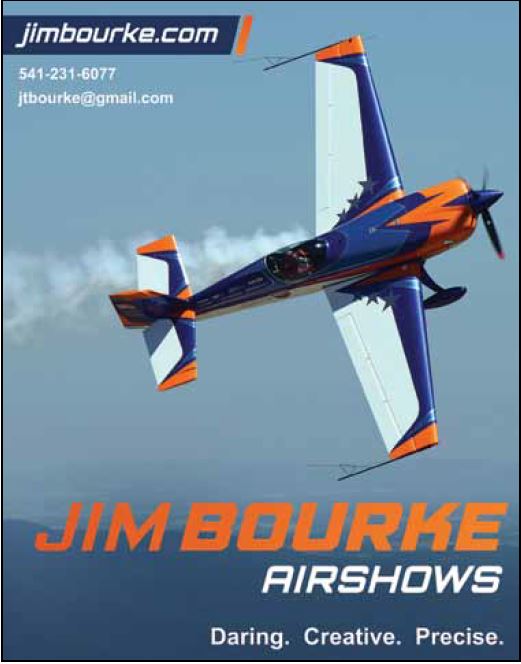 Jim Bourke Airshows. Jim is an Unlimited competitor flying his EXTRA 330 SC and is a member of the USA Unlimited Team. He currently serves as a member of the IAC Board of Directors for the Southwest region and is a National aerobatic judge.

Para-Phernalia, Inc.

have been designing and manufacturing the SOFTIE line of pilot emergency parachutes since 1979. These emergency parachutes are highly regarded for their quality, comfort and reliability. Each of the seven various SOFTIE models are customizable to best suit an individual pilot's needs whether they fly powered aerobatics or any other type of aircraft. http://www.softieparachutes.com/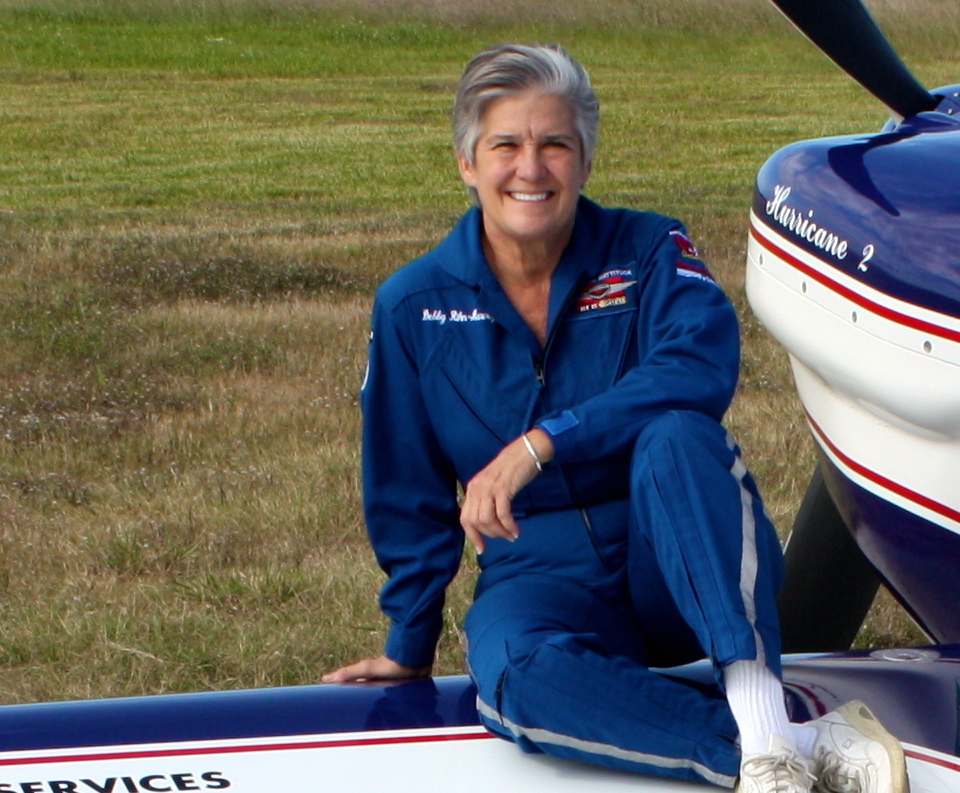 Debby Rihn-Harvey. Debby has been a part of aviation her whole as the third generation of aviators in her family and an active IAC member. She is widely known as one of the most successful aerobatic competitors of all time. Debby manages her fixed base operation, Harvey & Rihn Aviation, a world renowned aerobatics school at La Porte Municipal Airport in Texas. http://www.debbyrihnharvey.com/biography.html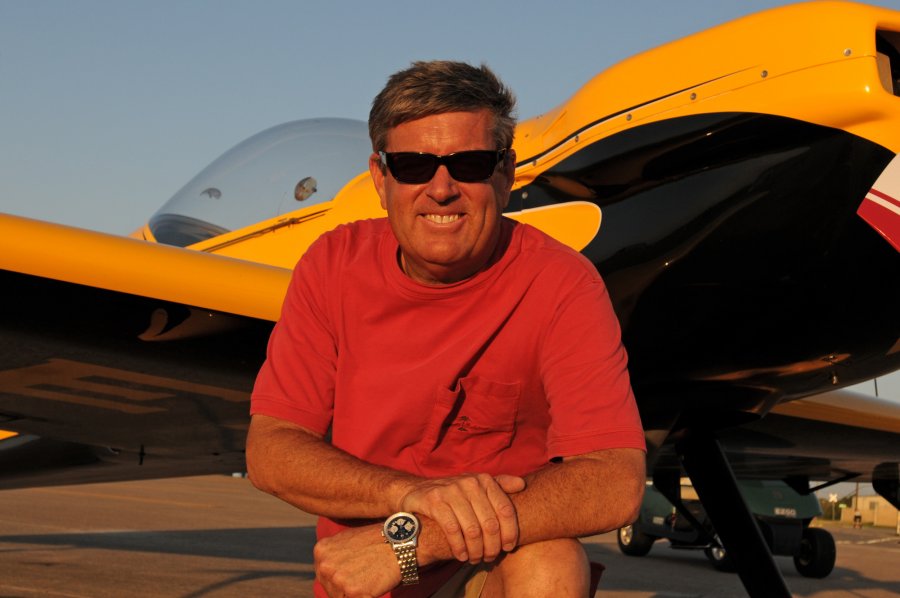 David and Martha Martin. David and Martha are IAC members from Texas. David's grandfather was adamant that he learned aerobatics along with his basic flight training. He would later go on to win an individual gold medal as well as three team bronze medals in four appearances at the World Aerobatic Championships. In addition, David won the United States National Championship in 2001.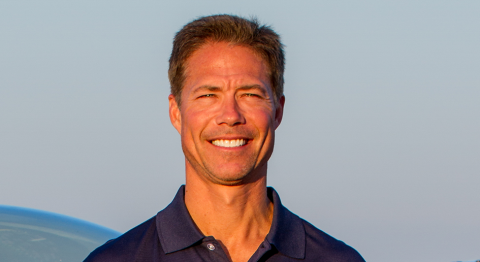 Goody Thomas. Goody is an IAC member from South Carolina. Ever since he was a young boy, Goody has been extremely passionate about aviation in particular aerobatics. He began flying acro at the age of 23 Pitts S-2B. Over the course of his aerobatics career, he has won numerous gold medals in the unlimited category. Also, 5-time member of the United States Nationals team and named team captain, placing in the top ten multiple times on individual flights at World Championships. In 2011, Goody was the recipient of the Charlie Hillard Award for being the highest scoring United States pilot at the WAC.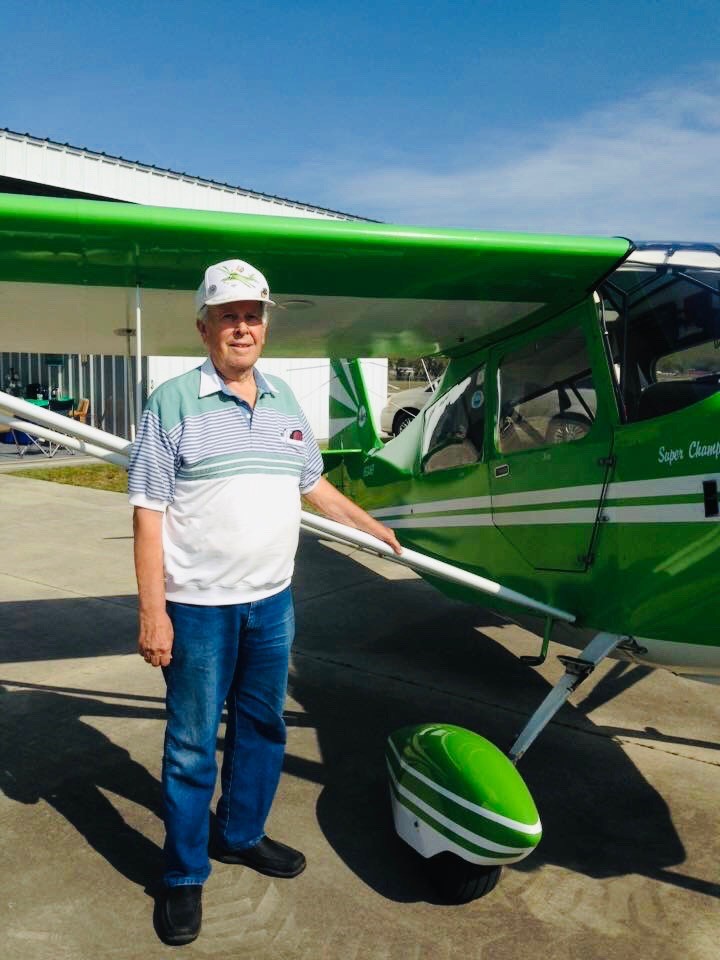 In Memory of Jim Taylor. Thank you to Jean Taylor for your sponsorship in Jim's memory. He was a very active IAC member since 1975. A founding member of IAC Chapter 78, Minnesota Cloud Dancers and he served as an IAC Regional Director from 2001-2005. Jim and Jean are the 1998 recipients of the Frank Price Cup. The award was created to recognize outstanding individuals in aerobatics and in honor of aerobatic pioneer Frank Price, the first American to compete in the World Aerobatic Championships.

Jim's passion was promoting and developing programs to benefit and educate pilots to the joys and value of aerobatic flying. He developed the "Rally" program, which was the forerunner of the current day IAC Practice Day program. As a team, Jim and Jean worked the Aerobatic Center at Sun n' Fun for 27 years and Jean accepted the 2019 Chairman of the Board's Award in recognition of their efforts, commitment and leadership to help make SUN 'n FUN a successful event. The pair also spent many years volunteering at the Nationals in the late 80's and early 90's.

 
Silver Sponsors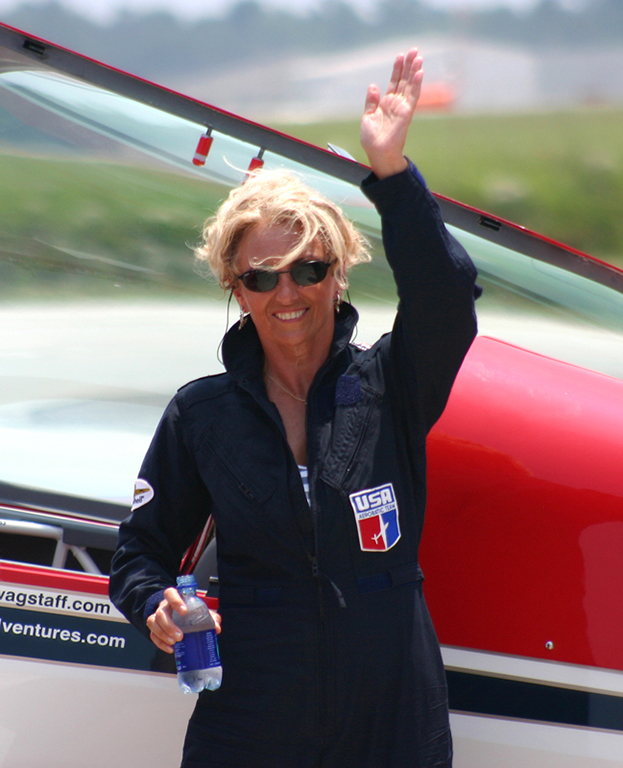 Patty Wagstaff. A six-time member of the U.S. Aerobatic Team and the highest-placing American with gold, silver, and bronze medals, as well as a three-time U.S. National Aerobatic Champion, an IAC Champion, and six-time recipient of the "First Lady of Aerobatics" Betty Skelton Award, her Extra 260 went on display in the Smithsonian National Air and Space Museum in Washington D.C. in 1994. Wagstaff has won many awards for her flying and is particularly proud of receiving the air show industry's most prestigious award, the Sword of Excellence, as well as the "Bill Barber Award for Showmanship" and is the 1996 recipient of the Charlie Hillard Award.                                                                        
Ron Schreck. ​​Ron Schreck is a graduate of the US Air Force Academy class of 1969 and a retired Air Force fighter pilot who flew the OV-10, A-7, F-105, F-4 and F-16 aircraft. He has over 12,000 hours of flying time, including 645 hours in combat and over 2000 hours in his RV-8 "Miss Izzy". Ron is an active IAC member and serves as the Contest Director for the 2019 U.S. National Aerobatic Championships.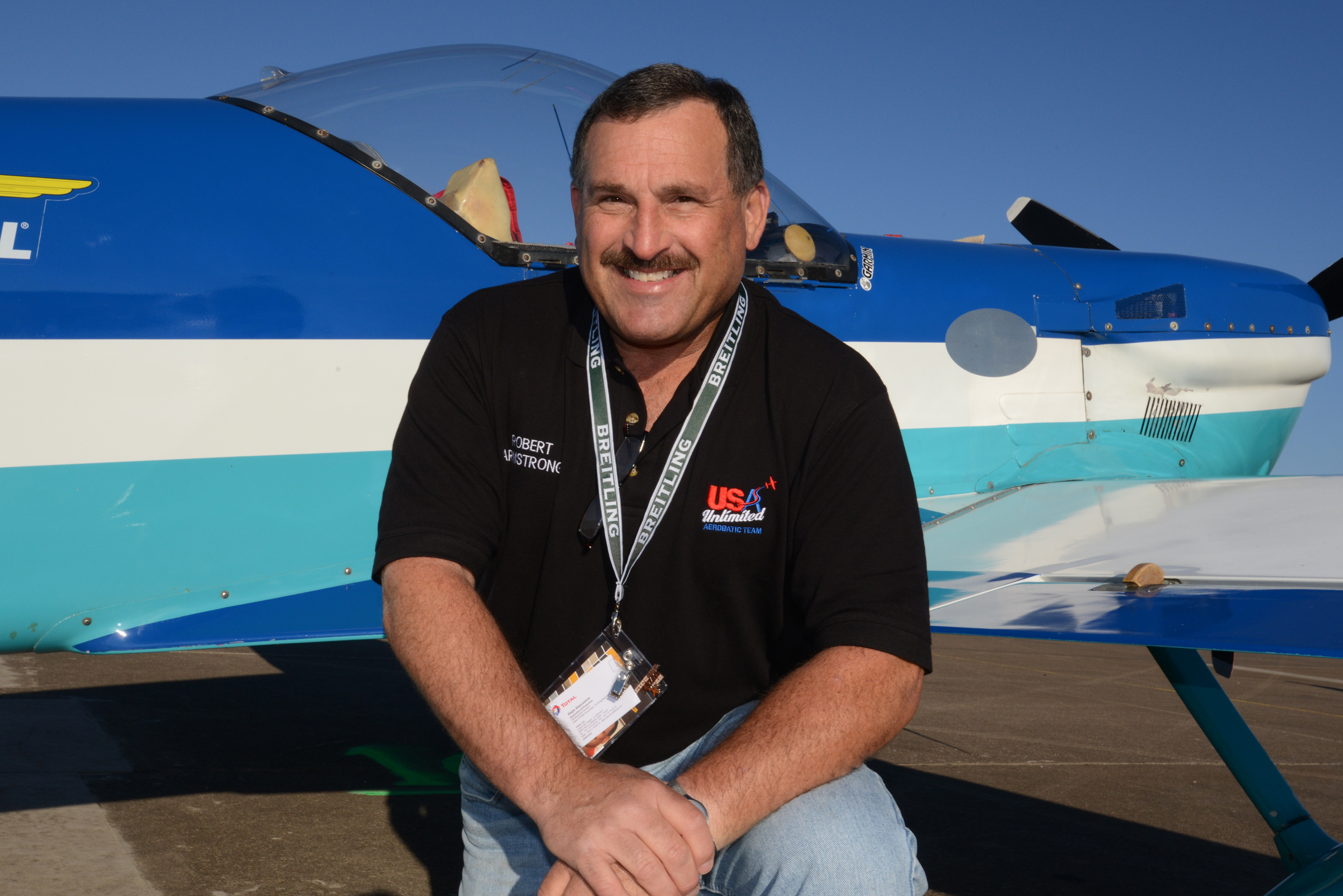 Robert Armstrong. Robert Armstong has been a member of the IAC for the past 38 years, has previously served as a director from 2006 to 2012, and was inducted into the International Aerobatic Hall of Fame in 2016. He has built and flown many different aerobatic airplanes and rose through the categories to become a member of the U.S. Unlimited Aerobatic Term from 1992-1996 and 2000-2013.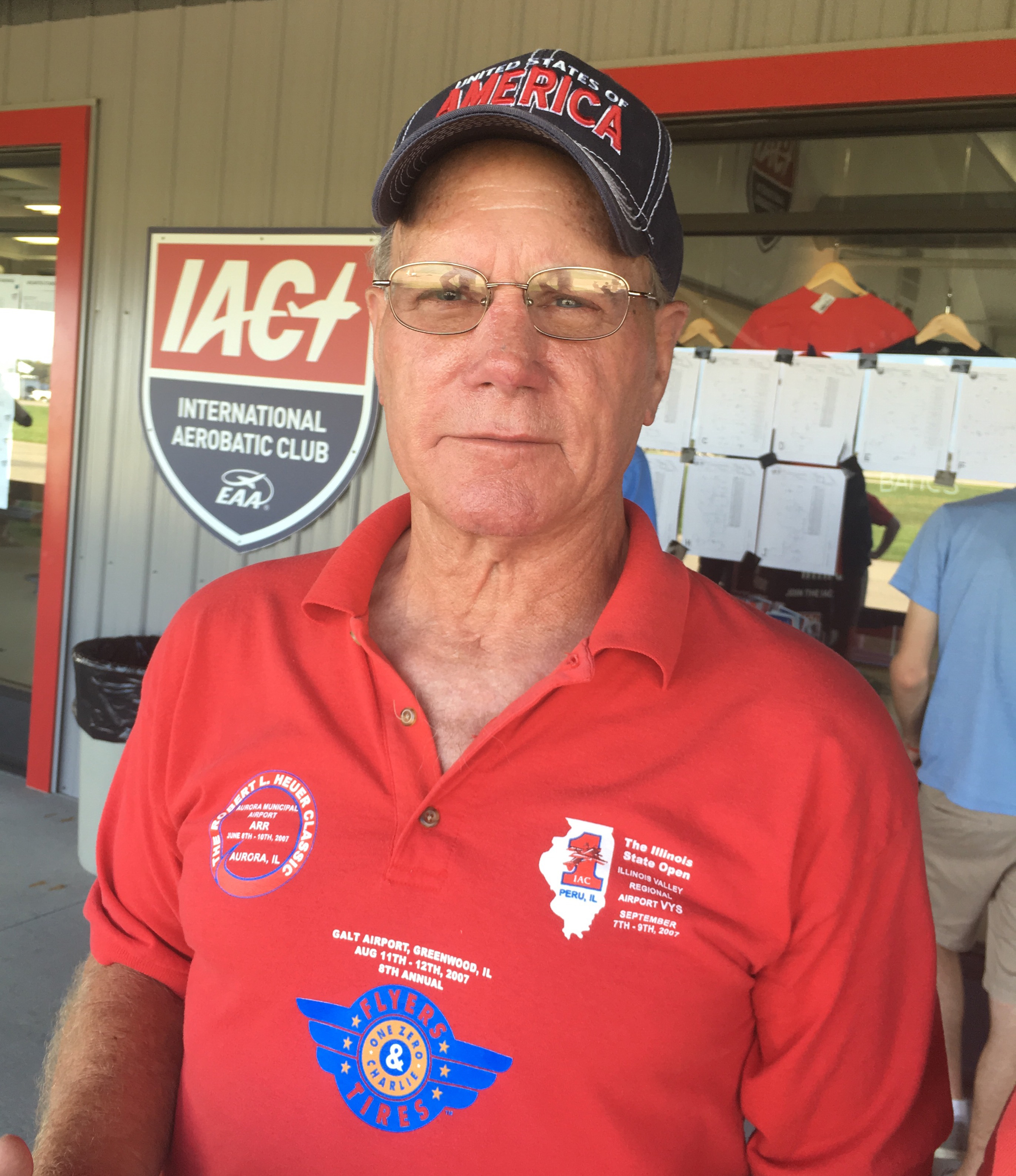 John Willkomm. In 2013 John attended the Oshkosh Air Maneuvers Challenge in the Sportsman category. In 2017 and 2018, when the Nationals were held in Oshkoshs, Wisconsin, he served as a volunteer to support his fellow aviators. He will return to Nationals this year in Salina as the Boundary Coordinator.  John has been an IAC member since 1980, IAC member #7388.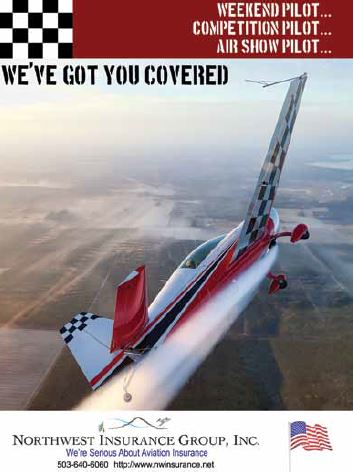 Northwest Insurance Group, Inc. Northwest Insurance Group, Inc. is an insurance brokerage specializing in the specific insurance and other risk management needs for all types of businesses involved in General Aviation, including manufacturing and municipal airports.  With thousands of commercial aviation accounts including municipality accounts, Northwest Insurance Group is a proven and capable Aviation Insurance Brokerage located on the West Coast providing insurance and risk management services for any type of aviation business or municipal owned airport.  The brokerage is currently licensed and doing business in all 50 States.

https://nwinsurance.net/agency-info/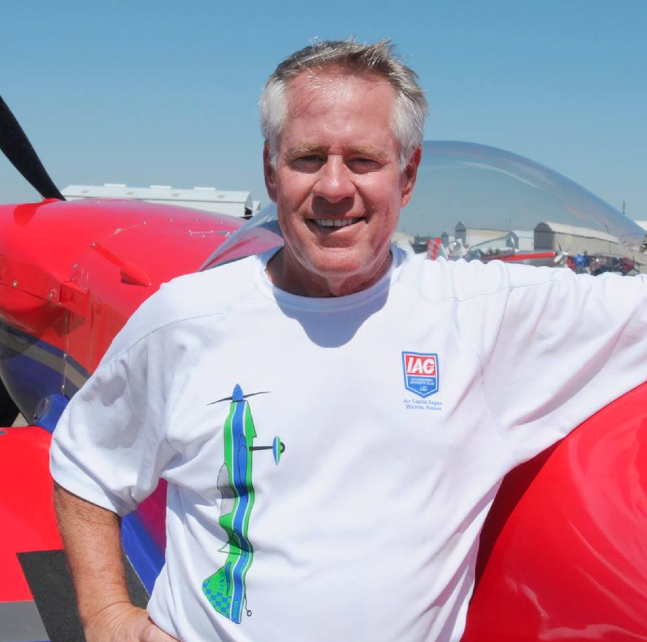 Bill Denton. Bill Denton has been actively involved in the sport of competitive aerobatics for over 30 years. He has been a top judge for several years at the US National Aerobatic Championships and is the 2014 Robert L. Heuer Judges Award winner.   

Hooker Harness, Inc. was founded by innovator, Jack Hooker. Jack began producing seatbelts and shoulder harnesses in New York during the early 1970's.  Initially, they produced a variety of harnesses primarily for the aviation industry. Through the years, Hooker Harness have become the most well-known and respected producer of Aerobatic seatbelts and shoulder harnesses. http://www.hookerharness.com/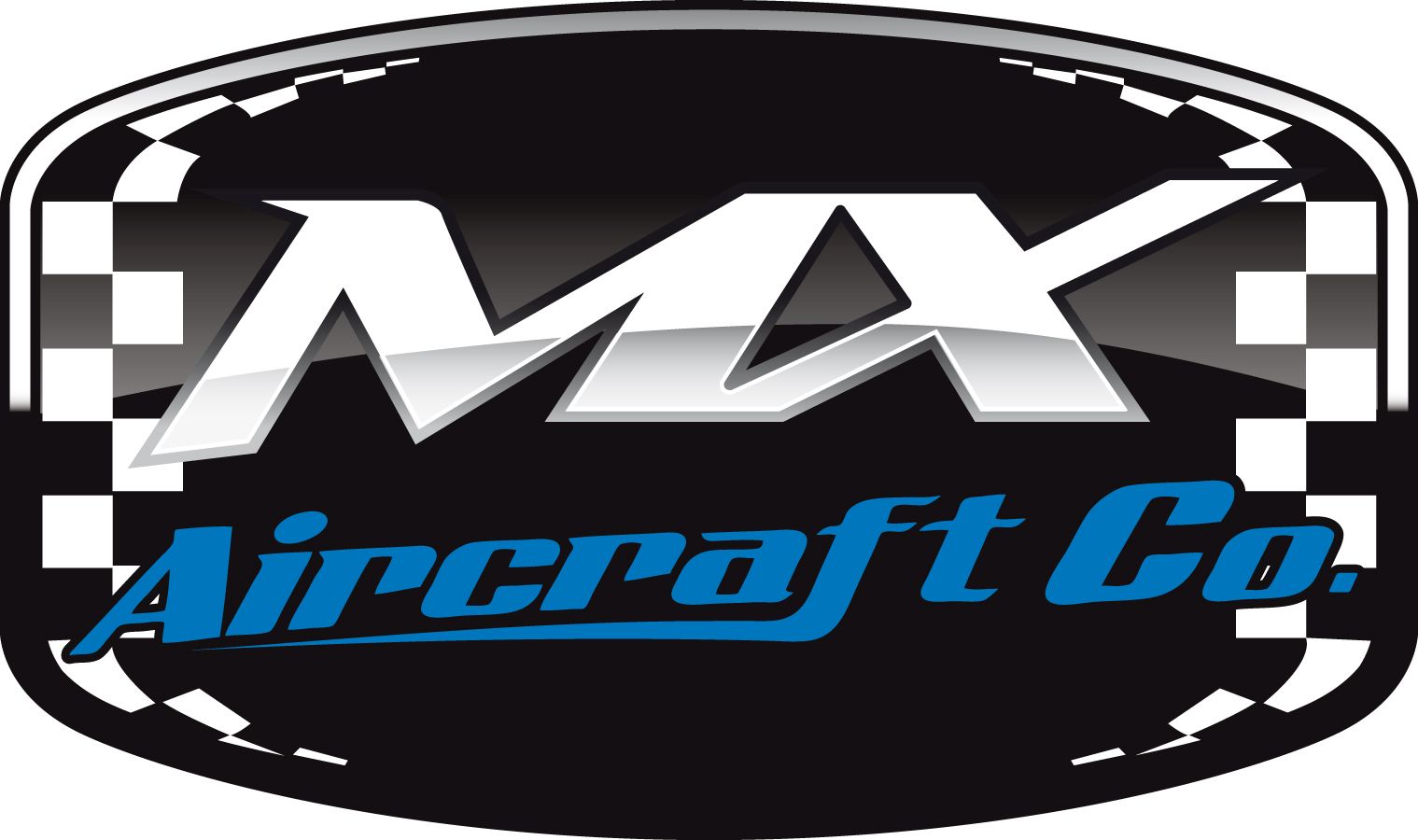 MX Aircraft specializes in in the production and sales of the MX2 and MSX line of Sport, Aerobatic and Race aircraft. The company was founded in 2001 to design and build the next generation aerobatic monoplane. The MX came about after the kit build, Giles Aircraft, was bought out and then morphed into the current, much improved MX2 Aircraft. From there the MXS was developed; lifting the bench mark for aerobatic aircraft. http://www.mxaircraft.com/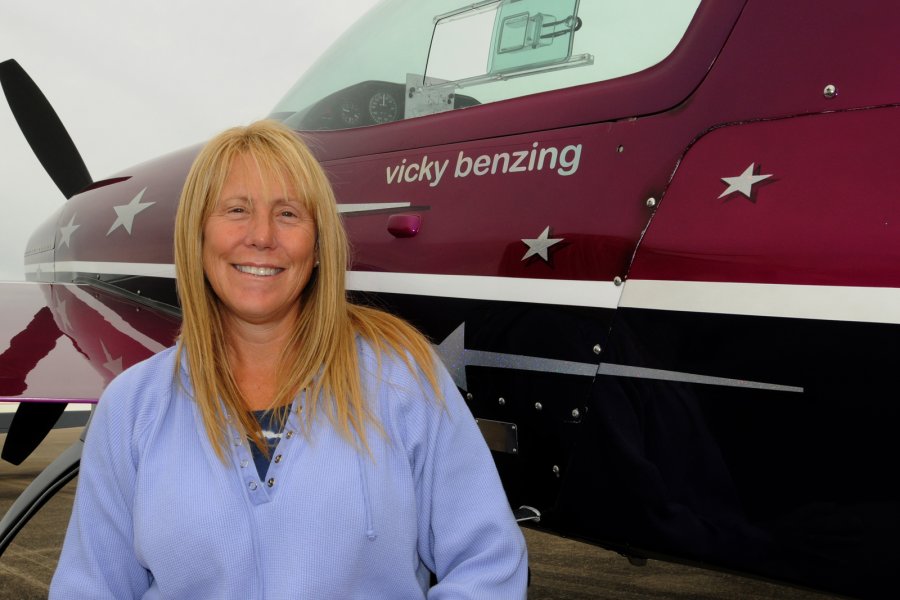 Vicky Benzing. Vicky is an IAC member, born and raised in California, and an accomplished pilot, skydiver, aerobatic performer, and air racer. Following her aerobatics training in 2005, she started to compete in aerobatic contests across the United States working her way through various categories and perform in local air shows. Currently, Vicky holds a surface level aerobatic waiver and has flown over 200 airshow performances at venues throughout the United States, including EAA Airventure. https://www.vickybenzing.com/bio.html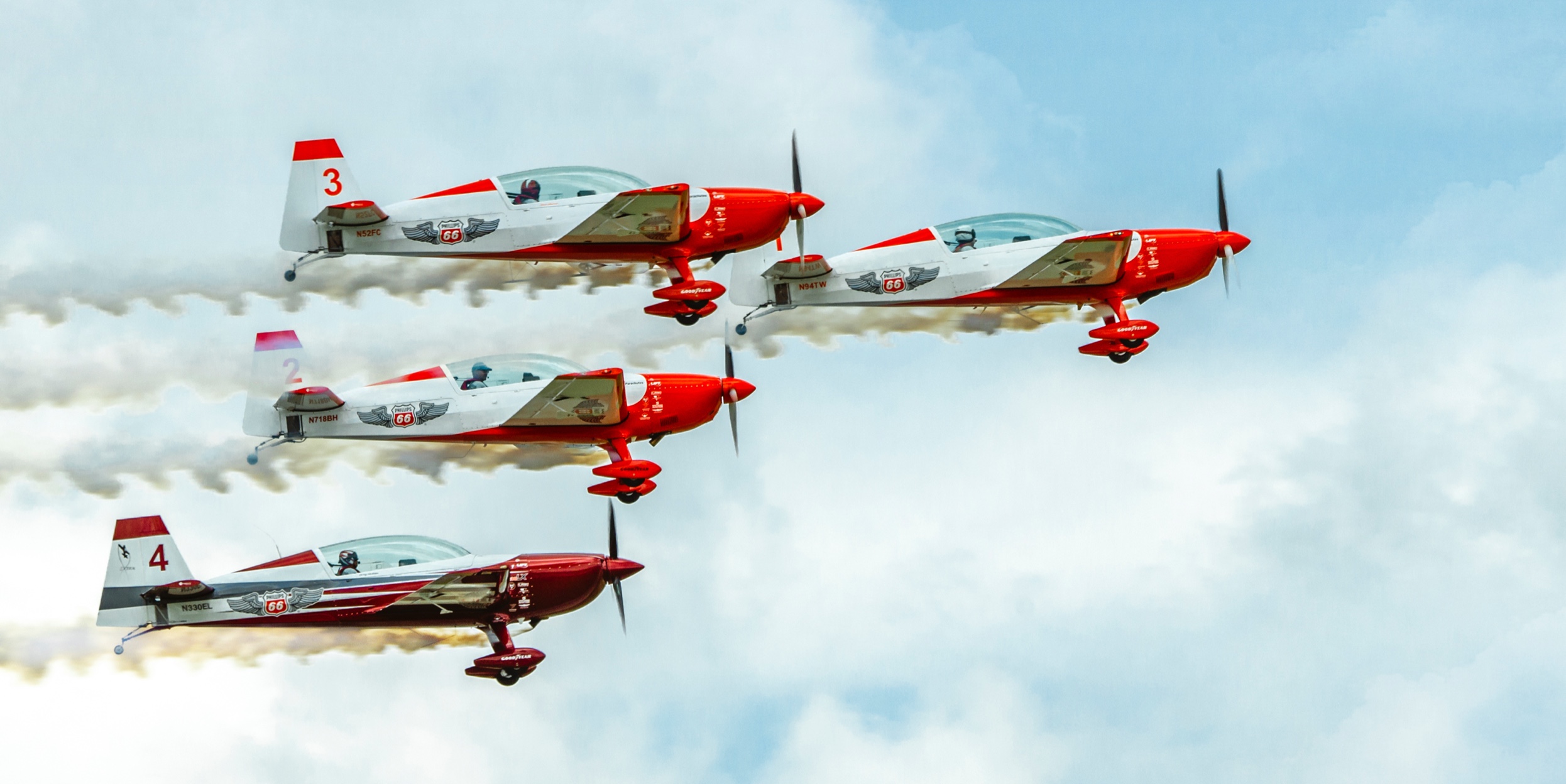 Gerry Molidor. Gerry is from Illinois and former chair of the IAC Glider Aerobatics program as well as the Mid America Region Director. Though well known in IAC circles as a former President of IAC, Gerry also served on the gold medal winning United States Advanced Team in 1997. Currently, he is the newest member of the Philipps 66 Aerostars yet also the oldest although if you were to ask him, he would say "he's the most experienced."  https://www.phillips66lubricants.com/aerostars/ 
Bronze Sponsors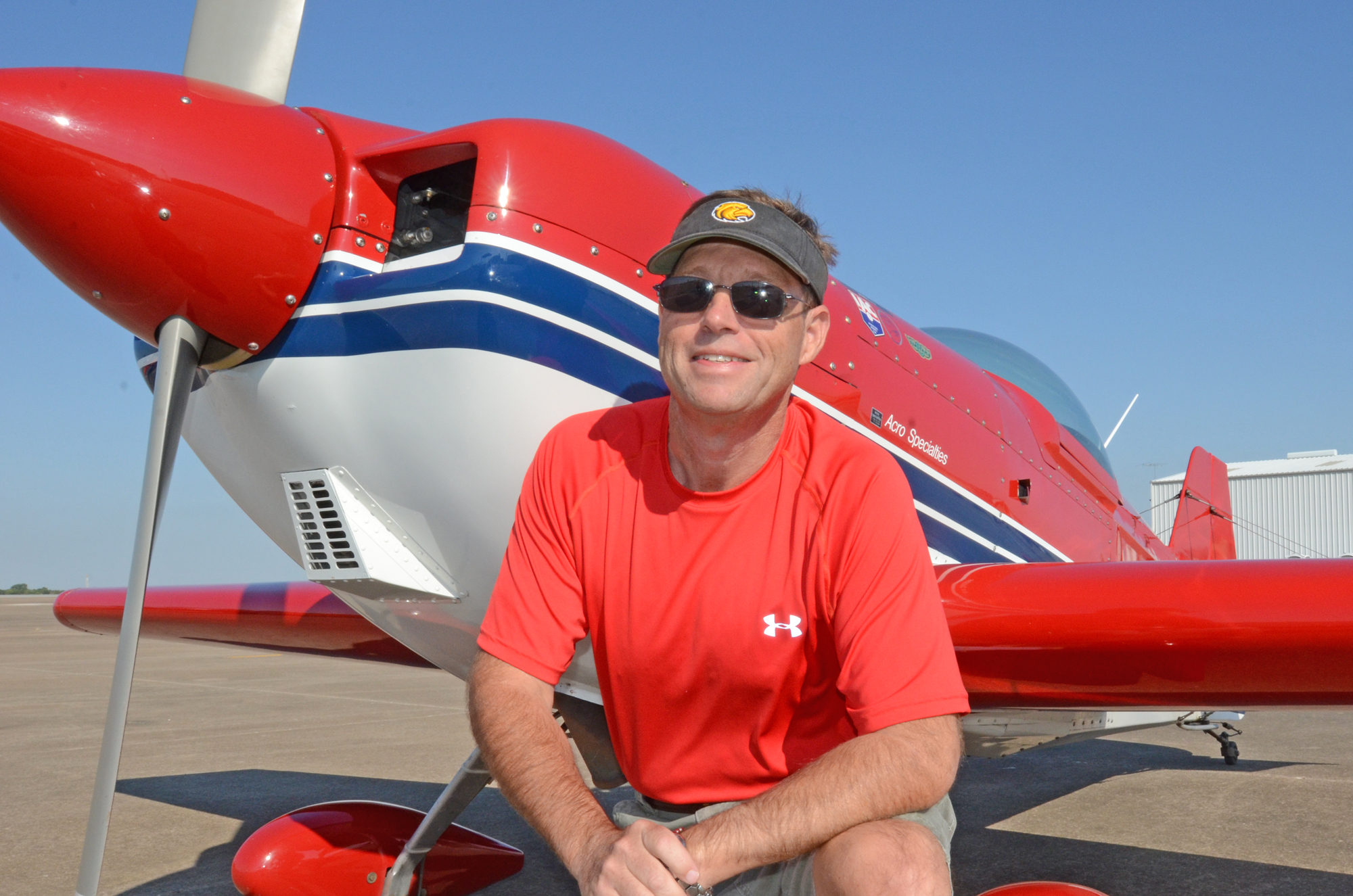 Thank you to Stan Burks - our "Streaming Sponsor". Stan's sponsorship will enable Facebook "Live" streaming of all flying at Nationals this year.

Stan is an Advanced category pilot, flying his Extra 300L. He is from Hattiesburg, MS and competes in the Southeast Regional contests including the Bear Creek Bash held in Georgia. Stan has also a Regional aerobatic judge for many years.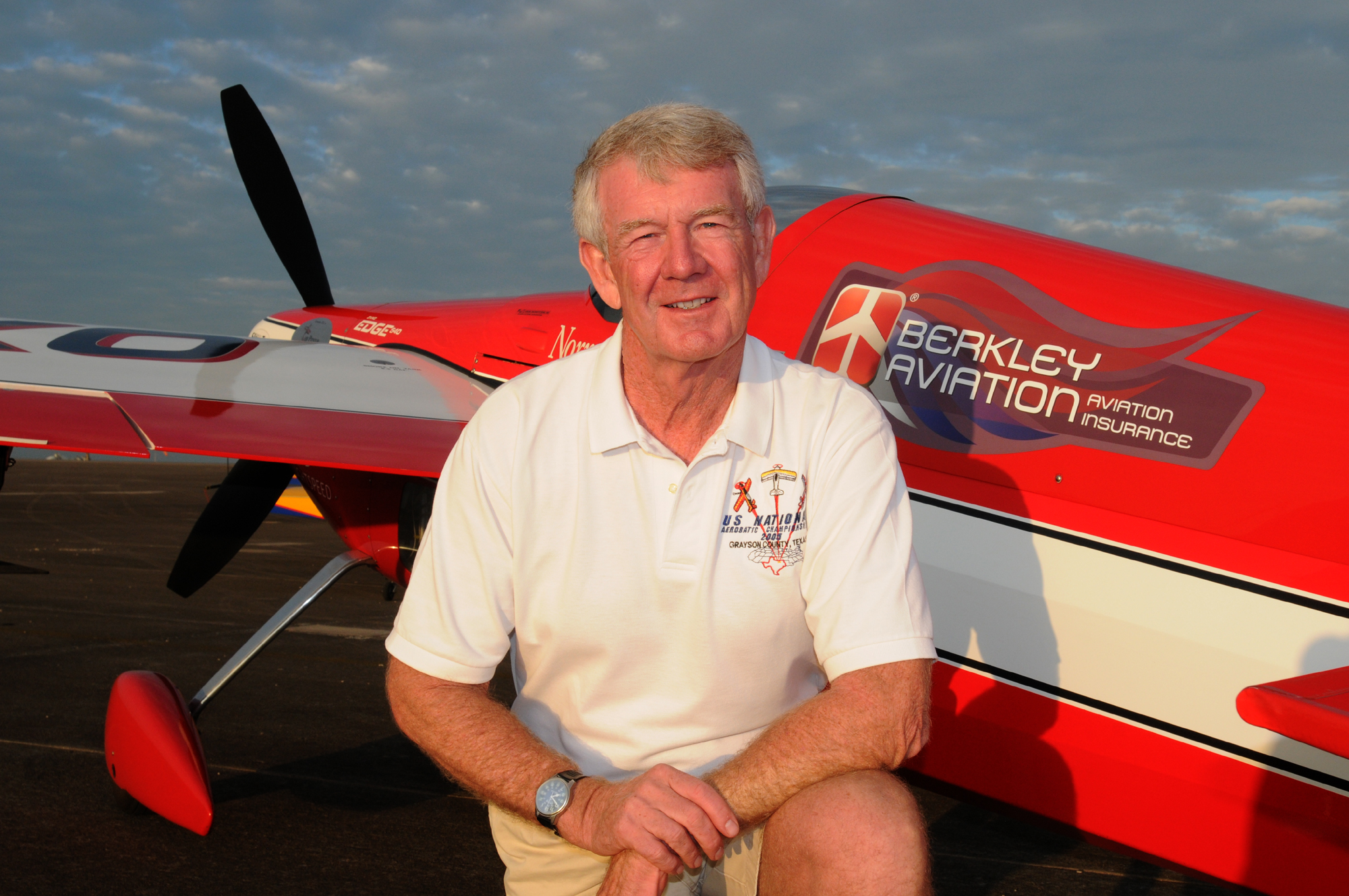 Norm DeWitt. Was the president of Unlimited Aerobatics USA, Inc. for over ten years, which supported the USA Unlimited team for world competition. He has served as a Director for the IAC for many years.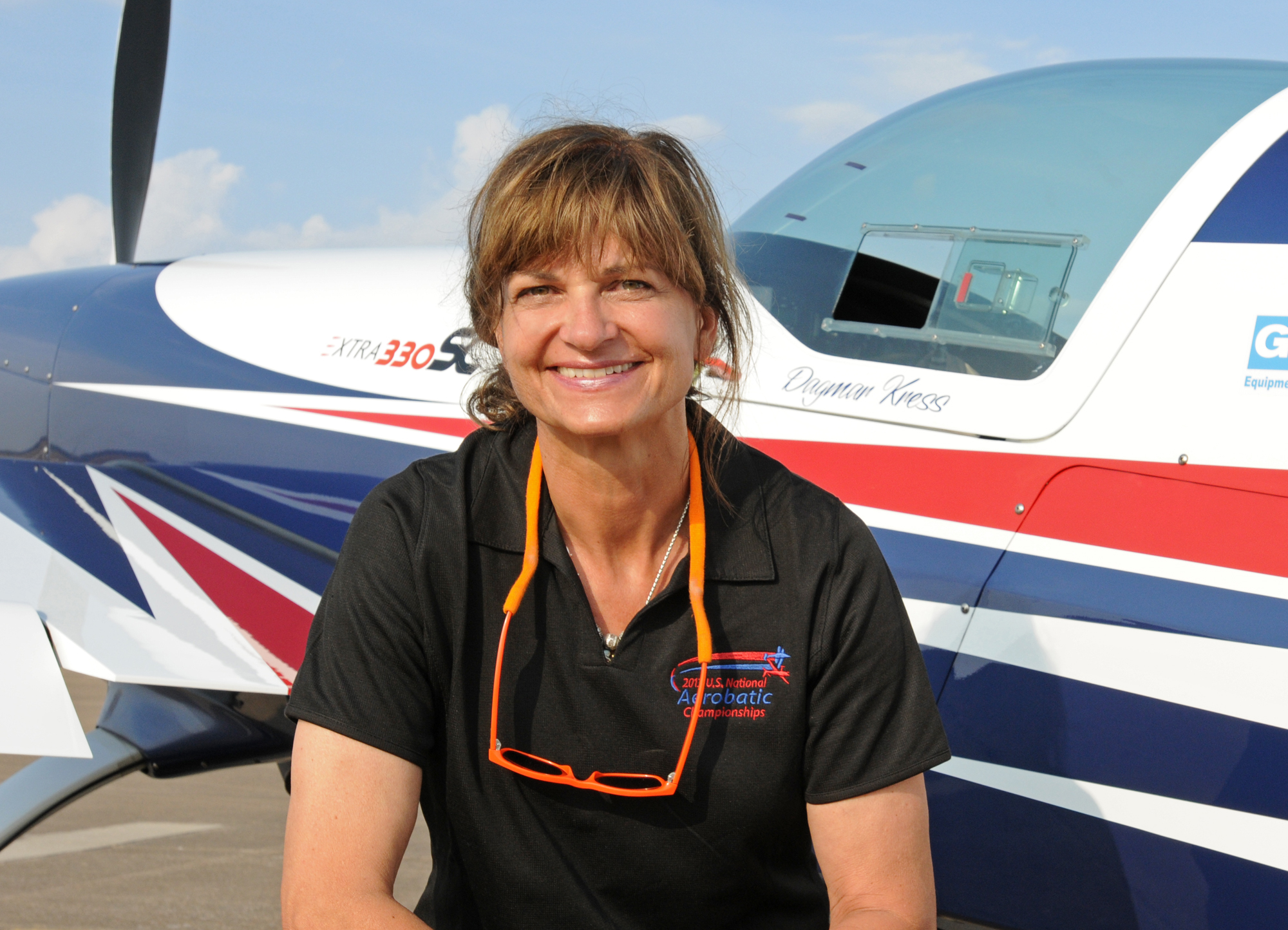 Dagmar Kress gives ground and flight instruction at the Metropolitan State University Denver (MSU). She lead the MSU aerobatic team in 2017 to a First Place win in the Collegiate National Program Award.
In addition to National and Regional competitions, Dagmar has participated in the World Aerobatic Championships as part of the German National Team in 1994, 1996 and 2013.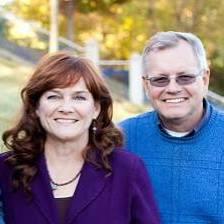 Gordon and Lorrie Penner. Gordon and Lorrie are IAC members from the state of Ohio, IAC34. Gordon is a Captain in the Boeing 767 flying for a cargo carrier, is a Master CFI-A and a FAA Gold Seal instructor. Lorrie is licensed as a private pilot, SEL and Glider, and is the current IAC Executive Director.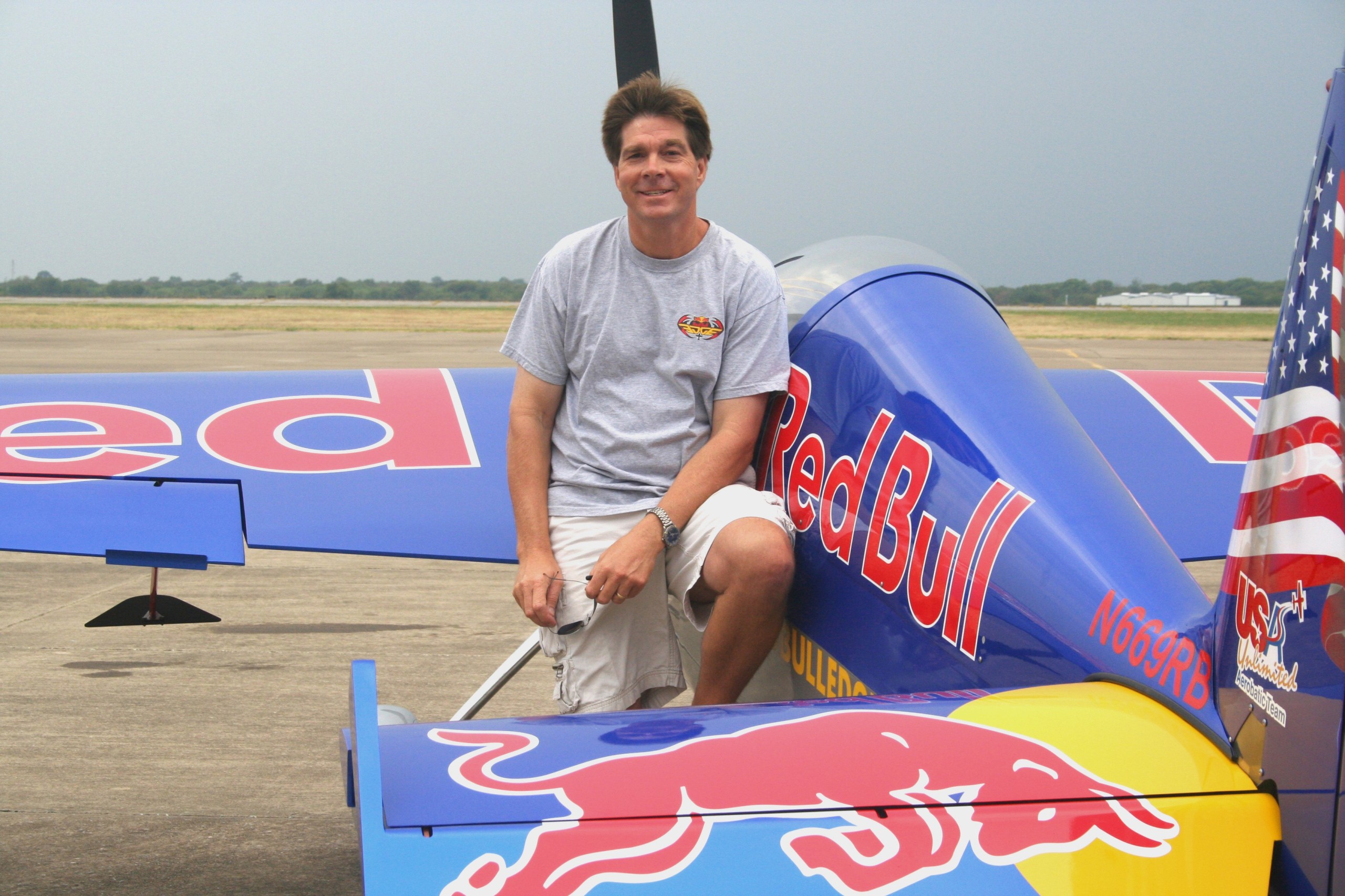 Kirby Chambliss is an active pilot and member of the International Aerobatic Club. In addition to his membership, Chambliss has been a member of the Red Bull team and a part of the Red Bull Air Race World Series aerobatic competition since 2003. Kirby is a 5-time U.S. National Aerobatic Champion, between the years 1998 and 2005.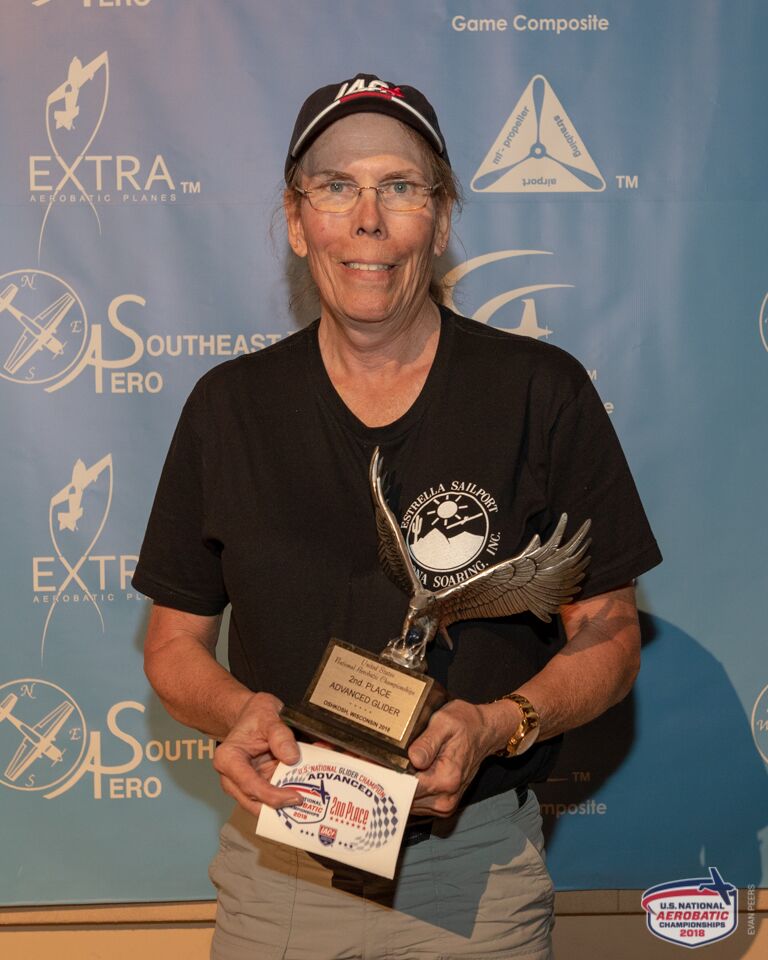 Laura Radigan is a Glider Pilot in the Advanced category. She took her first glider ride in 2013 and by 2016 she was training with Jason Stephens to fly glider aerobatics. 2017 was her first year competing at the U.S. National Aerobatic Championships and in 2018 she placed 2nd in the Glider Advanced category at Nationals.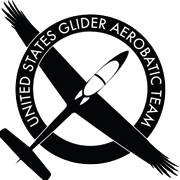 United States Glider Aerobatic Team.  The US Glider Aerobatic Team represents the United States each year at the FAI World Aerobatic Championships. The World Aerobatic Glider Advanced Championship (WAGAC) took place this year in Deva, Romania. Laura Radigan represented the United States at WAGAC.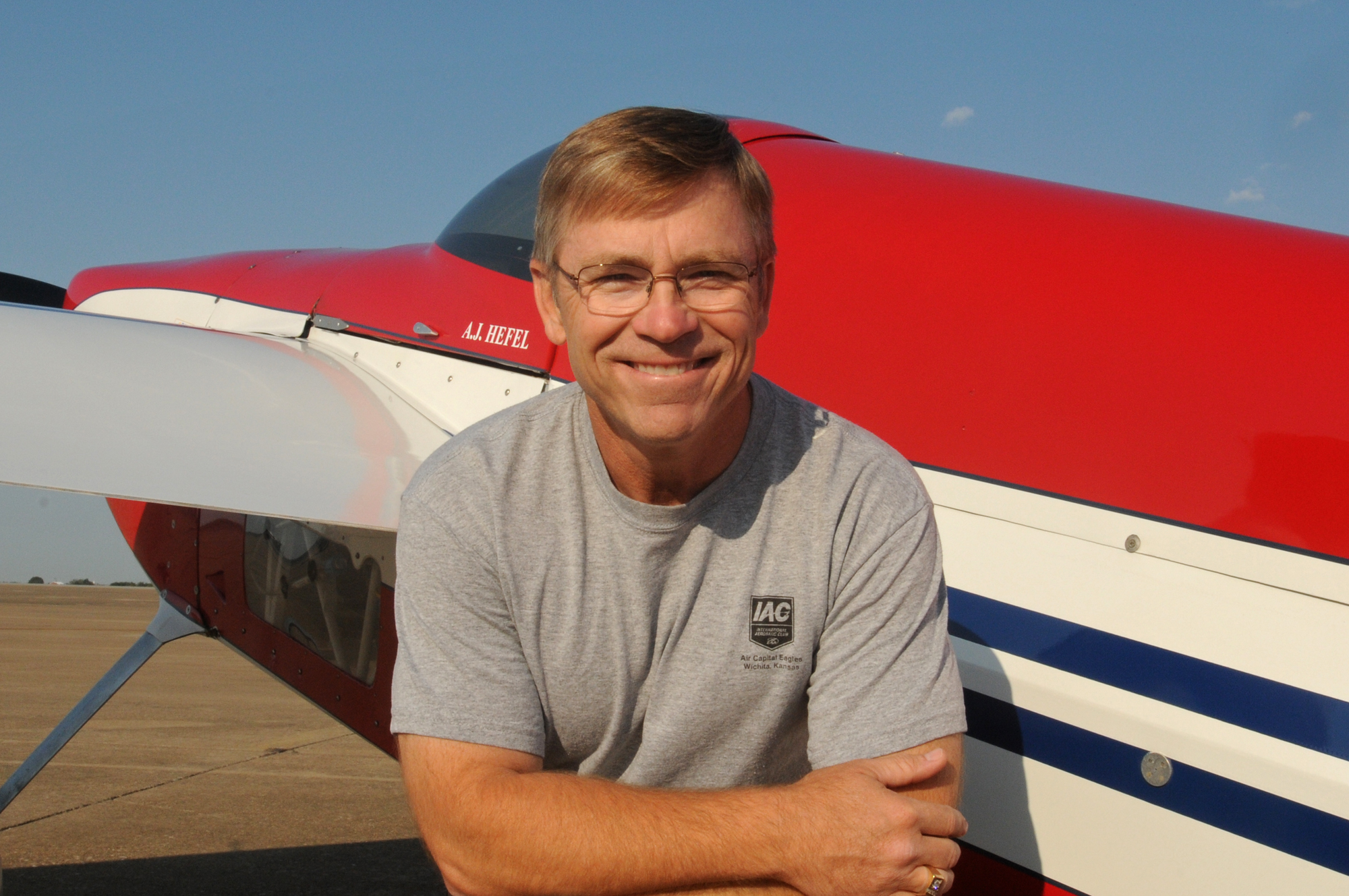 A.J. Hefel is a charter member of IAC chapter 119, Air Capital Eagles, in Wichita, Kansas. A.J. is a past member of the IAC Board of Directors. He flies his Laser at IAC competitions in the Advanced category and has been an aerobatic judge. He is currently a valued member of the Key Volunteer Group planning the 2019 Nationals.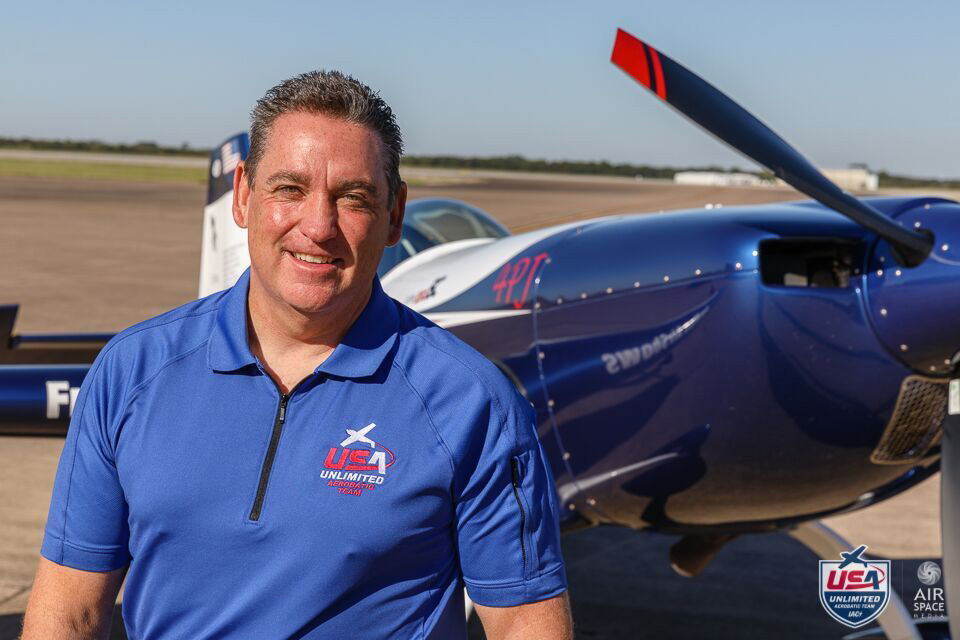 Mike Ciliberti is an Unlimited category competitor in the Northeast Region. He has been competing in a Sukhoi and is expecting delivery of a MXS soon. He has been a member of the USA Unlimited Team since 2017.  



Thank you to Sharp Performance, Salina for supplying the bleachers next to Hangar 606, where our competitors, volunteers and guests can view all of the action at the U.S. World Aerobatics Championships!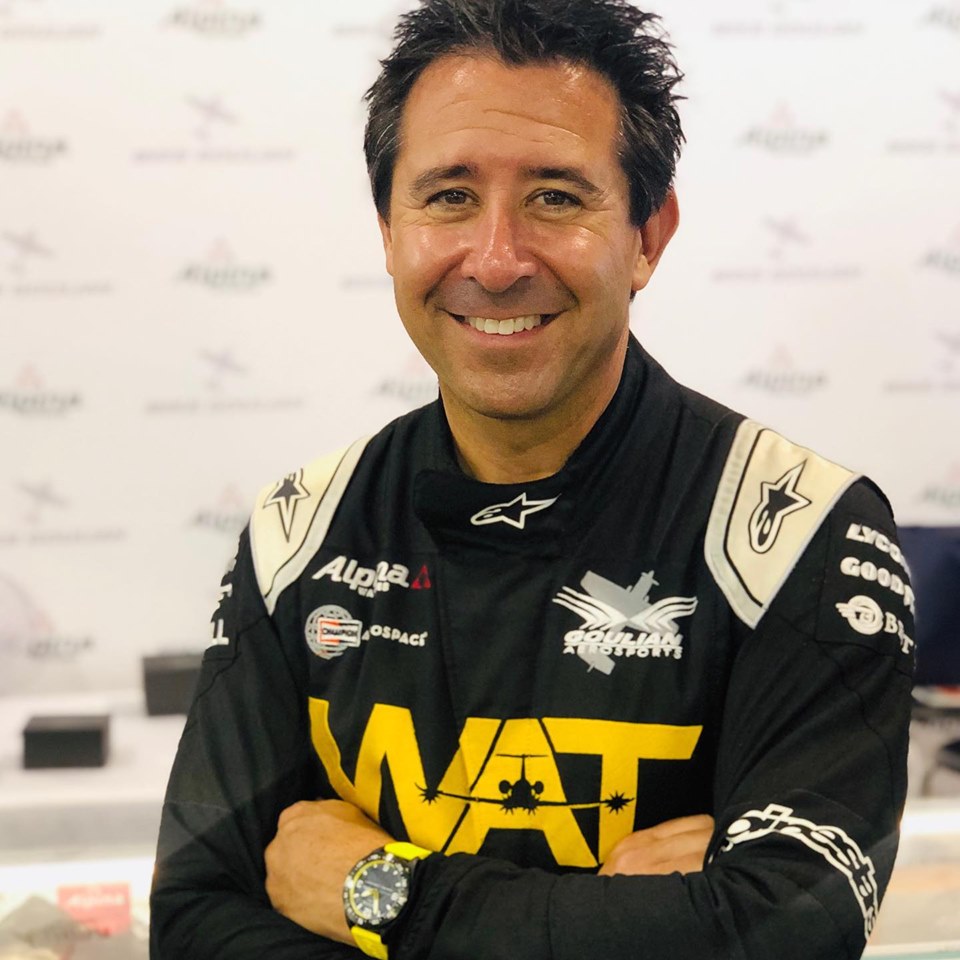 Mike Goulian. Mike is a multi-disciplined aerial demonstration pilot and IAC member.  Beginning his career in the competitive world of aerobatics, he became one of the youngest pilots to ever win the United States Unlimited Aerobatic Championship at the age of 27. His signature air show performance combines the heart-stopping gyroscopic tumbling of modern display flying with the crisp, aggressive, demands of precision competition aerobatics. http://mikegoulian.com/michael-goulian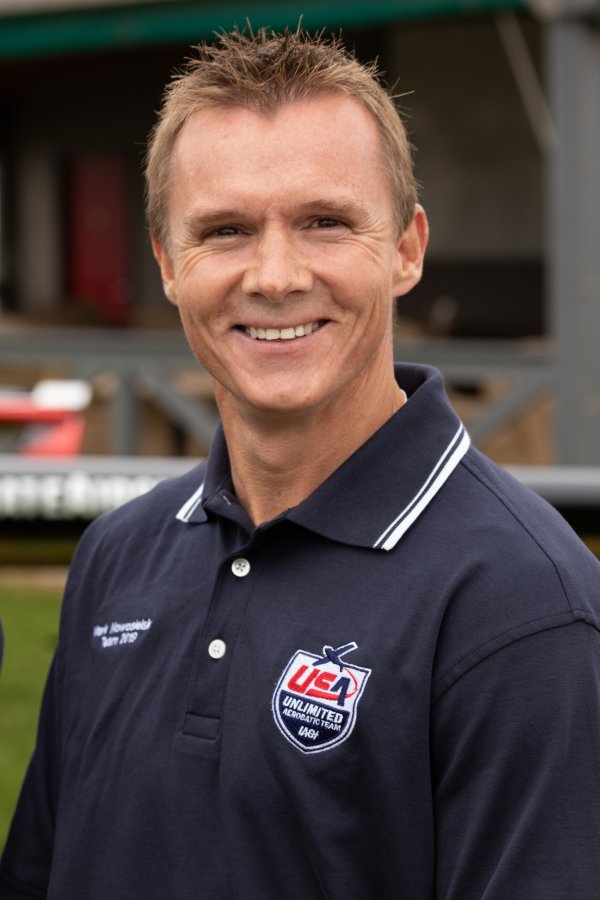 Mark Nowosielski. Originally from South Africa, Mark developed an interest in aeronautics early on in his life. When he was a teenager, his family moved to the United States and he realized his passion for flying was more than just a hobby. Mark is an IAC member and won the 2013 United States National Championship in the advanced category. Known for his daring stunts in the dark, he became the first known pilot in the country to tumble his aircraft at night during the 2018 EAA Airventure. Currently, he flies an orange-striped Tiger Yak 55 and is a member of the Twin Tigers Aerobatic team along with Mark Sorenson. http://www.tigerairshows.com/formation-aerobatics/
Greg and Micki Shetterly. Greg and Micki are both IAC members originally from Michigan but now living in Texas. Greg's vast interest in aviation was inspired by the stories his grandfather and uncle would tell him growing up. Over the course of his 42 years of professional flying, Greg has over 20,000 hours of flight time in 131 various aircraft models. He is a certified instructor in numerous types of aircraft including aerobatic instruction. Sharing his passion for aviation, Greg taught Micki and their two sons, Jeff and Joe to fly as well. Known as the Shetterly Squadron, Greg along with Jeff and Joe perform at airshows across the United States while Micki often flies her Citabria or Champ to airshows as a support aircraft and serves as the team Safety Officer and Announcer. http://shetterlysquadron.com/pilots/greg-shetterly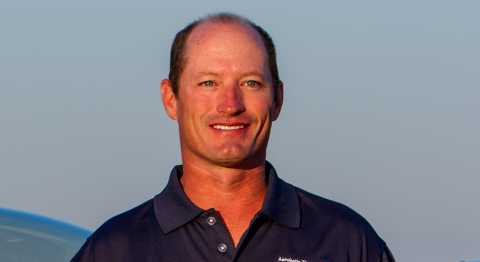 Jeff Boerboon. Jeff is a long-time member of IAC. Growing up in Minnesota, Jeff's father was able to take him on regular trips to EAA Oshkosh for air shows which left a lasting impression on him. In 2010. He achieved his life-long dream of being a United States national champion in the unlimited category. Currently, Jeff is a renowned airshow pilot flies his very own, one-of-a-kind Yak-110. https://yak110.com/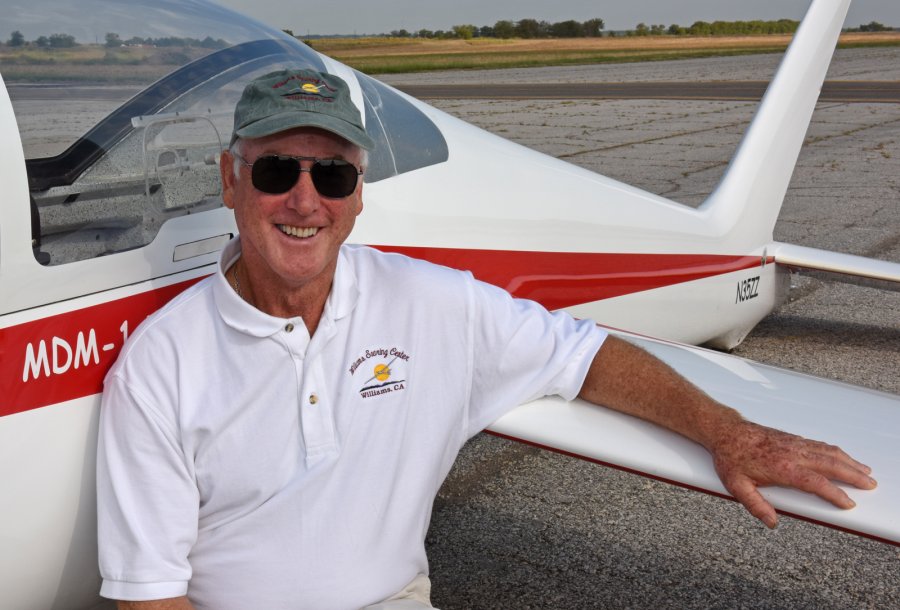 Mallory Lynch. Mallory Lynch is an IAC member from Oregon. In 2016 he was selected for the United States Glider Advanced Team that competed at the 20th FAI World Glider Aerobatic Championship the following summer in Torun, Poland.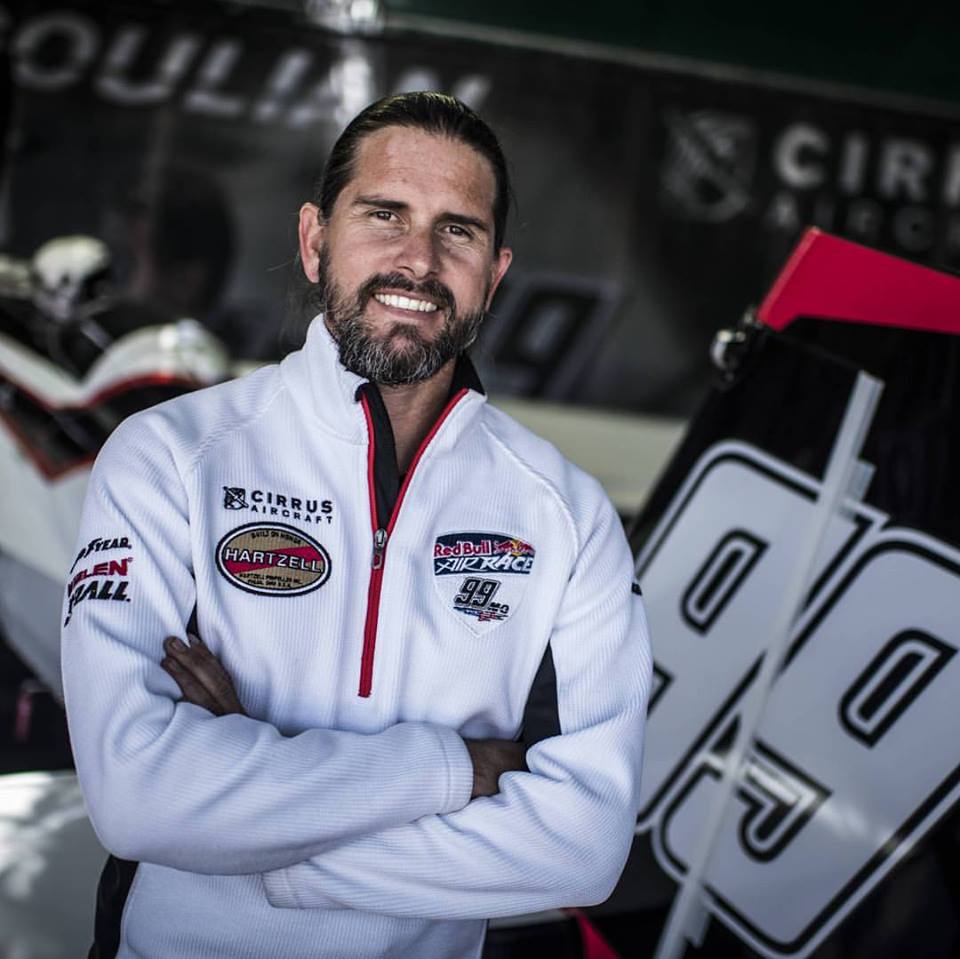 Warren Cilliers. Cilliers Aviation is a faith-based family business, working out of Palatka Airport. Warren is a classically trained air force mechanic, now with full FAA certification to service general aviation. He has been known to display a passion for aerobatics and is currently the Red Bull Air Race technician for Team 99 Mike Goulian. If not on the international race circuit, Warren is a dedicated family man, spending quality time with wife Jannete and son Nicholas.
---
DONATE TO THE U.S. NATIONAL AEROBATIC CHAMPIONSHIPS
DONATE HERE



The Nationals Sponsor Benefit Levels
Platinum Level Donor Benefits ($5,000 +)
US Nationals Shirt
US Nationals Official Poster (signed by US Aerobatic Team Pilots)
Plaque
Copy of Nationals Program Book and Stickers
Full Page Ad in Nationals Program Book
1/2 Page Ad in Sport Aerobatics
Two seats at the Closing Ceremony and Awards Banquet
Letter of thanks from IAC President and Nationals Contest Director
Gold Level Donor Benefits ($1,000-$4,999)
US Nationals Shirt
US Nationals Official Poster (signed by US Aerobatic Team Pilots)
Plaque
Copy of Nationals Program Book and Stickers
1/2 Page Ad in Nationals Program Book
Letter of thanks from IAC President and Nationals Contest Director
Silver Level Donor Benefits ($500-$999)
US Nationals Shirt
US Nationals Official Poster
Copy of Nationals Program Book and Stickers
1/4 Page Ad in Nationals Program Book
Letter of thanks from Nationals Contest Director
Bronze Level Donor Benefits ($100-$499)
US Nationals Shirt
US Nationals Official Poster
Copy of Nationals Program Book and Stickers
Letter of thanks from Nationals Contest DIrector