News & Updates • Video  • Photo Gallery
---
Goody Thomas • Rob Holland • Jeff Boerboon • Brett Hunter • Melissa Pemberton • Benjamin Freelove • Mark Nowosielski • Mike Gallaway
---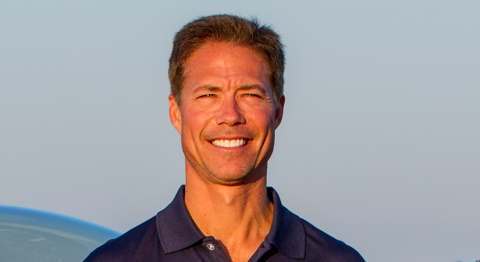 Goody Thomas: Pilot / Team Captain

"I continue to strive for perfection and hope one day to be World Champion."
I have been flying since the age of 13. My father and grandfather flew in the military. I fell in love with aviation as a young boy. Built model airplanes and model rockets as a young boy. Began flying radio control at the age of 11 and continued the models into my early twenties. Aviation dominated my life's focus. The only other thing was soccer, which also took a large commitment; as I traveled extensively and trained. Competition has always been at the forefront of my life. I am a very focused and highly motivated individual.
I soloed when I was 16 while still in High School. Soon there after attended Clemson University. Flew throughout college. Began corporate flying after college and then soon landed my first commuter airline job. After working my way up over several years and airlines I now am proudly flying for SouthWest Airlines.
As a child growing up I again fell love to the aerobatic and Airshow side of aviation. I began going to Airshows as a young child, attending Oshkosh many times with my dad and grandfather. I took a big interest and inspiration from the late Leo Loudenslager. I got his autograph while at the Dayton Airshow when I was a kid. I wanted to fly just like Leo.
I began flying acro when I was 23 in a Pitts S-2B. I flew my first contest in 1998 in Keystone Florida. In 1999 I went to the U.S. Nationals and was third to qualify for the US Advanced Aerobatic team which flew in Germany the following year. I was on the 2000 AWAC team and finished 7th in the World. In 2001 I moved into the SU-31 and began flying in the Unlimited category. It was a huge step changing planes and moving up into Unlimited. It took me many years to become proficient.
Over the years I have won multiple gold medals in Unlimited. I have Been on 5 US National Teams Teams placed in the top ten multiple times on individual flights at World Championships. I was the recipient of Charlie Hillard Award in 2011 for the highest scoring us pilot at the WAC. I am currently flying a Extra 330 SC, which I feel has elevated the flying and what we can do with classic flying. It's an amazing airplane.
Below is the flight that propelled Goody to the top spot on the Us National Aerobatic Team and winning him the coveted Team Captains spot. This video was shot from the judging position and the figures are called out individually as the flight progresses.
This Team 15 that I am on is outstanding and I am truly lucky to be a part of this unbelievable group of pilots. The amount of experience and depth is second to none. We have the ability to do great things at the WAC.
Goody is married to Lynn Thomas and has two daughters Blake (age 2) and Taylor (age 4).
[top]
---
"Fly good... don't suck!"
Rob Holland has never known a time where he was not completely obsessed with Aviation and Aerobatics. At a young age his Dad brought him to an airshow where he saw an airplane flying upside down, and knew that was what he HAD to do.
He has been flying now since the age of 18 and has accumulated greater than 11000 hours of flight time in over 172  different types of aircraft ranging from Piper Cubs to Regional Transport Aircraft, gliders to high performance aerobatic machines.
Rob's complete dedication to the sport of aerobatic has led him to an impressive list of personal achievements:
2014 US National Aerobatic Champion
2013 World 4 Minute Freestyle Champion
2012 Recipient of the Art Scholl Award for Showmanship (the highest honor an airshow perform can receive)
2011 World 4 Minute Freestyle Aerobatic Champion
2011 and 2012 US National Aerobatic Champion -2008, 2011, 2013 US National Freestyle Aerobatic Champion
2008 World Advanced Aerobatic Champion
2008 ASB "Person of the Year"
2006 World Advanced Aeroabtic Silver Medalist.
Member of US Aerobatic Team, 2004, 2006, 2008, 2011, 2013
2013 Captain of US Aerobatic Team.
2008 Daniel Webster College "Distinguished Alumnus of the Year"
Rob graduated from Daniel Webster College in 1997 with a Bachelor of Science degree in Aviation Management and a Bachelor of Science degree in Aviation Flight Operations.
Rob is rated as an Airline Transport Pilot (ATP) with a Certified Flight and Ground Instructor (CFI, CFII, IGI, AGI) rating and also holds a glider and seaplane rating.
Rob has had a diverse aviation career so far: flight instructor, banner tow pilot, aircraft ferry pilot, Pilatus PC-12 corporate pilot, and commuter airline pilot. He currently works full time both domestically  and abroad as an professional airshow performer.
Rob's infectious, upbeat, and approachable demeanor makes him a favored crowd-pleaser at airshows. His complete love of aviation is immediately apparent to everyone who meets him. Rob hopes to instill into others his insatiable desire to excel and for them to actively pursue their goals and dreams.
[top]
---

"I model my aerobatic competition mindset after seven-time U.S. National Aerobatic Champion Leo Loudenslager."​
Jeff Boerboon. . . (pronounced "bourbon," like the whiskey) began his fascination with aviation at an early age. Growing up in Brooklyn Park, just north of Minneapolis, Minnesota, in the early '70s, Jeff was close enough to EAA Oshkosh that regular trips to see the show were the norm in his family. Jeff's father, a commercial pilot, would take him to see the likes of Art Scholl and Leo Loudenslager. It was Leo who would leave an indelible impression on young Jeff.
Reprinted from the December 2010 Sport Aerobatics by Reggie Faulk with Permission
Radio-Controlled Airplanes
"He's always been my idol in this game," Jeff says. "When I got my first airplane, a Pitts S-1S rebuild project in the late '90s, I got the registration number 17NV as a tribute to Leo's one world and seven national victories. I liked watching Leo and thought his dedication to the sport of competition aerobatics was great."
With his fascination for aerobatics cemented, it would take Jeff 30 years to rise to the top of aerobatic competition in the United States. "I've been an IAC [International Aerobatic Club] member since the '80s," says Jeff. "Besides getting the magazine and watching from afar, I was not able to participate until much later."
As a kid, Jeff built and flew model airplanes. He received his first radio-controlled (RC) airplane on his 10th birthday. Before that, he flew control-line and free-flight airplanes. He did participate in competitions with his models, dreaming of the day he'd be able to fly the real thing. "I flew model airplanes all through junior high and high school," he says. "After graduating high school in 1987, I went into the aviation program at the University of North Dakota (UND) in Grand Forks."
College Days
It was at UND where Jeff's aviation talents really began to blossom. It was also where he'd meet his advisor and coach, Kent Lovelace. Kent instilled the values Jeff holds dear today. "Kent was a great motivator," says Jeff. "He was very much into the team concept and had the three rules of life: Never give up; never give up; never give up."
Jeff was a team member and participated in the National Intercollegiate Flying Association (NIFA) Competition while studying at UND. The contest consisted of spot landings, a navigation event, and a 15-minute preflight in addition to a number of ground events.
"My team won the NIFA national championships in 1989 and 1990," Jeff remembers. "During the '91 and '92 championships, I was the assistant team coach." In addition to his championship titles, Jeff was also two-time outstanding team member in the years they won.
Jeff's first aerobatic flight was at the controls of UND's CAP 10-B with instructor John Caturia. "I flew through the 10-hour introductory aerobatics course," Jeff says. "After I became a flight instructor at UND, I gave tailwheel raining in the Super Cub, the CFI (certificated flight instructor) spin course, and aerobatic instruction."
Throughout his college career and later on in his aviation career, Jeff has had a copilot in Kent. Jeff's air show company, 3D Air Shows, represents his mentor's 3D values: dedication, determination, and discipline. Jeff credits Kent with many of his successes both during his time at UND and since graduating. "Kent instilled these values in me," Jeff says. "Getting through interviews and jobs I've had along the way and certainly my success with aerobatics are all a credit to those values."
With two championship rings, Jeff was motivated to pursue aerobatic competition. It would still be a few years before the dream came to fruition, but the seeds had been sewn. After graduating from UND in 1992, he worked as a flight instructor for just under a year before heading to Nevada to fly tours of the Grand Canyon.
The Lesebergs
In April of 1993, Jeff headed to Boulder City, Nevada, for an interview at Lake Mead Air. Arriving a day early, he walked into the small office. An older gentleman sitting on the couch asked point-blank, "Who are you?"
"I came down from UND, and I've got an interview tomorrow," Jeff responded. "You see that [Cessna] 206 out there?" the man replied. "Go out and preflight that thing… Let's go fly." "I'm not really supposed to be here until tomorrow, and I was just checking it out," a startled Jeff answered. "#%&* it!" the man exclaimed. "Go out there and get in that airplane!"
That was Jeff's introduction to Earl Leseberg, the owner of Lake Mead Air. At the time Jeff went on his evaluation flight, Earl had already been in business 30 years. Flying for Earl was 180 degrees different from flying at UND.  "When you graduate from a big school like UND," says Jeff, "you follow every one of the rules and everything is regimented. The FAA is like God. Earl didn't care much for the FAA."
During the first few days he was there, Jeff overheard Earl yelling into the phone. He asked the lady working the counter who he was talking to, and she responded, "The flight standards district office (FSDO)."
"I heard him yell, 'If you send him, send a body bag and a hearse, too!'" Jeff remembers. "I couldn't believe it. He was talking to his primary operations inspector, who couldn't make it for a maintenance inspection, and they were going to send somebody else out. He was an old-timer. He'd been flying planes back in World War II, and the FAA was just a nuisance to him. With this company, it was, checklist? What's that? Weight and balance? What's that? Weather? We're going."
Earl always hired young 500-hour pilots, and no one stayed more than a year. In the 43 years he was in business, Lake Mead Air never had a fatality. "Earl had a really good sense of who was going to be a good pilot," says Jeff. "He didn't talk to you. He didn't need to interview you. He just wanted to know how you operated an airplane."
As an RC enthusiast, Jeff brought along all of his airplanes when he moved to Nevada and stored them in the office. Their mechanic was also into RC airplanes, so he and Jeff began flying them at a nearby dry lakebed. When Earl's son Mark, a Delta pilot, came by one day and saw all of the airplanes, he asked who owned them. After a quick introduction, he asked Jeff if he would build an airplane and teach his 10-year-old son Mark Earl to fly. "I'd love to," Jeff responded.
"Even at the age of 10, Mark Earl was a very talented full-scale pilot," says Jeff. "I flew with him a number of times, and he flew a full-scale airplane really well. In fact, on his 16th birthday, I signed him off to fly seven different types of airplanes."
Mark Earl was doing so well on the RC trainer, Mark Sr. asked Jeff to build something bigger for him. That eventually took off to the point where today Mark Earl is a three-time champion of the Tucson Shootout—the equivalent to U.S. National Aerobatic Championships except for large-scale RC airplanes.
"He got his start with me when I was flying for Lake Mead Air," says Jeff. "I taught him how to fly and built all of his airplanes until about 2001. Now Mark Earl is using much of what he has learned flying models to help me with my four-minute freestyle design."
Jeff credits the power of teamwork for where he and Mark Earl stand today.
"I'm pretty much at the top of full-scale aerobatics in the U.S. after my win at Nationals," Jeff continues. "If you look at Mark Earl, he's at the pinnacle of scale RC aerobatics. He and I got started together back in 1993, and we've been helping each other out the whole time. He and I have the same birthday, October 17. I was 22 at the time, and he was 10 but very mature for his age."
Even though he wasn't flying competition then, Jeff was a student of aerobatics, and coached Mark Earl on all of the International Aerobatic Club's figures and routines.
"This is my whole thing about teams," says Jeff. "I can't do this on my own; nobody can. At the time, we had Mark Sr. providing airplanes. I was doing the building and coaching, and Mark Earl was doing the flying. If you ask most people right now, he's probably the best in the country at most of the disciplines."
After his year was up with Lake Mead Air, Jeff moved on to Eagle Canyon Air, flying twins over the Grand Canyon. He continued to live in Boulder City and to coach Mark Earl on his path while keeping full-scale aerobatics in the back of his mind. After flying for Eagle Canyon Air for the summer of 1994, Jeff got a call from American Eagle and began flying for the company in the fall of that same year. For the first two years, he flew the Jetstream 32, and later the SAAB 340. In 1995, while flying for American Eagle, Jeff officially began his long journey toward the aerobatic championship.
Maria and the Pitts
"Mark Sr. had heard of a Pitts S-1S project for sale and ended up buying it," says Jeff. "It was an airplane that was flipped upside down on landing. The idea was to have me rebuild it."
After tearing the airplane down, they powdercoated the fuselage, replaced the original landing gear with spring aluminum landing gear, sent the engine off for overhaul, and had a new set of wings built. Nearly five years later, and after a trip to Wyoming for finish and paint, the airplane was ready for its first flight since being flipped over. In the meantime, Jeff struck gold when he met his future wife Maria on a trip to Puerto Vallarta, Mexico, in 1997.
"We met at a bar called 'The Zoo,' Jeff says. "Later on, she invited me to her place in Phoenix, and I never left. She's been my biggest supporter throughout my aerobatic pursuits. It's an expensive sport, and she's made many sacrifices, giving up many of the things she wants so I can compete."
In March of 1998, Jeff had an interview with Delta Air Lines and was added to the hiring pool. In 1999, he was hired on. With the Pitts nearly finished and a real paycheck coming in, Jeff began to concentrate on competition in earnest.
"I spent quite a bit of time in 2000 and 2001 getting the airplane fine-tuned. In 2001, I competed in two Sportsman contests and three Intermediate. In 2002, I began flying Advanced. I won my first regional contest at Casa Grande [Arizona]. I was pretty much undefeated in that airplane. Except for a loss at the 2002 Nationals, I won all the regional contests and became the 2003 Advanced National Champion. That put me on the 2004 Advanced team."
Klein Gilhousen
As his flying improved, Jeff began to think about getting a monoplane to fly in the competitions. He started looking for a Yak-55 to rent while he looked for one to buy. He put in a call to Klein Gilhausen, who he was told might have one of the few Yak-55s in the western part of the country.
"He said, 'I'd love to let you use my airplane, but I sold it,'" Jeff says. That call to Klein would end up being fortuitous for Jeff, because it began a relationship that continues to this day.
"Klein has been one of my biggest supporters by letting me fly his airplanes," he says. "In 2005, I told Klein I wanted to try out for the team again, but I wanted to try to fly an Extra instead of the Yak. So I went to Montana and picked up his Extra 300L to bring back to Arizona."
At the 2005 Nationals, Jeff finished second behind Hector Ramirez flying Advanced in the Extra 300L. In 2006, he finished fourth overall, winning a bronze medal in the free program, while Team USA took the silver medal home from the AWAC in Poland. In 2007, Jeff again took first place flying Advanced at Nationals. 2008 would prove to be his toughest year to date.
"This was it," says Jeff. "Klein had purchased a Sukhoi 31M, so we had an unlimited airplane and everything was rolling along. I'm getting to fly the Extra 300 regularly to prep for the AWAC in Pendleton, and I'm flying the Sukhoi to get ready for team selection to the Silverstone World Championship."
Jeff had to watch from the sidelines with an ankle he had broken while wakeboarding just weeks before the Advanced World Aerobatic Competition in Pendleton, Oregon, where Team USA won the gold and Rob Holland took the championship. Jeff put his focus on Nationals and qualifying for Worlds.
"I had two weeks, so I'm getting ready and flying," says Jeff. "We were attending the training camp before Nationals, and a mishap put the Sukhoi permanently out of commission. The Extra was down because it needed a new propeller, so I needed to find an airplane to fly at Nationals. Mike Racy generously offered to let me use his airplane."
Misfortune nearly struck again the night before the first flight at Nationals when, on a practice flight before sunset, Mike didn't return to the field. "We were all standing around wondering where in the heck Mike went," remembers Jeff. "All of a sudden, he comes running around the hangar and says, 'We need to get a fuel pump.' I told him to calm down and tell me what happened. 'You're okay,' I said, 'but where's the airplane?' He said he'd had an engine failure and landed in a small field. The airplane was okay, but it was not running. Around two in the morning, we finally found the problem—a preservation plug had come loose and the safety wire was broken. Mike flew the airplane out of the field, and we got back to Nationals a half hour before our briefing."
With his ankle still in recovery, Jeff was able to fly Unlimited at Nationals in 2008, finishing fifth place overall and placing himself on the U.S. Unlimited Team for the first time.
The 2009 World Unlimited Aerobatic contest was tragic for Jeff. He placed eighth overall and, flying Klein's new Extra 330SC, took fourth place in the Q program. In addition, the team won the bronze medal and he took home the Charlie Hilliard trophy for highest-placing team member. That success was overshadowed by the devastating loss of teammate Vicki Cruse to an accident during the competition. "That's the worst thing I've ever witnessed in my life," he says. "It was a tragedy for all of us."
For 2011, Jeff is determined to help Team USA take home the gold. His journey began at the 2010 Nationals.
"This year, there was going to be no second place," he says. "I didn't care how many points I won by. I worked hard with my coach, Mike Steveson. When you have the best flight you've had all year at the time, it means the most—it's the most rewarding. I couldn't have flown any better, and when it comes out at first place, you feel good. Goody Thomas was breathing right down my neck. He won the Unknown, but I still pulled it off, winning [the Unlimited] by about 125 points."
Jeff credits his win to all of the people who've helped him along the way. "I have so many people to thank," he says. Mostly, I have to thank my wife, Maria. She gives me support by helping out as much as she can. It's been a huge team effort. Without all of that support, you can't get to this level and beat guys like Goody and Rob Holland. If you took away any of that support, I don't think I would have ever made it."
[top]
---
Brett Hunter: Pilot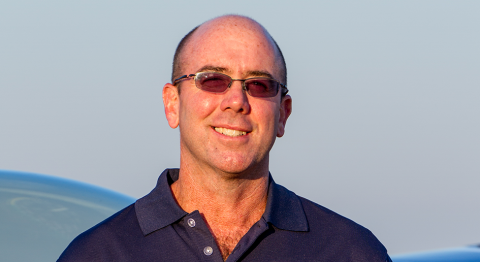 "When I strap on the airplane for some down and dirty wing flinging I am transported to my own Nirvana."
[Reprinted from Fly-Low November 2014 Volume 14 Issue 9 in Steve Bill's Airshots Column by Steve Bill Hanshew | steve [at] fly-low.com]
Hal Newhouser played 17 seasons with the Detroit Tigers before becoming a scout for the Houston Astros. Even at age 70, he had a knack for eyeing talent and that's why in 1993 he talked the Astros into signing a young untested 19 year old who Hal was convinced would become a Major League star. That kid's name was Derek Jeter.
Back around that same year, I met a young and hungry flight instructor just out of the Aviation program at Ohio University (OU not OSU), who I thought had the makings of an aerobatic champ. His name was Brett Hunter. He had just come off a stint teaching in gliders and you just knew in your marrow of marrow, he was a natural stickwith the touch of a Leo Loudenslager or Charlie Hillard.
I watched as he honed his skills in Cubs, Great Lakes', you name it, and even walked in his resume, telling the DC-8 Chief Pilot he wouldn't be sorry putting him on the payroll. That F/O job afforded him the cash to purchase his first Pitts Special. It wasn't too long after that he polished up on an act and got himself an ACE card. He kindly asked yours truly to announce his first show. That wasn't even a problem. It was a pleasure.
Since then I've announced Brett Hunter at numerous air shows and to this very day, his skill still amazes me. And also gives my little cold heart a pitter-patter, especially when he snaps into a knife-edge right after takeoff, skimming the runway as if in a rubber removal project.
That first Pitts S-2 was not near enough machine for him though. The next beast was a goosed up S2C powered by a 360 horse, 540 cubic inch Magnum engine driving a three-bladed Hartzell prop. Naturally, speed mods' were added as were sponsor stickers.
Brett was gaining a following, performing at airshows up and down the Eastern seaboard, Midwest, and Wild West; from Lakeland to Lansing. But his real love and what gave him the jitz, was competition aerobatics. A show's a show. It's what puts the acro pilot's name out there and lines his pocket with some scratch. You wow people with a routine who would be just as wowed if you strapped a Pratt & Whitney JT-3 jet engine to a Maytag washer and ran it down the runway in a shower of sparks. Airshow patrons are rarely discerning, preferring noise, smoke, and flash. They wouldn't know a crisp outside loop with a snap on top from a box of Fruit Loops with a Toucan plastered on it.
It's all about the show. And a good announcer knows this. Don't give them a dissertation on aspect ratio and lift-to-drag; give them a line they can grasp: Raw horsepower, death defying G's, and the notion that what they are witnessing has never been done before, anywhere – ever. Brett knows this and he delivers, but his true heartbeat is competition.
He soon became an odds-on bet at many an IAC regional competition, placing first or at least in the top five. That's why in 2013 he made Team USA. With more airshows came more sponsors, and more advanced competition placements. By September of this year, he placed 5th overall in the U.S. Nationals held in Texas. That sealed him a place on the 2015 U.S. Unlimited Aerobatic Team scheduled to compete for the Gold in the 28th World Aerobatic Championship held in August at Chateauroux, France.
Along with aerobatic luminaries Goody Thomas, Rob Holland, Jeff Boerboon, Nikolay Timofeev, Melissa Pemberton, Ben Freelove, Mark Nowosielski, and Tim Just; Brett will fly for America against the best Europe has to offer. Europe has great pilots and oft times, unlike U.S. pilots, national patronage to support their effort. U.S. pilots pay their own way and that means everything, to include shipping your aircraft to France in a container.
This is why my darling wife came up with a novel way of helping send Brett to France. She's always thinking and unlike myself, its usually good and charitable thoughts. She found a website called "gofundme.com". Used for any number of legitimate fund raising efforts, the site affords you the opportunity to target donations to worthy causes such as sending a lone aerobatic pilot to Europe.
It's only fitting that American pilots return to France to clinch the trophy and the Gold. Isn't that what the Wright Brothers did in 1906 when the French all but claimed that they were "bluffers" and had not flown? It's in our red, white, and blue DNA. We're loud, uncouth, and moreover…we're winners. Send Brett a donation at http://www.gofundme.com/f53kjw and while you're at it help Team USA at www.iac.org/unlimited-team-2015. Let's Go for the Gold.
[top]
---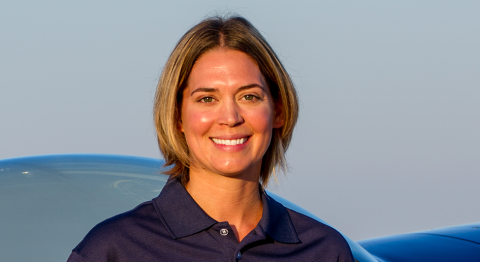 Melissa Pemberton: Pilot
Melissa strives to be a positive role model and inspiration to young people in aviation and women across the world showing them that no dream is too big and nothing is impossible!
Melissa grew up flying aerobatics with her grandmother and earned her license with her grandfather when she was 18. She started competing in Aerobatics when she was 19 while attending Embry-Riddle Aeronautical University in Prescott, AZ. She flew her first airshow at 20 years old after participating in a mentorship program called the Stars Of Tomorrow, which helped young competition pilots competing at the Advanced level to become involved in the airshow World. Melissa was the youngest female to make the US Unlimited Aerobatic team when she was 22. Melissa and the US Aerobatic Team won Team Silver for both the mens' and womens' competition at the World Aerobatic Championships in Texas last summer and Melissa took the Silver medal in the Womens' 4 minute Freestyle competition. This summer she once again earned a slot on the World Aerobatic Team. Together the team will compete at the World Aerobatic Championships next summer in France. Melissa averages 20 airshows per season and has performed all across North and South America, Australia, New Zealand, Europe and Asia. Her husband Rex Pemberton, who she met BASE jumping and rock climbing in Australia, performs along side her skydiving on the airshow circuit in their unique "Wingsuit and Aerobatics" routine.
Awards and Records:
Team Silver and 4 Minute Free Silver at the 27th FAI World Aerobatic Championships
The Betty Skelton "First Lady of Aerobatics Trophy" 2014
World BASE Race Women's World Champion 2014
Wingsuit World League 2nd placing female 2014
Wingsuit Formation World Record, Womens' Freefly Formation World Record
US Unlimited Team Member: 2006-2007, 2012-2013, 2014-2015
World Championships Attended: 2009 Silverstone, England, UK; 2013 Sherman, TX, USA
[top]
---
Benjamin Freelove: Pilot
Ben is known for his relentless pursuit of aerobatic technical knowledge.
Ben has been drawn to the art of the flying machine his entire life.
A move to sunny California from the midwest in 2001 allowed Ben to pursue a career in aerobatic flying. A popular SF Bay Area instructor for several years, Ben was recruited as an instructor at Sean D. Tucker's flight school, the Tutima Academy of Aviation Safety. Now a full time aerobatic pilot, Ben has conducted research into all aspects of aerobatic flight, from control technique to aircraft setup and performance.
Ben was a member of the highly acclaimed Collaborators formation aerobatic team. The Collaborators flew their demanding performance at many of the largest US airshows from 2007 – 2009.
An active aerobatic competitor for over ten years, Ben has been a member of the US Advanced Aerobatic team in both 2010 and 2012.
[top]
---
Mark Nowosielski: Pilot
"The past seven years being involved in the world of Aerobatics has been the most exciting, fulfilling and challenging experience of my life..."
Even though I have only been sitting in the seat for less than a decade, the natural draw to fly inverted started as a small boy living in South Africa. I owe the introduction to the world of aviation to my late Dad. I remember as a preschooler helping my Dad with his radio controlled Airplanes, going to fly them on the weekends and inevitably fixing them during the week. It was several years later that I attended my first air show and I know that the look my Dad saw in my eyes after watching a Sukhoi Solo followed by a formation Pitts routine was going to be talked about for years to come.
​I was introduced to flying in a small airplane at the age of 12 after my dad followed his life long dream and obtained his private pilots license. Shortly thereafter he purchased a share in a Cessna 182 that we flew for the next several years. Flying was already such a huge part of my life that is seemed logical to start taking lessons, the result was soloing on my 16th birthday and obtaining my license shortly thereafter.
In the Summer of 1994 our family relocated to the United States and settled in the Atlanta metropolitan area. Recreational aviation took a back seat as we all adapted to life in the US. Upon graduating High School I enrolled in Embry-Riddle Aeronautical University as an engineering major. It took less than one semester to realize that I did not belong behind I computer, so with my Dad's blessing, I promptly changed my area of concentration to aeronautical science (professional Pilot).
As the years passed, completing college, flight instructing, flying for a regional airline, I always wondered when and how was I going to be able to get into an aerobatic airplane. With the price of living and hefty college loans I was unable to afford aerobatics quite yet. I continued to fly Radio controlled airplanes with my Dad, attend Oshkosh every year and dream about flying aerobatics.
It was during the Oshkosh Air show in 2005, sitting next to my dad in a lawn chair, drinking a cold beer that I turned to him and said, "I think the time is here". I had just recently been hired by a Major Airline, and had completed paying off my college debt. As much as my Dad shared my zest for flying, he was always uneasy about the world of aerobatics due to the safety stigma attached. It was at that show that my dad gave me his blessing to follow my dream of full scale aerobatic flying. We had a fantastic rest of the week looking at various aerobatic airplanes and how they could fit the bill. Alas, less than 3 weeks later my Mentor passed away.
Another year passed as I took charge of the small family business, assisting my mom to sell the company and tie up the loose ends. During this Year I flew with Mark Sorenson, a captain who lives on a small Grass Strip just South of Atlanta. Mark invited me down to look at the airport, his hangar home and Yak 55M. Mark and I formed a friendship that would eventually lead to a partnership in the Airshow industry.
The following year at Oshkosh (2006), in front of the IAC Pavilion stood a shiny Red and White Pitts S1C proudly displaying a for sale sign. Mark Sorenson and I inspected the airplane on site and with very little peer pressure I ended up purchasing her just hours later!!
I am known by family and friends for doing things a little differently than most. Purchasing a single seat Pitts with zero tail wheel time was no different. Over the next 3 weeks, I obtained my Tail wheel endorsement and flew my new plane from Northern Illinois to Atlanta.
Mark Sorenson introduced me to the most amazing group of aviation enthusiasts who all reside on that small grass strip, Big T Airport (64GA). Steve Jenkins a fellow airline pilot offered to let me keep the Pitts in his Hangar. Jim Crunkelton a retired airline Captain took me under his wing, offering advise and helping me maintain the Pitts. Jim soon became my new mentor and I am proud to have enjoyed my success thus far with him. I think it is important to note that even though aerobatics is known as an individual sport, I know that I would have never been able to get to this point without the relentless help of all my family and friends.
[top]
---
Mike Gallaway began flying in 1996.  It was the fear of stalls that convinced Mike to take an aerobatic lesson. Since then, Mike has earned a spot on 3 advanced aerobatic teams, earned a surface level waiver, and has performed in over 100 airshows.
Mike or "Spanky" as the flying community refers to him, is also an airshow commentator.  In fact, Mike was the live event commentator for the first Red Bull Airrace World Series, and currently narrates FAI series events around the world.
Mike and future wife Kellie, live in Frisco,TX, and hangar at Aero Country East in Mckinney, TX.  Mike and Kellie own a Bonanza and an Extra 300/SX.
[top]