Don Taylor was inducted into the Aerobatics Hall of Fame at the October 24, 2003 induction ceremonies at the EAA Aviation Center, Oshkosh, Wisconsin for his contributions to the world of flight.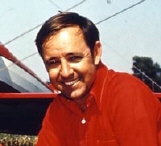 Don Taylor was born into aviation…an OX-5 American Eagle provided his "Young 
 Eagle" ride at 6 weeks of age. Don rode on his...
(read more)