Your First Contest
By John Ostmeyer IAC 22969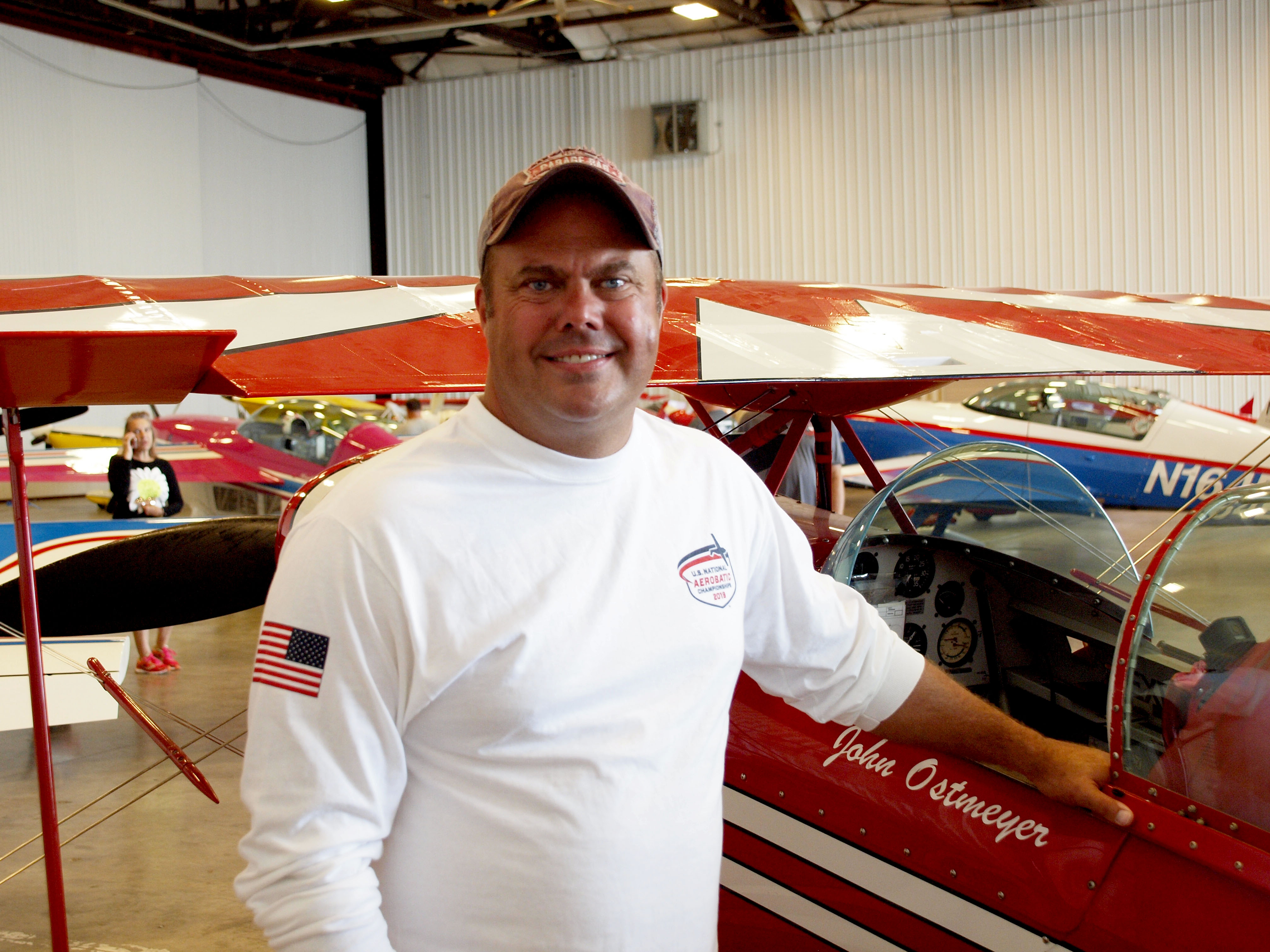 So, you've taken an aerobatic course and decided to try out competition aerobatics, but where do you start?  It can seem like a daunting task to show up with all these experienced competitors and be the new guy, but I think once you try it out, you'll find that everyone wants you to succeed and will be more than happy to help you out.  The purpose of this article is to help you overcome the "fear of the unknown" that all of us feel when trying something for the first time.
The best way to get started is through your local IAC chapter. (Find a Chapter) There you will most likely find a group of people that have years of knowledge and experience and would love nothing more than to share it with you.  They will be more than happy to lead you by the hand when the time comes to fly your first contest.  But what if there is no IAC chapter near you and you still want to fly?  What is the best way to go about it? 
The first thing to do is to make sure that you are an IAC member (JOIN).  When you visit the website there are several tabs at the top, one of which is labeled "Competition" and under that tab will be "Contest Calendar" and it is here you will find a list of all the scheduled contests.  Once you have picked out a contest to attend, look for the Contest Directors contact information and give him a call.  The CD will be more than happy to talk to you and can give you advise on things like what to bring, the best hotel choices, and if you'll need a rental car or not. 
After you talk to the CD go ahead and book your hotel room.  Most contests will have a "contest hotel" that they have worked a deal out with and that's usually where most of the competitors stay so it will be your best bet.  Also, if you stay at this hotel, it will be easier to carpool with another pilot, helping you save money.  At this time, you can sign up for the contest online as well.  Don't worry if you think you may have to cancel, it is easy for contest officials to remove you if you can't make it for some reason.  After you have signed up you can look at the pilots that are preregistered for the contest and see if any of your friends are planning on attending too.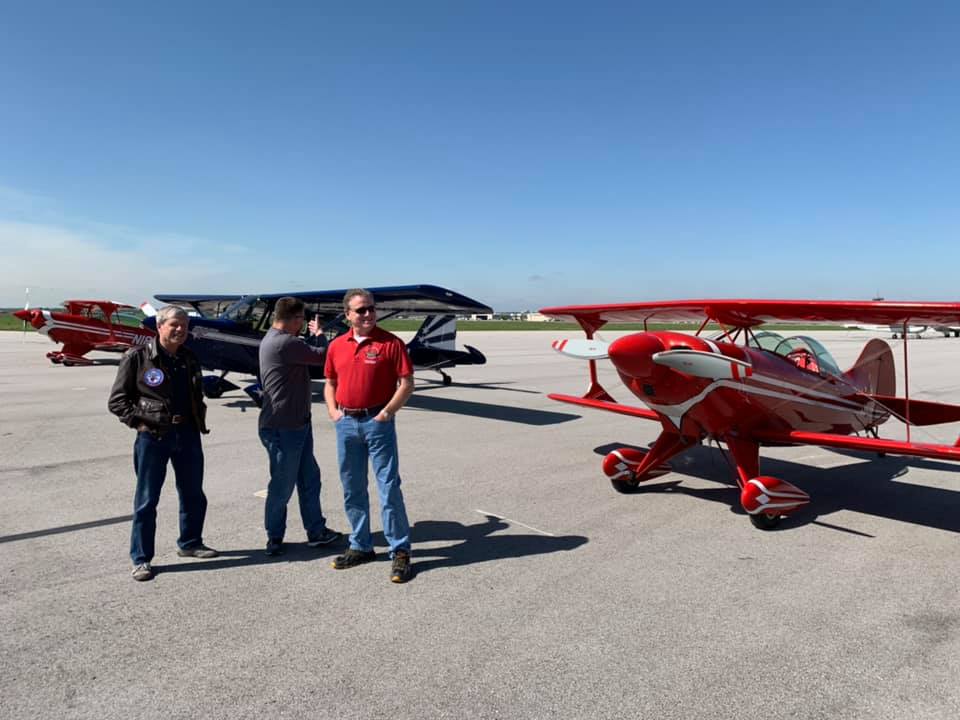 A few nights before you leave for the contest go back to the IAC website and find the "aerobatic competition checklist".  It's under Supporting info in the Competition tab.  Here you will see a list of things to bring to the contest, and I still refer to this occasionally to make sure I don't leave something at home.  A hat and sunglasses are a must!  If this is your first contest you will probably being flying either Primary or Sportsman so you will not need any free style's so don't worry about that.  Also, you will only need a copy of your insurance paperwork and annuals.  Another good thing to bring is a small tool kit so that you can fix or make small adjustment and your checkbook to pay the entry fee.  As always, if you have any questions a quick call to the CD should clear it up. 
On arrival day try to arrive with plenty of time left in the day.  Weather and work schedules may dictate otherwise but it's nice to arrive and not be rushed to get checked in and get a practice flight or two in.  When you land finding the contest area usually isn't too hard, look for the brightly colored airplanes! 
The first thing you should do is find registration and start the sign in process.  Unless you are the first pilot at the contest there will be people standing around so don't be afraid to ask them where to go.  At registration, again let them know this is your first contest and they will be more than happy to walk you through the sign in procedure.  You will have to fill out an entry form, a volunteer sign-up sheet and a technical inspection form.  The entry form is fairly straight forward, and if you have pre-registered online all of these will be filled out when you show up, just make sure you sign them.  The volunteer sign-up sheet is where you fill in what jobs you would like to help out with when you are not flying.  More one these latter.  Turn the volunteer sign-up sheet and entry form back into the registrar.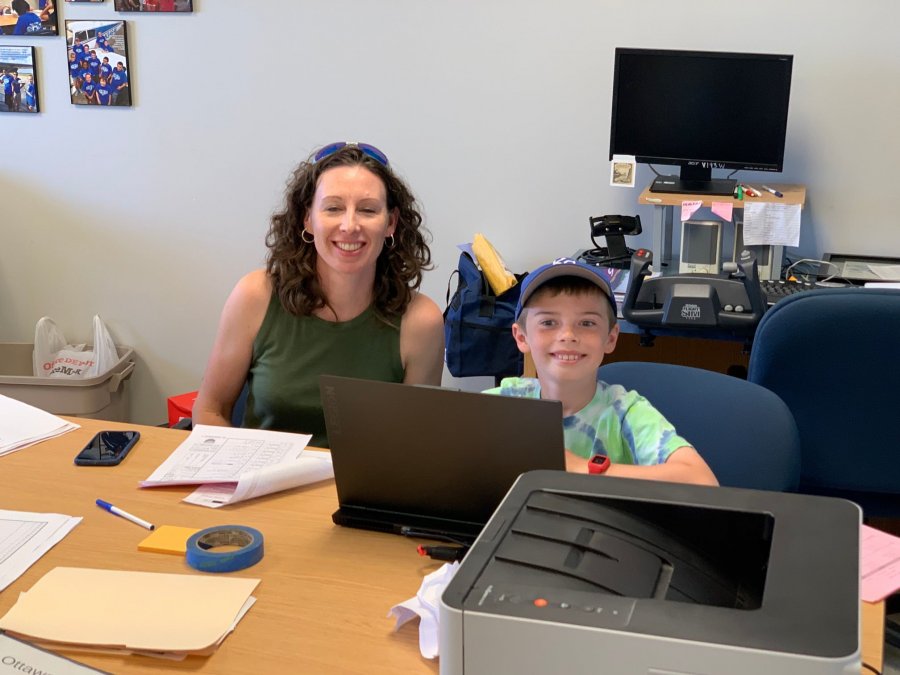 Take the technical inspection form and go looking for the technical inspector.  You will need to have your airplane and paperwork looked at before you can practice or fly in the contest.  Once again, ask around to see who is doing tech inspections and people will be happy to point him out.  Once you find him the technical inspection consists of two parts, one paperwork and the other is an airplane inspection. 
The paperwork is fairly straight forward, especially if you have looked at the competitor checklist we discussed earlier.  He will be looking for basic AROW documents plus a few of other items.  You must also show him your pilot's certificate, medical (unless your basic med), proof of IAC membership, your insurance information, parachute repack card and copies of your annual/condition inspection.  You don't have to bring your real logbooks to the contest, copies will be accepted and encouraged.  Just make sure you have the dates and the actual sign off of the inspection.  Also, bring copies of the airframe, engine and propeller.  For the airframe portion the inspector will do a thorough preflight of the airplane.  He shouldn't be pulling panels off the airplane but take a good look with a flashlight and mirror.   Common things found are loose items in the cockpit or fuselage, loose nuts and other minor discrepancies.  If the inspector finds something he will note it on your form and give it back to you.  You can then go and fix any problem that may have shown up, have him look it over then he will sign it off.  This will most likely be a non-event and it's always a good idea to pick the tech inspector's head on maintenance items while he's there.  One he's done take the inspection form into the registration office and you're all signed up!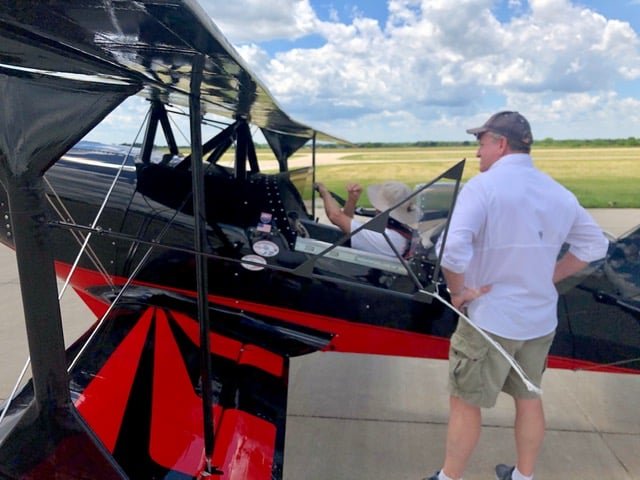 Some, but not all, contest's use a buddy system for first time competitors.  If they are doing this the CD or some other contest official will ask another experienced pilot to be your mentor for the weekend.  This will be a great source of information on what to do and where to be and when to be there.  Most likely they will offer advice on your flying as well if you would like.  If for some reason the contest is not officially offering this service, after a short period of time you'll find a few people who will be more than happy to help you out.  I cannot stress enough how eager everyone will be to offer you a hand. We love to share our sport!
After you signed up and have finished your tech inspection you can start to think about getting in a practice flight.  Every contest is a little bit different in how they handle the practice day so ask if there is a sign-up sheet or not.  Usually if there aren't too many pilots there it will be a very informal, fly when you want to, type of schedule.  When it gets busier than there is usually a sign-up sheet where you can sign up for a practice time.  These will range from 10-20 minutes in length. 
A word of advice: if you have a 3:30-3:40 practice slot, that means the box is yours at 3:30 and will be someone else's at 3:40.  Be in the air ready to go at 3:30.  If you are late and just taking off at 3:30 you will miss most of your practice time.  Unless there is no one in next slot you will have to exit the box at 3:40 to let the next pilot practice.  You can usually sign up for as many slots as you want, but it is a courtesy to let pilots who haven't flown yet get priority later in the day.  Also, don't overdo it and burn yourself out on practice day!  You'll have plenty of time to fly over the next couple of days.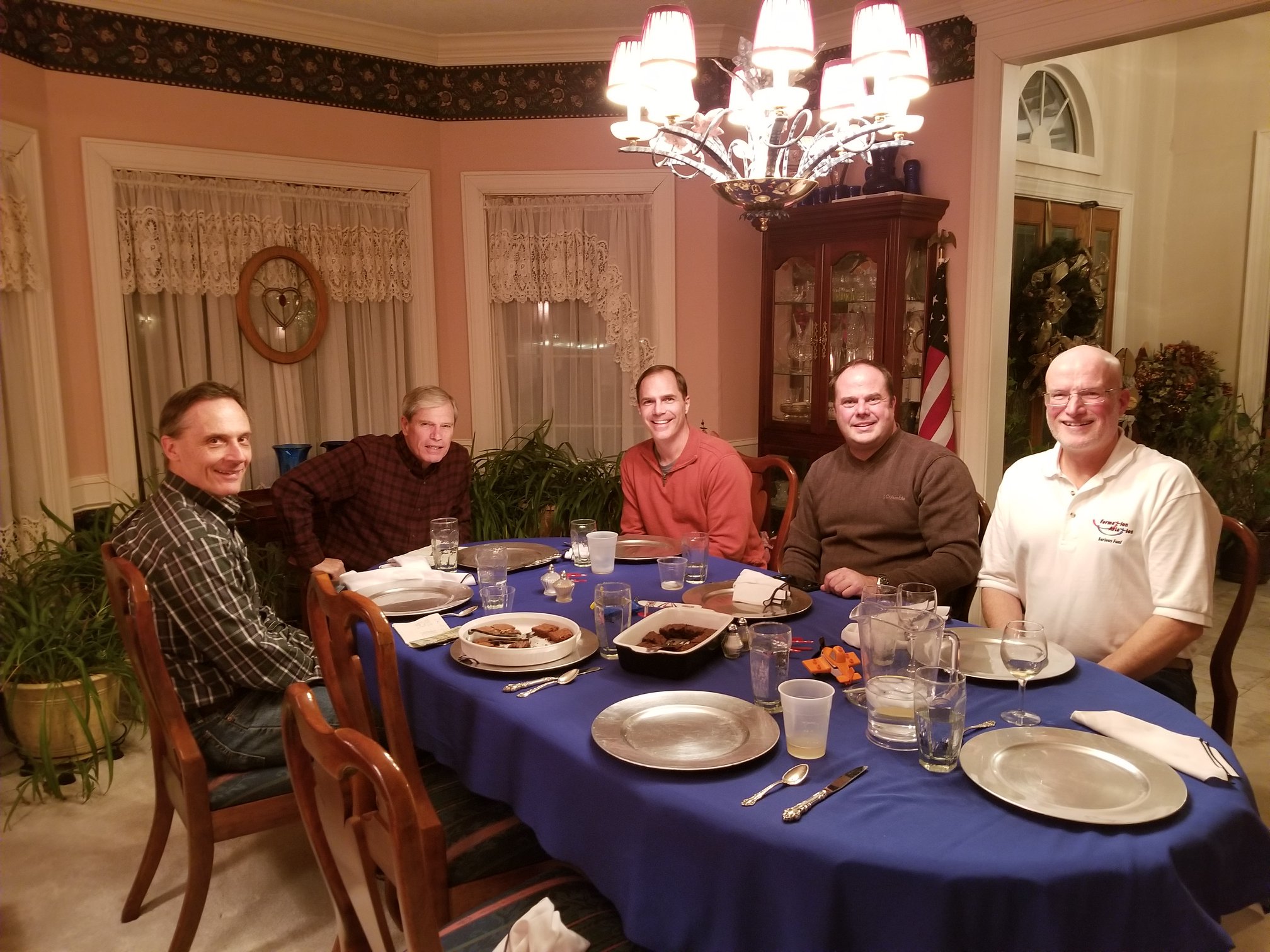 At the end of the day once all the airplanes are put away there may be a dinner at the airport or else most pilots will head off to a local establishment to enjoy dinner, a drink or two and swap lies.  This is the best part of the contest!  The social side of it is where you will make great friends that will be with you the rest of your life so don't miss out on it!
Come contest morning head out to the airport in time to make the pilots' briefing, if you miss this there is a small fine so don't be late!  The briefing is where the Chief Judge will tell you the local weather, official wind direction, procedures for the traffic pattern, ramp and aerobatic holds and some other good information.  If you have a question, ask.  Three other pilots probably have the same question.  Once this meeting breaks up, help everyone push the planes outside and do a good preflight on yours.
Now you are going to go find two rosters that should be posted on a wall somewhere.  One will be the "Order of Flight" and the other will be a "Volunteer List".  Contests are usually organized into two or more "shifts", where you will fly in one and volunteer in the other.  The Order of Flight lists the order of pilots in that shift so find your name on it and see where you are flying.  Also note those flying in front of you and try to find them.  This will make it easier to when to get ready to go.  The Volunteer List will tell you what job you've been assigned when your shift is not flying.  More on this later.  If you've found a mentor, he or she will most likely come up to after the brief to answer any questions you have and point out a couple of key people.
If your shift is flying first, then you should note your number in the lineup and a couple of the airplanes in front of you.  There will be a part of the ramp that the airplanes will be lined up on so push yours out and try to find where in the line you will go.  There will be a volunteer called the Starter that is in charge of this area.  His job is to make sure the planes are in order and to launch them at the right time to keep the contest flowing smoothly.  When you see the pilot 3-4 planes in front of you fire up make sure you are ready to go and plane-side.  The starter will walk up to you and tell you when to mount up.  After you're strapped in he will make sure your belts are on tight, you have enough gas, know which direction to fly and have the right sequence card in front of you.  When he tells you to fire up, do so and take off for the hold.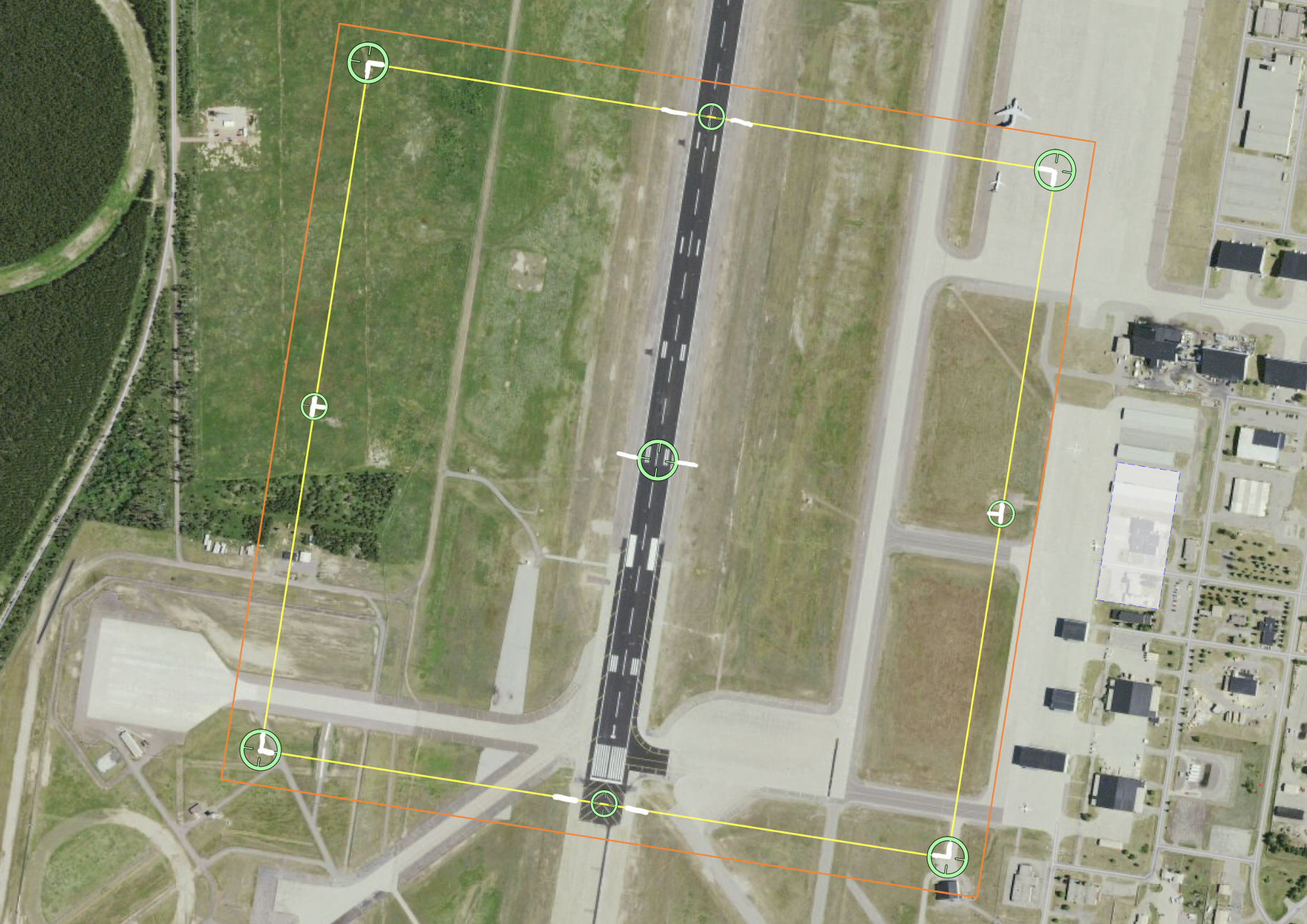 Once in the hold try to relax.  This is a good time to figure out the winds and find all your landmark references for the box.  An important note here: box holds are silent on the radio.  When you enter the hold, the Chief Judge will be watching you so there is no reason to check in.  Talking on the radio could distract the pilot in the box during his sequence so just keep quiet.  When it is your turn to fly the Chief Judge will call you by name and let you know the box is clear and it is now your box.  Go have fun!  This is what you came here for!  Once you're done, don't forget your wing-wags, then exit the box as briefed earlier.  If this is your first time you will likely be amped up on adrenalin so landing can be interesting!  Taxi back in, get gas and some water and take a break for a bit.  This is another fun time when you will get to tell the other pilots in your flight how yours went and hear about all the mistakes they made.
When all the pilots in your shift have flown it will be time to go to work.  Make sure you are where you need to be when the time comes, you don't want the contest to be held up while they find you.  Normal jobs for first time competitors are recording, assistant judge, and boundary judge.  Others can be assigned but these are the normal ones for new pilots.
A judge's line will have a Chief Judge with an assistant and between 3–7-line judges.  Each line judge will have a recorder and assistant judge working for them too.  The line judge will call out the score and it will be the recorders job (you?) to right down the score on the score sheet.  All scores will be either a full number or half number (example: 8 or 8.5) and the big part of your job will be to make sure that this gets put down on paper.  Don't worry too much about getting all the comments the judge makes on paper but concentrate on the score.  There are a couple exceptions to this but that should be explained to you as you go.  The purpose of this article is not to give a detailed description of the job, but a quick overview.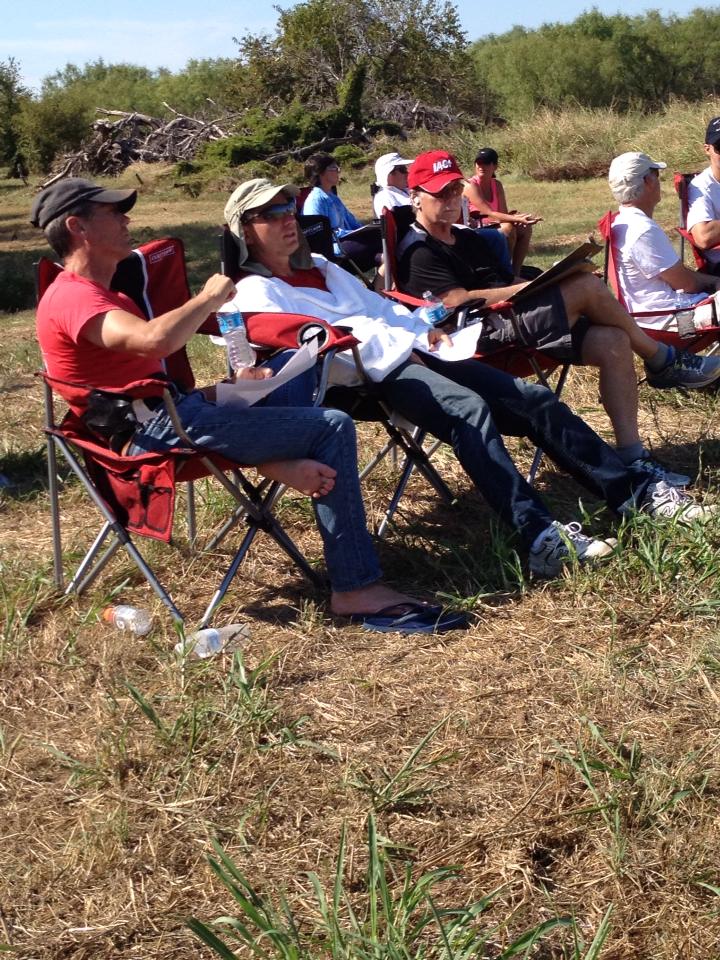 The assistant judge will be the person sitting next to the line judge and their primary job is to call out the figure to the line judge.  You should be able to
read Aresti
, especially in the upper categories, but a little discussion with your judge should get you going.  Ask the judge how he would like to have you call figures, as everyone is a little bit different.  Some like the whole figure called out (Immelmann) and some like you talk your way through it (half loop up, half roll on top).  As you gain experience the judge may start to rely on you little bit more to help with things like counting points on a point roll and if a figure is going the right way.  This can be the best job on the field so enjoy it if you get it!
The boundary judge is the person who makes the call if a pilot is inside or outside the box.  If you are assigned this job, you will be taken out to one of two corners on the box and given a chair and a radio.  There will be some kind of sighting device to help you determine ins and outs.  The most common sighting device is a large pole with four stings, two coming off and looking down each edge of the box.  The idea is to line out the strings like a gun sight then you watch the airplane.  When the entire airplane is visible on the outside of the box, you pick up the radio and call "out east" when he crosses back in you say, "in east".  You will also mark outs on a scoresheet given to you.  At the end of the flight the assistant Chief Judge will verify the out's that you called so they can enter it on their scoresheet as well.  This can be great place to watch the flying as you will get an entirely different perspective on things.  If it's windy you will easily be able to see how the more experienced pilots hide their wind correction from the judge's line.  Just make sure to have plenty of sunscreen and water.  It's also not a bad idea to get a couple contest officials cell numbers in case you need to get a hold of someone.
A normal regional contest will have 2 flights on the first day and a third on the last day, i.e. you will fly twice and work twice on day one and once on day two.  Of course, weather and other factors can be a player, but this is normally what happens.  At the end of the first day once again it will be time to eat and have a cocktail and you will get a chance to share your story of the first day.  You will have a lot of pilots coming up to you asking if you're having a good time and how your day went.  Relax and enjoy the comradery that the IAC community is known for!  You can watch the upper-level pilots get the copies for their unknowns to fly on day 2 and laugh as they groan over whatever figure shows up that they haven't been practicing.  Enjoy it someone tells the story of some stupid mistake they made at a contest!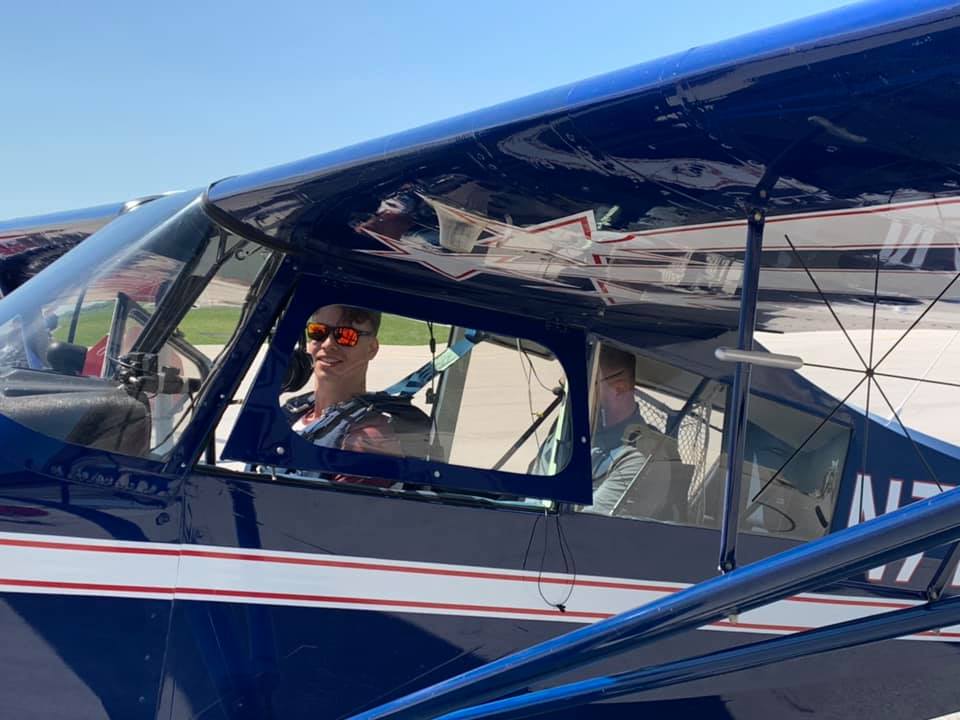 Day two will be like day on but shorter, then at the end there will be a short awards ceremony but don't get to wound up with who won what.  If you do this long enough, you'll be first a few times and last a few times.  It's not about the trophies, but the people that make it great.  If this was a Saturday-Sunday contest then most likely everyone will then head home, but if it was a Friday-Saturday contest there can be a pretty good after party too.  If there is, be sure to go and have a good time, you've earned it!  You're a competition pilot now!