IAC President Mike Heuer issued a report to the organization's leadership group yesterday. The Board met in Oshkosh on November 11-12th and took action on a wide range of agenda items. These included rules changes for 2017, Known compulsory sequences for next season, planning for AirVenture and Nationals 2017, and many other issues.
In addition to Board business, the annual EAA Sport Aviation Hall of Fame induction ceremonies were held at the EAA Museum on Thursday evening, November 10th. Robert Armstrong was inducted into the International Aerobatics Hall of Fame and received his award from EAA CEO Jack J. Pelton and IAC President Mike Heuer. It was the highlight of the week for all of the attendees.
Plans for the US National Aerobatic Championships are proceeding apace with Contest Director Gary DeBaun spending all year around planning for the event. It will be held at Oshkosh's Wittman Regional Airport on September 23-29, 2017. More news will be announced on these pages as planning progresses.
Pilots in Advanced and Unlimited next year will fly the traditional IAC Known, Free Program, and Free Unknowns. The Free Knowns will not be flown at Nationals as they were in 2016. Team selection for the 2017-2019 US Advanced Aerobatic Team will take place at the Nationals.
President Heuer's report is available for download below in PDF format.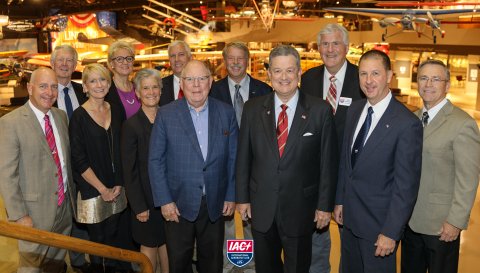 Left to right: Mike Rinker, Norm DeWitt, Margo Chase, Lynn Bowes, Debby Rihn-Harvey, Gerry Molidor, Louie Andrew, Ron Schreck, Mike Heuer, Doug McConnell, Bob Hart, and A. J. Hefel.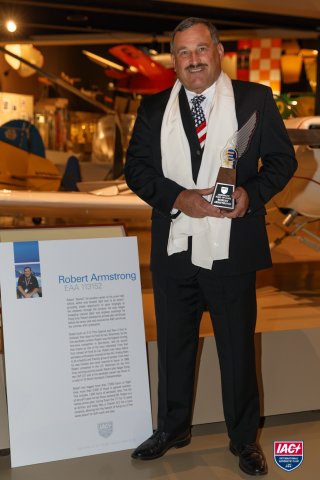 Robert Armstrong, Hall of Fame Inductee 2016