Friday, September 30th was the final day of a very successful U.S. National Aerobatic Championships. Special congratulations to Rob Holland in his sixth consecutive championship win in Unlimited!
If you see them and have a chance, take time to congratulate all the winners and champions:
Primary: Nick Meyer (Decathlon)
US Sportsman Aerobatic Champion (Power category): Cory Johnson (Pitts S-1C)
US Sportsman Glider Champion: Merrick Isely (DG1001)
US Intermediate Aerobatic Champion (Power category): David Taylor (Staudacher S600)
US Intermediate Glider Aerobatic Champion: Trevor Rogers (DG1001)
US Advanced Aerobatic Champion (Power category): Aaron McCartan (S-330P)
US Advanced Glider Aerobatic Champion: Guy Acheson (MDM Fox)
US National Aerobatic Champion (Unlimited Power category): Rob Holland (MXS-RH)
US National Glider Aerobatic Champion (Glider Unlimited Category): Eric Lentz-Gauthier (MDM Fox)
The USA Unlimited Team members were announced and will be participating in the 2017 World Aerobatic Championships in Hoedspruit, South Africa, 16 August to 26 August 2017.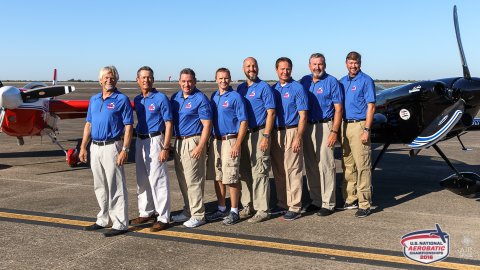 Pictured L-R: Bob Freeman, Robbie Gibbs (Alternate Pilot), Mike Ciliberti, Mark Nowosielski, Jim Bourke, Craig Gifford, Tim Just and Rob Holland. Not pictured is US Team Pilot Mike Gallaway.
The US Glider Aerobatic Teams were also selected at Nationals and will be competing in Torun, Poland next summer.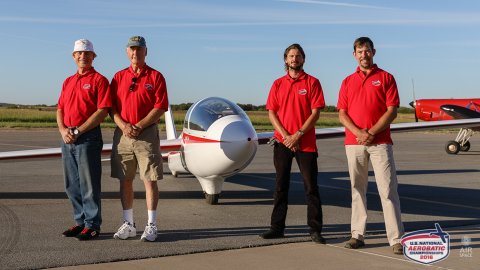 Pictured L-R: Guy Acheson, Mallory Lynch (Advanced Team) -- Eric Lentz-Gauthier, Jason Stephens (Unlimited Team).
 
Find all of the news, photos and results at: www.iac.org/nationals
Thank you to all the volunteers for making the Nationals such a success and our Sponsors for your support!