Are you ready?
If you plan on competing at Nationals and you haven't already registered please go HERE to pre-register, after you have paid in full the practice slot page will appear. Hurry though, practice slots are going quick! (Almost all the Saturday Sept. 24th are filled, but some still open for Friday, Sept. 23rd.)
All details for Nationals are found on this website at:
https://www.iac.org/us-national-aerobatic-championships-2016
But here are some important details;
team aspirants
All team aspirants must sign the "Code of Conduct" prior to their first flight. Please find it HERE, review and be ready to sign in the registration office at Nationals.
DEadline for free knowns is september 19
Unlimited Power and Glider and Advanced Glider competitors should submit their Free Knowns to Brian Howard for approval. Send it in a SEQ or VSD file format. PDF files will not be accepted.
register with the Jet center
If you have not done so, please go to the Nationals link and scroll down to the Jet Center Registration and fill out the paperwork. You need to do this even if you are not keeping your airplane at the Jet Center - this information is needed for fueling purchases.
follow all the action at nationals
Website: https://iac.org/us-national-aerobatic-championships-2016
Facebook: https://www.facebook.com/USNationalAerobaticChampionships/
Twitter: https://twitter.com/USNAcro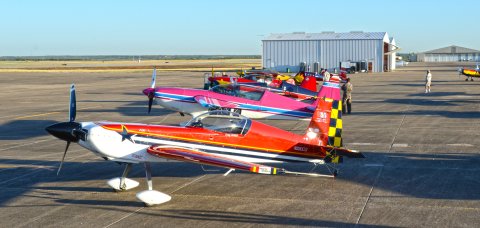 North Texas Regional Airport (KGYI)
4700 Airport Dr. Denison, Texas