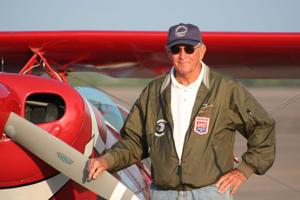 Joe Haycraft, 93, flew west Wednesday, April 26, 2023. Born January 13, 1930, in Owensboro, he died suddenly in Fernandina Beach, Florida, where he had recently moved with his wife of 69 years, Sue Keller Haycraft.
Joe was a pilot extraordinaire. He began his flying career immediately upon graduating from the University of Kentucky in 1953 when he entered the United States Air Force as a 2nd Lieutenant, flying a Sabre Jet in South Korea shortly after the Armistice. After his military career, he flew as an airline captain, beginning as pilot of a Vickers Viscount with Capital Airlines and retiring at the mandatory age of 60 and a half as a USAirways B-737 captain. Once retired, he flew private aircraft, from a Cessna 182 RG to a Pitts Special. He won the National Aerobatic Championship Sportsman Class in 2004 at age 74 and again in 2007 at age 77. On his 90th birthday, he flew his latest aircraft, the Sonex, with his grandson Jesse Haycraft, to whom he passed the flying torch.
Joe was also a sailor, first on Chesapeake Bay where he raced Dove, a Morgan 27, and then on Kentucky Lake, where he won races in his J-24, Sally Forth. He also sailed in the Virgin Islands and the Bahamas, providing his family and friends with many stories of adventure.
In addition to his private pursuits, Joe was a member of the Alpha Gamma Fraternity Rho and the University of Kentucky Fellows Society. He also served on the first World Affairs Council Board, the Owensboro Airport Board, and the Naples Florida Airport Noise Abatement Board.
He was preceded in death by his parents, Major Joe Haycraft and Sarah Leasch Haycraft, and by his sister, Janet Robinson.
Survivors include his wife; his brother, David Haycraft (Mary Lou); his son, Don Keller Haycraft (Madaline) of New Orleans, Louisiana; his daughter, Sally Anne Anderson (Joe) of Fernandina Beach, Florida; four grandsons, James (Christine), Daniel, Jesse, and Travis (Ida) Haycraft; and his great-grandson, Max Haycraft. Others who were special to Joe include his in-laws, Richard and Sally Anderson and Calvin Ray Robinson, as well as special cousins, Ann McManus and Mary Lou Steele, all of Owensboro and Daviess County.
There will be no funeral, but the family will conduct a celebration of life at a later date.
In lieu of flowers, please consider a donation to a charity of your choice in Joe's name.
In addition to winning the Sportsman category at the US National 
Aerobatic Championships in 2004 and 2007, Joe was the L. Paul Soucy 
Trophy winner in 2004, 2007 and 2008.
The Soucy Trophy's purpose is to recognize the IAC competition pilot 
who achieves the highest percentage of points possible during a calendar 
year and who also competes in three or more contests, one of which is the 
U.S. National Aerobatic Championships.

Joe was a regular around the Mid-America and Southeast regions, quite 
regularly flying in 6 to 9 contest each season (2006-2008) between the two regions.  
His last contest was in 2014 at the Salem Regional Aerobatic Contest 
(now the Giles Henderson Memorial Challenge) where he flew the Sonex 
in Primary finishing a very close second to Giles Henderson in his Clipped 
Wing Cub who scored 87.92% with Joe finishing at 87.45%.

During the years Joe flew his Pitts S-1 in the Mid-America region the secret 
of his winning ways was discovered. He flew a Freestyle which was unusual 
at that time and still can be for many Sportsman to come armed with a 
sequence specifically designed to highlight their own skill and the flying characteristics of their airplane. His freestyle was packed with figures comprising the least amount of K resulting in a 14 figure sequence made up
of simple lines and angles.