The Experimental Aircraft Association was extremely saddened to learn of the passing of longtime EAA president Tom Poberezny on Monday morning, July 25, after a brief illness.
Tom was EAA president from 1989-2010, succeeding his father, EAA founder Paul Poberezny.
"It is not lost on us that Tom's passing occurred on the opening day of EAA AirVenture Oshkosh, the event he led into world prominence as its chairman beginning in the 1970s," said Jack J. Pelton, EAA CEO and Chairman of the Board. "Tom's legacy is tremendous in the world of aviation with his personal achievements as well as the growth of EAA, especially the development of the current EAA Aviation Center in Oshkosh, the Young Eagles program, and the creation of Sport Pilot nearly 20 years ago. He will be greatly missed but more importantly, he will be remembered for all that he did for EAA and aviation."
"Our sincere thoughts and prayers go to Tom's wife, Sharon, and his daughter, Lesley, and the rest of the Poberezny family."
Memorial services are still being determined at this time. More information will be announced as it is finalized.
Karen Kryzaniak

EAA Vice President

Risk Management, Human Resources and Hospitality
---
Tribute - Tom Poberezny 
By Mike Heuer, President Emeritus, IAC 4
I don't know where to start. I was deeply grieved to hear the news of Tom Poberezny's passing today. I have known Tom for over a half-century and last saw him in 2015 when he dropped by the IAC Pavilion during EAA AirVenture in Oshkosh to see our Pitts exhibit. A picture of us together appears to the left.
We met in 1968 when he got very involved in aerobatic flying. Of course, his aviation career is well known -- primarily as EAA's president and one of the pilots in the Red Devils aerobatic team and later the Eagles. But he played a really key role in IAC's first years as well -- he was our first treasurer. The whole Poberezny family was involved in IAC at the time with his sister, Bonnie, serving as secretary. My father, IAC's first president, was on the phone with Tom almost every day as we put the club together and our regional competitions took off. In 1970, Tom flew in the Intermediate category at our IAC Championships in Fond du Lac, Wisconsin, coming in second. I won Advanced that year. Earlier that year, in Monroe, Louisiana, we also flew together though in different categories -- with Tom winning Intermediate and me winning Advanced. He was flying Paul Soucy's Pitts N8J at the time.

 
Tom quickly vaulted up to Unlimited in his new Pitts S-1S N58J, and won himself a spot on the very successful U.S. Aerobatic Team that competed in Salon de Provence in 1972. The team brought home all the Gold, the Aresti Cup, and the Nesterov Trophy that year -- all flying Pitts aircraft. That year, Tom and Charlie Hillard took the slots on the Red Devils Aerobatic Team that were vacated by Marion Cole and Bob Heuer. Eventually, they transitioned to Christen Eagles and formed the Eagles Aerobatic Team, performing at hundreds of airshows through the years including Oshkosh.
I worked for Tom and Paul during my four-year stint as an EAA staff member and his intelligence and perfectionism were demanding and inspiring. I learned a lot during those four years, which served me well as IAC's and CIVA's president and thoroughly enjoyed my job before moving on to the airlines. I later served on the EAA's board of directors for over 15 years, partially as IAC's president but then at Tom's urging and his support.
When the U.S.A. hosted the CIVA meeting in 2009, I approached Tom about having it at the EAA Museum in Oshkosh and he agreed and supported us in many ways including a personal tour for CIVA delegates of the Museum before our meeting began.
So many memories -- I could write so much more .
---
INTERNATIONAL AEROBATIC CLUB
Tom Poberezny was inducted into the IAC Hall of Fame in 1998. He was one of the IAC founders in the early 1970s, he is IAC number 7.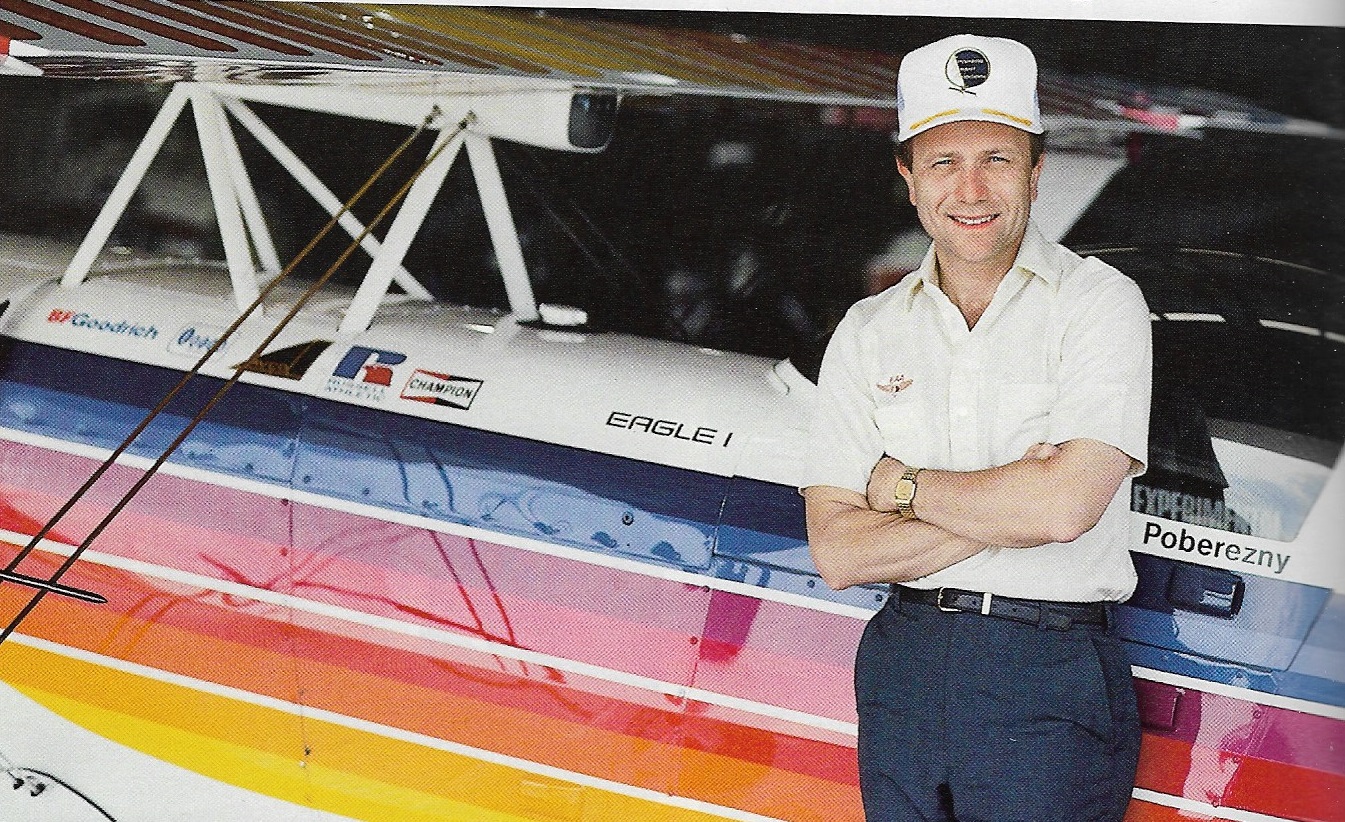 "My first competition was in 1970, and my first Unlimited [contest] was in the fall of 1971. A year later, I had been to the World Aerobatic Championships (WAC) where Charlie, Gene and I won the World Team Championships and I had finished sixth in the world.
It was one thing to compete, but suddenly I was going head-to-head against people like Gene, Charlie, Art Scholl, Bob Herendeen - people who were far ahead of me. I used to watch them fly, and now, I don't think I realized how good I felt until the next morning.
At the banquet that night, I said, "From this point on, maybe instead of knowing me as Paul Poberezny's son, he'll be known as Tom Poberezny's father." To be quite honest, I would have never been able to become an accomplished air show performer had it not been for what I learned in aerobatic competition, " said Tom at the 1998 Hall of Fame induction ceremony.