Walter Extra
Walter Extra, chief designer and founder of the Extra Aircraft company in Germany, will attend EAA AirVenture this year in Oshkosh, Wisconsin as the guest of IAC. Walter is coming to Oshkosh as a part of the gathering of Extra owners and pilots which is part of IAC's activities this year at aviation's largest event.
The Extra 230 was first introduced to the international aerobatic community at the World Aerobatic Championships in Bekescaba, Hungary in 1984 and was flown at that competition by Walter Extra and Eric Mueller of Switzerland. Subsequent models of the Extra series of aerobatic aircraft have been introduced in the years since and the Extra 330SC has proven to be one of the most successful competition airplanes of all time and is now flown by pilots on the USA, French, and Russian teams.
Walter will attend AirVenture as a part of Extra's sponsorship of IAC's exhibit and activities there. A forum is planned for the event which will feature Walter as a guest speaker and Extra aircraft will be prominently displayed in front of the IAC Pavilion on the AirVenture grounds.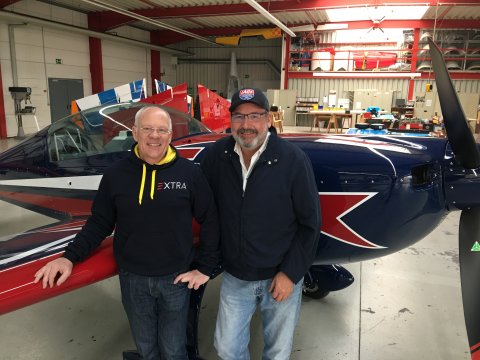 Walter Extra (left) with Tim Just, IAC Director and pilot on the US Unlimited Aerobatic Team. Photo taken on March 3, 2017 at the Extra factory in Germany.
Frank Christensen
The Christen Eagle II was introduced to the aviation world at EAA Oshkosh 1977. At AirVenture 2017, we will celebrate the 40th anniversary of this stellar, award-winning aerobatic biplane. Frank Christensen, president of Christen Industries, set the gold standard for kit-built aircraft with his series of kits and builder manuals. A single-seat version was also built by Christen for the famous Eagles Aerobatic Team which flew at Oshkosh for 25 years.
The International Aerobatic Club will feature the history and the development of the Eagle in its pavilion on the AirVenture grounds. Six exhibit panels will tell the story of this iconic aerobatic and sport aircraft and the pilots who flew it. A forum on the Eagle will be held at the IAC pavilion on Tuesday, July 25th, from 8:30 to 9:45 am. Speakers will be Mark Ciagla and Lynn Ojala, owners and pilots of Eagle aircraft. Both will bring their Eagles to AirVenture this year with Lynn's being located at the Aviat exhibit. Aviat currently owns the rights to the Christen Eagle II.
IAC is proud to announce that Frank Christensen has agreed to attend AirVenture and will be on site at the end of the week and a guest at IAC's gathering of members in the Nature Center on Friday, July 28th, at 6:30 pm. A brilliant designer who defines the words "quality" and "perfection", Frank's company, Christen Industries, offered a host of products to the aerobatic world in its time. This will be an opportunity to Eagle owners and pilots to meet the man who made it all possible.