Carl Bury, IAC 1625, former president of the International Aerobatics Club, passed away on May 31 in Savannah, Georgia. He was 81.
Carl was IAC's third president, succeeding Verne Jobst in 1978 and serving until 1981. One of the founding members of IAC Chapter 34 in Ohio, he was instrumental in organizing the chapter's early competitions. After his leadership capabilities and business talents came to the IAC leadership's attention, he became more involved at the national and international level and was vice president before taking over as head of the organization.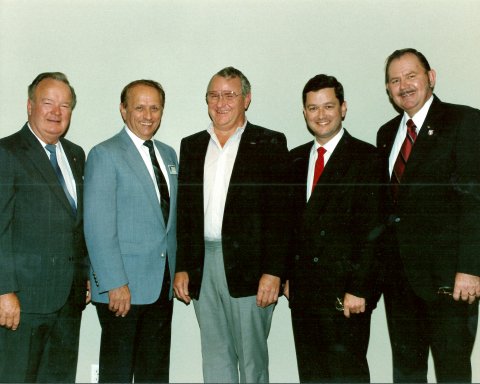 Carl Bury, center, was one of IAC's first five presidents, which also include (left to right) Bob Heuer, Verne Jobst, Mike Heuer, and Steve Morris in this 1990 photo.
During his tenure as president, Carl brought his management skills to good use in organizing and enhancing the IAC's merchandise program, embarking on membership expansion, improving IAC's contests and rules, and reaching out to the National Aeronautic Association in 1980 and beginning the integration of IAC into the NAA family of air sports organizations. This ultimately gave IAC the authority to manage and promote all of aerobatics in the United States, including the U.S. Nationals and the U.S. aerobatic teams. He also helped design and build the first IAC Pavilion at Oshkosh, which served as our headquarters for many years during what is now AirVenture.
His entire family was involved in aviation. He was also a Pitts dealer, operating as Five B Aviation (for the five members of his family) in Hudson, Ohio. In later years he retired to Savannah.
After his term as IAC president, EAA utilized his skills, talents, and experience and he became active in the leadership of EAA and the EAA Foundation and served on both of those boards for 23 years until his retirement as a director emeritus in 2008. An effective and dedicated fund-raiser, he was involved in the campaign to build the new EAA Aviation Center in Oshkosh and in subsequent museum and EAA programs and activities.
Carl was a talented entrepreneur with seemingly unlimited energy and his contributions to IAC and the sport of aerobatics are considerable and will be remembered by those who had the pleasure to work with him and call him a friend.