Scholarship fund established for fallen pilot, IAC Director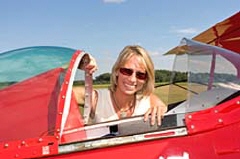 Funeral services for Erica Simpson, IAC director and commercial pilot, will be held Saturday, September 13, in her hometown of Port Wing, Wisconsin. Simpson, 32, died September 6 in an aircraft accident during a practice flight at Reno's Stead Field where she was preparing to compete in this week's annual National Championship Air Races & Air Show. According to the FAA spokesman Ian Gregor, her aircraft, a Cassutt IIIM Little Lynn, suffered a catastrophic structural failure as she was performing a roll during the flight. Simpson last competed in the race's biplane class in 2006, and this year was planning to fly in the Formula One class.
In an e-mail sent to her friends, her surviving husband, Kendal, wrote, "The support from everyone has been tremendous and I can't thank everyone enough for all they have already done. We are comforted in that fact that she passed while doing what she loved to do and that she is in a much better place where her new wings will never fail."
Erica was one of the hundreds of women pilots who participated in this year's WomenVenture activities held during EAA AirVenture Oshkosh 2008. The entire EAA/IAC family sends its heartfelt condolences and prayers to her family and friends.
Public viewing will start at 8 a.m. Central Time followed by the funeral service starting at 11 a.m. Services will be held at the South Shore District Jr. Sr. High School, located at 9135 School Road. The small community of Port Wing is located about 40 miles east of the twin ports of Duluth, Minnesota, and Superior, Wisconsin.
In lieu of flowers a scholarship has been established in Erica's name. People are asked to send contributions to the fund to:
Erica Simpson Scholarship Fund
Security State Bank
PO Box 27
Port Wing, WI 54865