Don Taylor was inducted into the Aerobatics Hall of Fame at the October 24, 2003 induction ceremonies at the EAA Aviation Center, Oshkosh, Wisconsin for his contributions to the world of flight.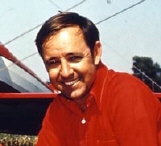 Don Taylor was born into aviation…an OX-5 American Eagle provided his "Young 
 Eagle" ride at 6 weeks of age. Don rode on his mother's lap. He learned to fly in
 high school, soloed at 16, received his private pilot's license at 17 and was a
 Commercial Flight Instructor by 18.

Don learned aerobatics in a Fairchild PT-19 and a Stearman PT-17; both were World War II surplus training aircraft. He taught aerobatics as a US Air Force civilian flight instructor for 2 and ½ years, and after he was hired by United Airlines, Don continued to fly aerobatics and air shows in Denver, Colorado.
He flew his first aerobatic contest at Ottumwa, Iowa, in 1965, and went on to judge the US National Aerobatic Championships in Fort Worth, Texas in 1967, 1968 and 1969.

Don met with Paul Poberezny and Bob Heuer following the 1969 National Championships to discuss forming a new aerobatic club, which led to the formation of the International Aerobatic Club, the first division of EAA. Don became Vice-President and IAC #3. He also wrote the judging standards and techniques manual for competitions, later adopted by FAI as the World Standard for aerobatic judging.

At the first IAC contest, he flew a Great Lakes in the intermediate category and won first place. Don flew the Great Lakes in contests in US and Canada through 1974. Throughout the 1970s and beyond, Don flew numerous Unlimited IAC competitions, served as the US representative to FAI in Paris, and was a contest director, a delegate, a judge, and a chief judge at competitions throughout the world.
In 1979 he presented a proposal to FAI for the first World Aerobatic Contest in the USA, to be held in Oshkosh, immediately following the 1980 Fly-In. He organized and set up the non-profit World Aerobatics, Inc. to fund and operate the contest, and sold TV rights for the contest to CBS Sports. The 1980 WAC became the first televised World Contest, appearing on CBS Sports Spectacular.
Don also developed the "Masters of Aerobatics" contest format especially for television, which aired during the 1980s. In 1983 the contest aired on ESPN, and won an Emmy award as best photographed sporting event, beating ABC, CBS and NBC.

Don has also produced television for Aviation Week, and in 1996 he produced and appeared in the EAA-TV production covering the World Aerobatic Championships held in Oklahoma City, which aired on ESPN.