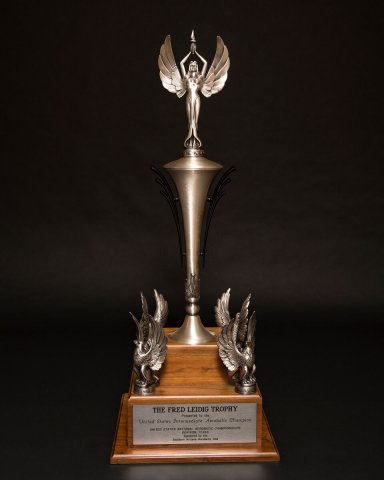 Origin

The trophy was conceived and donated by Robert H. Wagstaff of Anchorage, Alaska and presented on behalf of the Southern Arizona Aerobatic Club, IAC Chapter 62.  It memorializes Fred Leidig, a founding member of Chapter 62 and long-time Intermediate competitor.
Criteria

Presented to the winner of the Intermediate category at the U. S. National Aerobatic Championships.
Procedures

The name of the recipient is provided the Contest Director by the Scoring Director after the contest is completed. The recipient's plaque is ordered by the Executive Director along with the other trophies for the Nationals. No name is inscribed.
Presentation

Recipient trophies consist of a laser cut plaque with a photograph of the permanent trophy set in the plaque. The master trophy remains on display at the IAC Pavilion in Oshkosh, Wisconsin. The plaque is presented at the U. S. National Aerobatic Championships annual awards banquet.
THE FRED LEIDIG TROPHY – RECIPIENTS    

1991 – Bill Williamson

1992 – Stratton Gillis

1993 – Gerry Molidor

1994 – Bradley Vidrine

1995 – Suzanne Owen

1996 – Not Flown

1997 – Fred DeLacerda

1998 – John Handly

1999 – Clyde Cable

2000 – Hector Ramirez

2001 – Justin Andersen

2002 – Mike Wiskus

2003 – Larry Reynolds

2004 – Todd Whitmer

 

 



2005 – Doug Bartlett

2006 – Bud Judy

2007 – Kevin Campbell

2008 – Michael Montgomery

2009 – Bill Denton

2010 – Scott Dierolf

2011 – Tom Adams

2012 – Stan Moye

2013 – Aaron McCartan

2014 - Curt Richmond

2015 - Thomas Braymer

2016 - David Taylor

2017 - Mark Budd Sr.

2018 - Adam Messenheimer