Petition Guidelines | Online Nomination form | Downloadable Nomination Form| IAC Inductees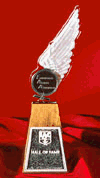 The International Aerobatic Hall of Fame was formed in 1986 to give appropriate recognition to those who have made a significant contribution to aerobatics. The following year, Jose Aresti, Duane Cole, Curtis Pitts and Frank Price became the first inductees to receive this prestigious honor. In subsequent years, Marion Cole, Mike Murphy, Betty Skelton Frankman, Bob Heuer, Bevo Howard, Harold Krier, Lincoln Beachey, Bob Herendeen, Charlie Hillard, Art Scholl, Mary Gaffaney, Leo Loudenslager, Clint McHenry and Neil Williams gained this distinction as well. A place of honor is set aside in the atrium of the EAA museum, in Oshkosh, to recognize their accomplishments. You can view a complete list of all Aerobatic Hall of Fame inductees here.
Many people have made significant contributions to the sport and art of aerobatic flight. Some have dedicated their lives to aerobatics. Some of these people may not be pilots. You know who they are! If you have a candidate who you feel deserves to be enshrined along with those mentioned earlier, please forward their nomination to the committee for consideration.
Chapters are encouraged to support the nomination of a local candidate. Often, the accomplishments of an individual are best known regionally, and several chapter members pooling their resources, might develop additional supporting documentation on behalf of their candidate.
All nominations are reviewed and voted on by the selection committee, which consists of seven members. Those selected are then recommended to the IAC board for final approval. Inductees are recognized at a banquet held in conjunction with the fall IAC and EAA board meetings.
The Hall of Fame committee accepts nominations until February 1st of each year. These nominations may use the downloadable Hall of Fame Nomination form of the online form (links above). 
For more information, please contact the IAC Hall of Fame Committee Chair David Martin at pkakro@earthlink.net