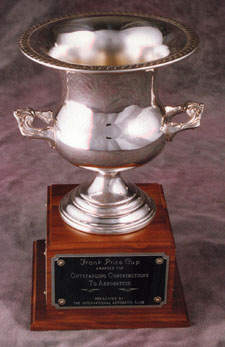 Origin
The award was conceived and donated by R. J. Rouse of Texas. It was created to recognize outstanding individuals in aerobatics and in honor of aerobatic pioneer Frank Price, the first American to compete in the World Aerobatic Championships.
Criteria
Purpose of the award is to recognize the person who has contributed the most to the sport of aerobatics in the previous year. The award is presented annually and will be selected by a secret ballot of the IAC Board of Directors. Nominations can be submitted by any IAC member.
Procedures
The IAC Awards Administration Chairman will solicit nominations from the chapters and members through Sport Aerobatics and by letter. The IAC Board of Directors will then be balloted prior to the U.S. Nationals.
Presentation
Recipient trophies are funded by the IAC and consist of a laser cut plaque with a photograph of the permanent trophy set in the plaque. The master trophy remains on display at the IAC pavilion in Oshkosh, Wisconsin. The plaque is presented at the IAC Annual Gathering Dinner at EAA Air Venture.
THE FRANK PRICE CUP - CHRONOLOGY OF RECIPIENTS

Note: The date listed is the year for which the award is presented.

The trophy is actually presented the year after the contest season.  

1983 - Mike Heuer

1984 - Eric Müller

1985 - Jose L. Aresti

1986 - James M. K. Black

1987 -----

1988 - Chuck Mann

1989 -----

1990 -----

1991 -----

1992 -----

1993 -----

1994 - Dan Rihn

1995 -----

1996 - Chuck Alley

1997 - Richard & June Rihn

1998 - Jim & Jean Taylor

1999 - Lois Rose

2000 - Robert & Karen Minkus

2001 - Brian Howard

2002 - Gerry Molidor

2003 - Guenther Eichhorn

2004 - John Morrissey

2005 – Marta Meyer

2006 --------

2007 – Lorrie & Gordon Penner

2008 – Lew Shattuck

2009 – Norm DeWitt

2010 – Mike Steveson

2011 -  Nikolay Timofeev

2012 - Wayne Roberts

2013 - Dr. William B. "Bill" Finagin

2014 - Margo Chase

2015 - Doug McConnell

2016 - Fred and Liza Weaver

2017 - Tony and Julia Wood

2018 - Dagmar Kress

2019 - Lynn Bowes

2020 ---------