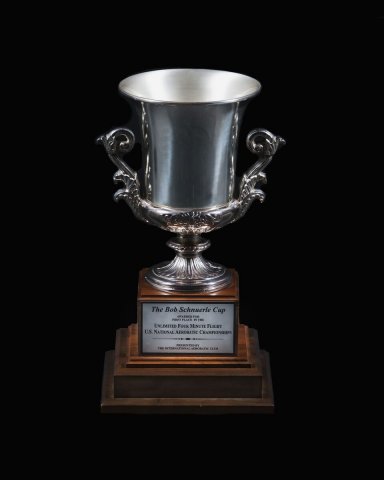 Origin

The trophy was conceived and donated by Mrs. Florence Schnuerle, Bob's mother. Bob was a pilot on the 1970 U. S. Aerobatic Team, coached the Team in 1972, and lost his life in an accident in a Pitts Special in September 1973, practicing for the U. S. Nationals. He was extremely popular with his fellow pilots. One of his favorite programs was the Four Minute Free.
Criteria

Presented to the winner of the Four Minute Free Program at the U. S. National Aerobatic Championships annually.
Procedures

The name of the recipient is provided the Contest Director by the Scoring Director after the contest is completed. The recipient's plaque is ordered by the Executive Director along with the other trophies for the Nationals. No name is inscribed.
Presentation

Recipient trophies consist of a laser cut plaque with a photograph of the permanent trophy set in the plaque. The master trophy remains on display at the IAC Pavilion in Oshkosh, Wisconsin. The plaque is presented at the U. S. National Aerobatic Championships annual awards banquet each year.
 
 
 

THE BOB SCHNUERLE TROPHY - CHRONOLOGY OF RECIPIENTS

1985 - Gene Beggs

1986 - Harold Chappell

1987 - Kermit Weeks

1988 - Tom Jones

1989 - Clint McHenry

1990 - Nikolai Nikitiuk

1991 - Kermit Weeks

1992 - Rick Massegee

1993 - Phillip Knight

1994 - Rick Massagee

1995 - Not Flown

1996 - Not Flown

1997 - Not Flown

1998 - Not Flown

1999 - David Martin

2000 - Kirby Chambliss

2001 - Mike Mangold

 



2002 - Kirby Chambliss

2003 - David Martin

2004 - David Martin

2005 – Zach Heffley

2006 – Debby Rihn-Harvey

2007 – David Martin

2008 – Rob Holland

2009 – Zach Heffley

2010 – Not Flown

2011 - Rob Holland

2012 - Rob Holland

2013 - Rob Holland

2014 - Rob Holland

2015 - Rob Holland

2016 - Rob Holland

2017 - Rob Holland

2018 - Rob Holland