(From "Sport Aerobatics", 8 December, 1989)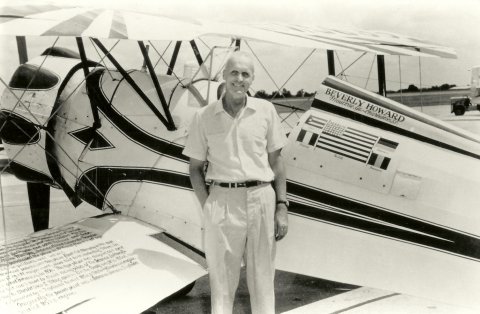 For the third year in a row, the International aerobatic Club held induction ceremonies and an awards banquet for the International Aerobatics Hall of Fame. This program, begun by IAC in 1986, has become one of our most important and will be a keystone in the new aerobatic wing we hope will be built onto the EAA Aviation Museum in the next decade.
Since the beginning of the Hall of Fame, it has been a great honor to participate as a speaker at these ceremonies and to personally present the awards to the inductees or their families. To see the looks in their eyes, often filled with tears, as they are recognized for helping make our sport what it is today has been a real emotional experience for me. My strong feeling about properly honoring our sport's pioneers has dedicated me to the building of the museum wing and the Hall of Fame which will be housed in it. It is imperative that we always remember those who have given us so much – and so often selflessly, without recognition, and without financial rewards.
Beverly "Bevo" Howard
Bevo was born in 1914 in North Carolina and by 1930, he had his pilot's license and was to become a legend in his own time as an innovative, highly skilled and extremely active airshow pilot and aerobatic competitor. In the 38 years he flew airshows. He staged over 1,500 performances in front of an estimated 30 million people.
He paid for his flying lessons by making parachute jumps at airshows and by selling airplane rides. Using the money he earned on his newspaper route, he bought a 1927 WACO 10 which he immediately pressed into aerobatics service. With his grace and gentle touch, he was able to fly outside loops in the WACO 10 – a maneuver the aircraft was never intended to do.
Bevo quit junior college in 1932 to begin working with Hawthorne Aviation in Charleston, South Carolina, as a line boy. Four years later, he owned the business and proceeded to supplement the FBO's revenues by taking a job with Eastern Airlines. He was all of 21. Hawthorne was expanded and trained over 35,000 military and civil pilots.
Later, Bevo helped shape and guide the Aeronautical Training Society and the National Aviation Trades Association. He served two years as a consultant to the National Advisory Committee for Aeronautics (NACA), an organization that preceded NASA. He was a charter member of the old Air Power League, once one of the most influential policy organizations in Washington, DC.
In 1964, Bevo was a founding organizer of the Aerobatic Club of America which he led as President the following year. In 1964, he accompanied the US Aerobatic Team to Spain as team captain. Subsequently, he served as US alternate delegate to CIVA, the FAI's aerobatics commission, and worked tirelessly to help develop fair and equitable rules for World Aerobatic Championships.
Flying a stock 37 horsepower J-2 Cub, he won the National Light Plane Aerobatic Championships in Miami in 1939. He also became the first person to perform an outside loop in a light plane – using that same J-2 Cub for the maneuver. For the championships in 1940, he upgraded to a J-3. He took the top honors in 1940, 1941, and 1946 – when the contest was revived after the war years.
It was the Bucker Jungmeister, however, that served Bevo best and led the man to his legendary status. The aircraft, which now is a part of the collection of the National Air and Space Museum, was brought to this country on the Hindenburg in 1936 by Romanian pilot Captain Alex Pampana. In 1946, Bevo bought the aircraft – which by that time had passed to Mike Murphy – and the two become synonymous with airshows. He won the International Aerobatic Championships in Miami in 1947 and 1949. He took second in 1948 and 1950.
Though he didn't invent the inverted ribbon pickup (Vincent "Squeak" Burnett first did that before the war), Bevo made it his trademark and performed it after a grueling 40 maneuver, 15 minute performance.
Reportedly a soft-spoken, slender man with deep-set blue eyes and short, prematurely gray hair, Beverly Howard fit the typical image of an intense, conservative business executive.
He listed four essential ingredients for an effective aerobatic display – all valid today – (1) safety and concentration, (2) execution and placement of maneuvers, (3) continuity and planning, and (4) judgment and showmanship. He stressed the fact that the beginner must "learn on the ground – then practice, practice, practice in the air.
In an airshow accident that has never been fully understood, Bevo Howard lost his life in 1971. He was a generous man who gave of his talents, his knowledge, his skills, and his dreams. Though we lost a brilliant performer, his enthusiasm for the airshow industry lives on and flourishes.