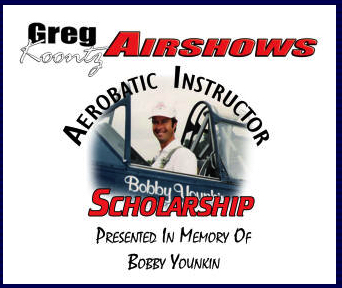 Greg Koontz Aerobatics has partnered with the International Aerobatic Club to promote and administer the scholarship program. The scholarship will be offered to any CFI as an aerobatic instructor course if already aerobatic experienced or as a basic aerobatic course to a CFI with no aerobatic experience. Personal merit and financial need are serious considerations for acceptance. A tailwheel endorsement and current flight instructor certificate are strictly required.
The recipient will receive a full two day course at Greg Koontz Airshows aerobatic school which includes two nights lodging at Sky Country Lodge, all meals, four lessons in the Super Decathlon including extensive ground instruction. The recipient would only be responsible for travel to and from the school.
Qualifications: Current flight instructor certficate and a tail wheel endorsement are strictly required.
Scholarship Amount: $3,600 (no cash value).
Click on the application form icon below. Follow the submission instructions on the application form carefully. Return completed applications to: iac@eaa.org. Application received by June 30th are considered for this year's award.