U.S. NATIONAL Championships - September 23-29, 2017
News:
January 15, 2017  Gary Debaun
2017 U.S. National Aerobatic Championships - Registration Fees:
This year ALL competition flights will be video-taped (not just Advanced).  It would initially appear that the registration fees have gone up, however they will actually save you a little money this year as there will be no charge for hangar fees (normally $100).  I am adding on $60.00 for the cost of video-taping flights.  Advanced Team Aspirants will not have to pay the normal $200 fee as in the past.

So here are the adjusted registration fees:
For the 4-minute Free - if you do not want your flight video-taped, it will be the usual $100.00
These fees will apply until the pre-registration deadline of September 18th. After that there will be an across-the-board late fee of $10%. So it will be in your best interest to pre-register.
Dates for the 2017 US National Aerobatic Championships have now been set: 23-29 September 2017 in Oshkosh, Wisconsin.
Oshkosh offers the best facilities for an aviation event in the world by virtue of its development over the last 45 years as the site for EAA AirVenture. IAC has invested heavily in upgrading its own pavilion there and it will serve as headquarters for the contest. The box will be over the airfield. Also being planned are other activities during the week such as evening social events at the EAA Nature Center and closing ceremonies and awards banquet at the EAA museum's "Founder's Wing" – the place where EAA's annual Hall of Fame ceremonies are held. In the coming months, those plans will go forward and we will keep you up to date on these pages.
---
2016 News:
Day 7 - September 30, 2016
The final day concluded with the 4 minute Free with Rob Holland coming out on top - congratulations Rob!

The USA Unlimited Team was announced and will be competing in the World Aerobatic Championships in Hoedspruit, South Africa, 16 Aug to 26 Aug 2017.  Team members; Rob Holland, Mark Nowolieski, Jim Bourke, Mike Gallaway, Mike Ciliberti, Craig Gifford, Bob Freeman, Tim Just and alternate Robbie Gibbs.
 
Day 6 - September 29
All UNOFFICIAL final standings are on the Results pages.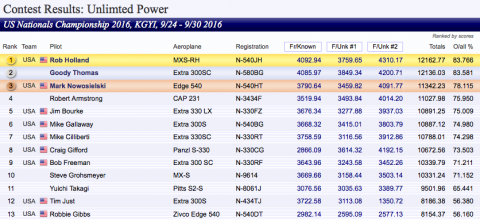 Here are the provisional scores for the combined flights in the Unlimited category. The flag next to the name signifies those pilots who have made a final team declaration. 8 pilots will be on the team with the next two as alternates. Final scores will be posted after any protests have been heard and resolved. The team will be announced in the morning and photos of the 2017 US Unlimited Aerobatic Team will be posted.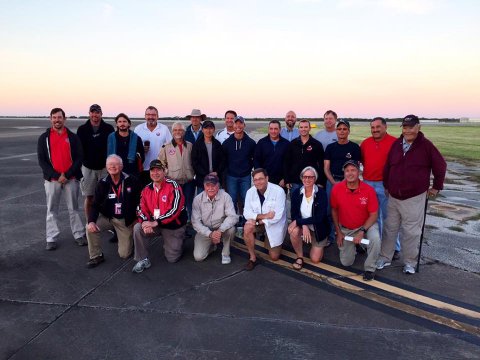 Unlimited Glider and Power pilots with the judges who evaluate them.
Day 5 - September 28
The 2nd Free Unknown sequences for Unlimited (Power) are now available: https://www.iac.org/nationals and click on "Sequences". The 2nd Unlimited Glider Unknown is also be published there. Intermediate Unknowns for Glider and Power are also available for download. This week we have published 57 sequences!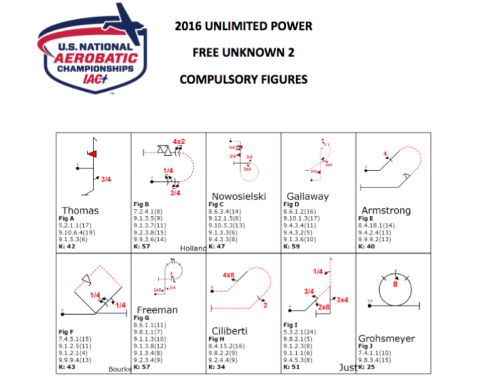 Some UNOFFICIAL final standings are showing up on the Results pages;
Power-
Primary; 1. Nick Meyer, 2. Michael Vandermeulen, 3. Alex Tally
Sportsman; 1.Luke Penner, 2. Cory Johnson, 3. Bill McLean
Glider-
Sportsman; 1. Merrick Isley, 2. Benjamin Hook, 3. Matthew Correa
Advanced; 1. Guy Acheson, 2. Mallory Lynch
Beautiful morning start. Intermediate Free lined up to launch.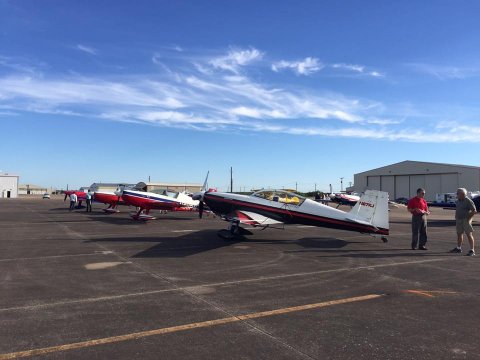 Day 4 - September 27
Another full day of flying.  Here are the updated top three for all categories after 2 flights each;
Power -
Primary: Nick Meyer, Mchael Vandermeulen, Alex Tally
Sportsman: Luke Penner, Cory Johnson, James Jacobson
Intermediate: Paul Langer, David Prather, Stan Burke
Advanced: Mitchell Wild, Aaron McCartan, Sammy Mason
Unlimited: Goody Thomas, Rob Holland, Mark Nowosielski
Glider -
Sportsman: Merek Isley, Matthew Correa, Joshua Holden
Intermediate: Reagan Moore, Connor Watson, Taylor Marshall
Advanced: Guy Acheson, Mallory Lynch
Unlimited: Eric Lentz-Gauthier, Jason Stephens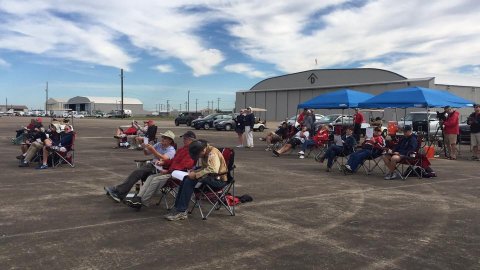 Unlimited Judge line.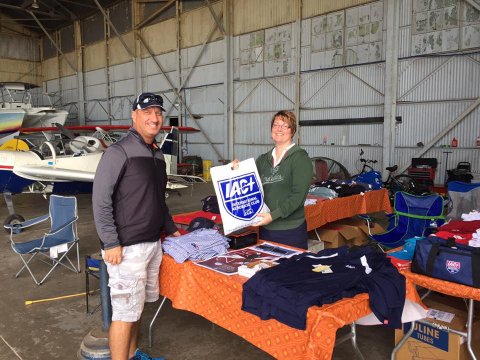 Trish is in Plylers Hangar will lots of IAC gear for sale...she also has Banquet Tickets for sale $55.00 for Friday 9/30 6:00pm.
Day 3 - September 26
The judges were able to get back to work today. The Primary and Sportsman competitors were able to complete their Known sequence. Sitting in the top three for Primary; Nick Meyer, Doug Evans and Contest Director - Gary Debaun.  Top three finishers in Sportsman; Luke Penner, James Jacobson, and Cory Johnson.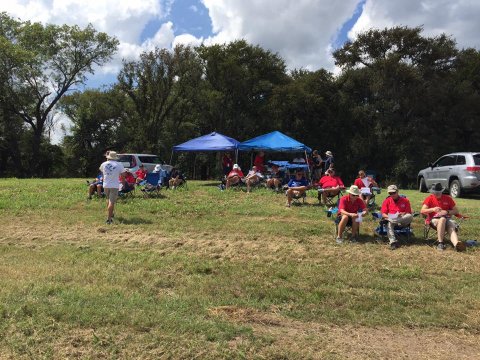 The top three finishers in the Advanced Power category Known; Mitchell Wild, Aaron McCartan, and Cameron Jaxheimer. The Advanced Power Free Unknown figures compulsory figures were posted. You can see all of the Free Unknown sequences as well as the Free Knowns being flown by the Unlimited Power/Glider and Advanced Glider competitors HERE.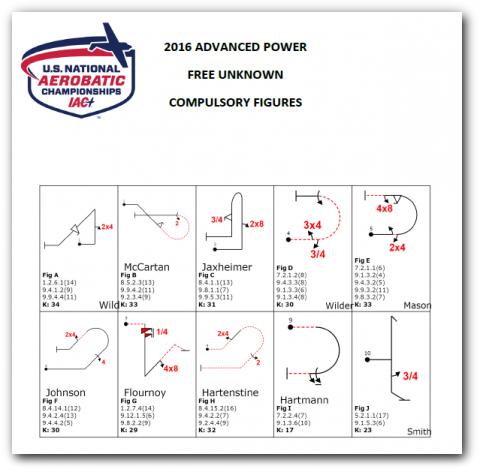 Glider  - current leaders after the Known;
Sportsman; Merrick Isley, Josuha Holden and James Lyne
Intermediate; Reagan Moore, Connor Watson, Taylor Marshall
Advanced; Guy Acheson, Mallory Lynch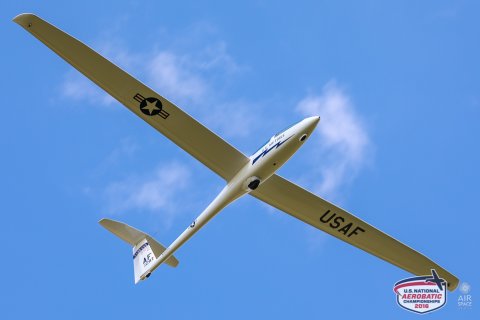 Day 2 - september 25
It wasn't for lack of positive thinking, but Mother Nature didn't cooperate and there was no flying today. Pilot Briefing at 0700 Monday morning for ALL Categories in the briefing Hangar. The Sportsman/Primary Power/Glider AND Advanced Power/Glider flights will be flown on Day 3, weather permitting.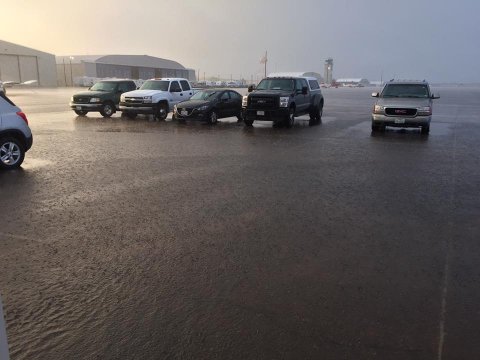 Day 1 - September 24
The figures for the Unlimited Free Unknown #1 have been posted to the IAC website. On Sunday, September 25th at noon the Free Unknown sequences are due in for review and will be published as PDFs on the IAC website here;
https://www.iac.org/us-national-aerobatic-championships-2016#FreeKnowns. Click on "Free Unknowns" and thumbnails of the sequences will be displayed.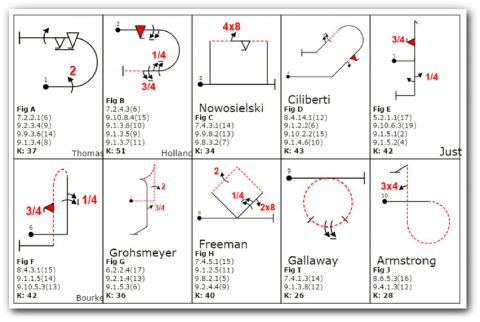 Unlimited Power category is posted here: https://www.iac.org/files/nationals-results/2016/indexpage.htm. Currently in the top three; after the Free Known - Rob Holland, Goody Thomas and Mark Nowosielski. All of the scores throughout the championship will be posted to this location.

Tech Inspections/ Registration Continued through the early morning. A mandatory Judges Refresher Course took place in the briefing hangar. The Nationals Red Polo shirts were picked up at the IAC Welcome RV and the wonderful group photo above as taken prior to Opening Ceremonies. After the photo the official pilot and volunteer briefing took place and Order of Flight was drawn. Unlimited Free Known Program was flown in the afternoon.
sign the waiver and practice
September 23, 2016
Attn all pilots please sign Contest Waiver at the Box Master Tent in front of Plylers Hangar .
This is the CONTEST WAIVER, you must sign this waiver prior to contest start.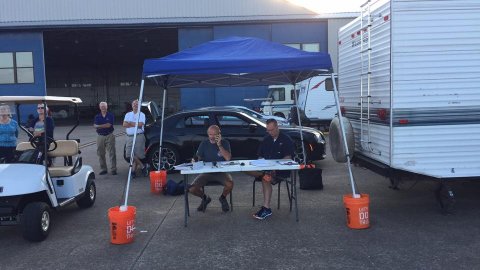 https://www.facebook.com/USNationalAerobaticChampionships
  Twitter: @USNAcro
It's almost nationals time!
September 21, 2016
Things are organized and ready to go for the U.S. Nationals. There are some early arrivals with an expected total of 80 pre-registered competitors. There are 12 pre-registered for the Unlimited Power team selection and 2 for the Advanced Glider selection. 
Follow along on social media at:
     https://www.facebook.com/USNationalAerobaticChampionships
     Twitter: @USNAcro
     https://www.iac.org/us-national-aerobatic-championships-2016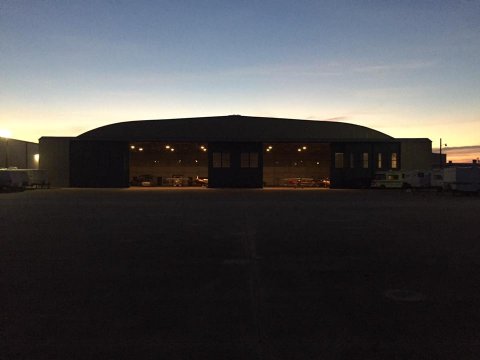 Waiting for your arrival.
The Box is Open
September 10, 2016
The Box Markers are in (courtesy of Chapter 24) - unofficial practice has begun... 7am till 7pm. The box waiver is at the Fire Department just to the south of the terminal building. Sign it before you fly!!
Contest Director Gary DeBaun in the skies over KGYI
september 3, 2016
If you have not signed up for a practice slot at the Nationals you need to call me today!  Slots are almost all taken.
PLEASE - do not block hangar doors and do not park on the South Ramp of the Jet Center.  Only park your airplanes on the NORTH side of the Jet Center Ramp.
Jet Center Parking is LIMITED this year.  Please go to our main page, select Jet Center Registration and fill out the form and email to Jet Center to assure your spot!
schedule
Submitted by Gary DeBaun on 
When you get a chance, please review the Schedule as found on this website.  If you find any issues please contact me (The Contest Director)
April 14, 2016
We have one new major sponsor this month and that is Rihn-Harvey Aviation (Debby Rihn-Harvey).  We still need sponsors for daily coffee/donuts @ $150 per day.  Please contact Gary DeBaun to sponsor.
ADDITION TO SCHEDULE FOR

SATURDAY 9/24

:  
A request from the Contest Director, 10:30am on the button, Evan Peers (official IAC Photographer) will be doing a "Group Photo" of all the volunteers and pilots - with their airplanes (just like in the old days) - in front of Plylers hangar - We are asking ALL participants to purchase either the new red polo or the red jacket (Available at Airventure and the Nationals) for this final group photo at KYGI.