Here is an article from IAC Chapter 3 member Larry Ernewein about the Upper Canada Open. If you were there, you saw a Harvard fly Primary, a Bucker win Sportsman, a Javelin fly Intermediate, and a One Design in Advanced. You also saw lots of Pitts Specials, an Extra, a Staudacher, and Citabria. Turning this over now to Larry: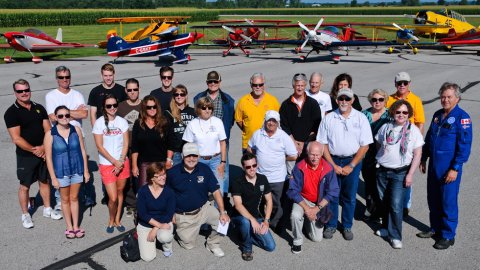 Aerobatics Canada Chapter 3 held the fourth annual Upper Canada Open August 15 to 17 at the Tillsonburg airport in Ontario with 13 competitors in 4 categories - including 3 pilots from the United States. Though preparations started many months earlier, the box markers were put out on Wednesday by Andy Ernewein, Pat Rebtoy, and Larry Ernewein. Pat had spent a fair amount of time with Trevor Rafferty making and bending the 400 quarter inch steel rods that held our box markers securely in the ground. Pat was also the competition's starter – keeping things going very well during several bouts of bad weather.
Paperwork arrived Friday morning with Chapter President Josh Pegg who also served as technical monitor doing the tech inspections, and the guy with the VHF radios during the contest. He effectively kept itinerant aircraft out of the box. Several important jobs were unable to be assigned prior to the event but, as so often happens, all positions were filled by volunteers arriving on Friday.
Laura Buescher and Carol Granger did the always-formidable task of arranging the PAPERWORK! A contest cannot function without a lot of it and it MUST be very organized, or chaos ensues. Don't ask how I know…. They did a fantastic job.
Joy McKinney, who was the Volunteer Co-ordinator at the 2013 WAC in Texas, did the same job for us. She and Pat had to leave the contest on Saturday night at 5pm, drive 70 miles, attend a family event, get some sleep, drive 70 miles back for the 0700 briefing – that we all forgot to tell them had been moved to 1000. Ooooppss… Pat used the extra time to gather the old merchandise and sell it! Because of her efforts the contest did not loose money. (In Canada the entire contest registration fee is used to pay for insurance - and sometimes even that is not enough!)
Ever try to run the IAC scoring system (Jasper) on a Mac? Nope – it won't work. So Elaine Ernewein, our scoring guru and computer nerd who likes the Apple computers, put an old PC to work. It only took about 300 hours of prep time before the contest, but the work paid off because the scores were usually posted before the judges left the line for category changes.
Sandy Langworthy and Hugo Ritzenthaler of IAC Chapter 88 drove from Michigan to judge under the watchful eye of Chief Judge Carole Holyk. Wayne Buescher (Ch. 88) and Chris Pulley completed the line. Assistants and recorders included: Pat Barrett of Ch. 126 (driving in from New York), Brianne McCutcheon, Dan Unger, Hella Comat, Meghan MacNeil , Andy Ernewein, Andrea Kuciak, Bill Ludwig, Desmond Lightbody, Trevor Rafferty, Charles Phillips, and Jeff Granger – who was also our medical director.
Practice day, Friday went well and we all retired to a local restaurant for dinner and drinks.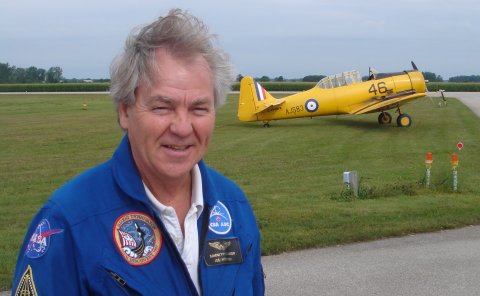 Saturday morning briefing was a bit late because Contest Director Bjarni Tryggvason's Pitts misbehaved. So he drove to the contest and arranged to fly a Harvard (AT-6 in the U.S.) in Primary instead of his usual Sportsman, which conveniently made a contest for first-time competitor Charles Phillips in his Citabria. This made all the other pilots happy as they were trying to decide who would have to embarrass himself by flying Primary to help Charles out. It turned out he didn't need any help. He won the Category! But it sure was neat to see and HEAR a Harvard at a contest!
In Sportsman, Dan Unger (also of Chapter 88) flying a Pitts S1 took 3rd, Chris Pulley flew his Pitts S1 to second, and Larry Ernewein won flying the Bucker Jungmann.
Jeff Granger (IAC Ch. 34) took the top spot in Intermediate in his Extra 300, Trevor Rafferty (winner of the unknown) was second in the Javelin he built, and third place went to last year's winner Bill Ludwig in a Pitts S1T. Wayne Buescher (Ch.88) was in 4th with the Staudacher S600 ahead of Desmond Lightbody flying a Pitts S2A.
Scott McMaster, who flies and teaches in just about everything – especially gliders – managed 3rd in the One Design, Hella Comat in her S1T placed second to Andy Ernewein flying an S1. Nobody zeroed an unknown figure!
Quite a few locals turned up to watch the flying, and a surprise visit was paid by Gerry and Doreen Younger, who flew a Pitts S2A (open front cockpit) to the field to see how aerobatics are done now-a-days. For those who don't recognize the name, Gerry pretty well started aerobatics in Canada back in the 1960's – that's right! Over 50 years ago! And he's still doing airshows and unlimited-type aerobatics – even with his new hip – though he hasn't competed in about 20 years. He recently went through his archives and found 13 Aerobatics Canada beer mugs that he arranged to have delivered to the competition. We gave one to each pilot. The mugs are older than some of the contestants! When the rain started on Saturday afternoon, Doreen climbed into the front seat and Gerry flew them back to his hangar in Kitchener. Gerry, in the back seat with the canopy, stayed dry…..
Food was looked after by Jess and her staff at the airport restaurant. They opened VERY early, stayed late, and provided the excellent banquet meal for us on Saturday night. Pilots looking for that "hundred dollar hamburger" will do well by flying to CYTB - which also has the cheapest 100LL in southern Ontario!
The staff of Tillsonburg airport (Claude, Grant and Mary Ann) could not have been more helpful. Manager Annette Murray is attempting to make the airport a vibrant place again and we're very glad she directed her efforts our way. Stay tuned for next year's bigger and better Upper Canada Open!
Winner Recap, Upper Canada Open
Primary, Charles Phillips, Bellanca
Sportsman, Larry Ernewein, Bucher
Intermediate, Jeff Granger, Extra 300
Advanced, Andy Ernewein, Pitts S1S
See full results at https://iaccdb.iac.org/contests/442