EAA AirVenture 20-26 July 2015 Oshkosh, Wisconsin USA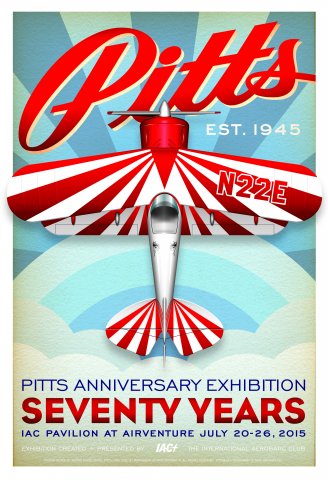 Come Celebrate!
This summer marks the 70th anniversary of the first test flight of the Pitts S-1 by Curtis Pitts himself.  This aircraft went on to become one of the premiere aerobatic aircraft of all times and continues to enjoy an active life in the hands of competition and recreational pilots around the world.  It remains one of the iconic aircraft types in aerobatic history and made possible the foundation, growth, and expansion of IAC in the 1970's.  Its importance to aerobatic development cannot be overemphasized. 
To recognize this beautiful airplane and all the models that have followed since the first S-1 took to the air in 1945, EAA and IAC will celebrate this 70th anniversary with special displays at EAA AirVenture 2015 in Oshkosh as well as forums and airshow demonstrations.

Dates and Times
EAA AirVenture will run on the following dates:
Monday, July 20 through Sunday, 26 July 2015
The IAC Pavilion at AirVenture will operate as follows:
Every day from 0800 to 1700 Central Daylight Time (CDT)

Arrival by Aircraft
The NOTAM which describes AirVenture arrival and departure procedures is available for download as follows and is linked at the bottom of this article as well:
https://www.eaa.org/en/airventure/eaa-fly-in-flying-to-oshkosh/eaa-airventure-oshkosh-notam
IAC members arriving in their aircraft will be directed by EAA Parking personnel to the "IAC" parking area, which includes the Pitts Specials arriving for the 70th Anniversary. IAC Parking is directly across from the IAC Pavilion with the Pitts Special parking segregated from the rest and along the road which runs north-south in front of the IAC Pavilion.
The NOTAM describes the sign that pilots should bring in their airplanes with "IAC" printed in bold letters. This sign will be shown to EAA Parking personnel so they can direct you to the IAC parking area. It is a simple and efficient system and a sample sign is found HERE for printing and carriage in your aircraft.

The Pitts Exhibit
2015 is a special year for EAA and IAC as it was on August 28th, 1945 that Curtis Pitts first flew his "Special" in Jacksonville, Florida. EAA and IAC are honoring this great aircraft designer and his creations in this 70th Anniversary year of its first flight.


Over 70 Pitts Special owners and pilots have pre-registered and will be bringing their airplanes to EAA
AirVenture 2015. All models of the Pitts are expected and will be on display, including a replica of the first prototype (N52650) from the EAA Museum's collection to the powerful and sleek Model 12.

Inside the IAC Pavilion, a special Pitts Exhibit has been designed to explain and highlight the history of these aircraft in a series of 16 vertical panels and over 60 photographs. In addition, to the 70+ Pitts Specials on display in the parking area, Peter Gauthier of Sonoma, California will bring the fuselage of his exact replica of NX86401, which later became N22E, Betty Skelton's famous "Little Stinker". This aircraft was flown by Phil Quigley after World War II and later sold to Betty who re-numbered and re-painted it in the colors we know today. Peter's NX86401 fuselage will be on display in the interior of the IAC Pavilion along with the Pitts Exhibit.

IAC Forums and Seminars
A full range of seminars and forums will also be held during the course of the week. Seminars will take place at the IAC Vicki Cruse Memorial Pavilion from Tuesday, July 21 through Saturday July 25 between the hours of 8:30am - 2:15pm.  Many of these forums will concentrate on various aspects of the Pitts.  A full schedule can be found HERE.

IAC Gathering – EAA Nature Center
IAC will host its annual "IAC Gathering" in the EAA Nature Center, adjacent to the AirVenture convention grounds. Date and time are as follows:
                                  Friday, July 24th -- 6:00 pm to 8:00 pm
Food, beverages, camaraderie, fellowship, and conversation are on the agenda. IAC members, sponsors, and Pitts owners and pilots are invited.
The Nature Center is located east of the Museum and Pioneer Airpark as shown in the diagram at this
LINK. It is accessed from Waukau Avenue.

Pitts Group Photograph
A group photograph of Pitts owners, pilots, family members, and former owners and pilots will be taken by EAA photographers as follows:
     Place: Boeing Plaza
     Time: 11:15 am
     Date: Wednesday, July 22nd
     We will not assemble the Pitts airplanes on the Plaza
     for this photograph. Only one Pitts will be used to
     stage the photo. It is intended as a "group of people" photo.
     Be sure to put this on your AirVenture calendar.
Pitts Posters
The beautiful Pitts Poster which commemorates this year's 70th Anniversary of the Pitts and appears at the top of this article can be ordered HERE. The poster depicts the beautiful S-1 N22E flown by Betty Skelton and named "Little Stinker". The airplane is now in the collection of the Smithsonian.
View Helpful information for your trip to Air Venture!
IAC Air Venture Plan
NOTAM (downloadable pdf)
IAC Sign (for aircraft)
IAC Parking Plan
IAC Gathering - EAA Nature Center