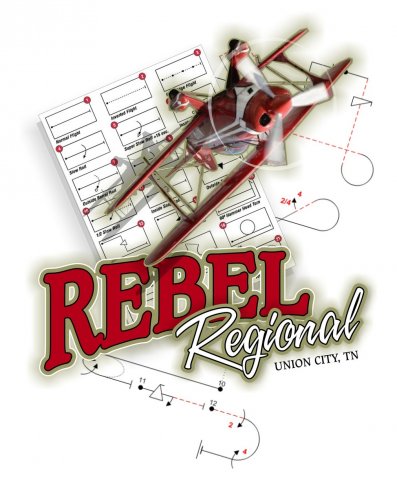 Reports from the Rebel Regional at Union City, Tennessee are that it was one of the more fun and pleasurable contests in recent experience. Weather was favorable. Lots of great people showed up. There was a whole lot of flying. Food was delicious and abundant. Attitudes were upbeat, moods happy, dispositions positive. Great company was enjoyed by all. Mike Rinker Directed and Chapter 27 hosted the contest in the northwest corner of the state, near the Mississippi river and borders with Arkansas, Missouri, Illinois and Kentucky.
Twenty-seven pilots competed. The biggest category was Sportsman, with lucky thirteen competitors. Instructor pilot Shiloh Dudley brought three students of the Patty Wagstaff Aerobatic School in far away Saint Augustine, Florida. Shiloh competed Sportsman along with student, Mathieu Barbin. Students Evan Vines and Henry Rollings competed in Primary. A large showing of pilots from IAC Chapter 3 based around Atlanta, Georgia participated at the Rebel.
How many contests do you know that complete four flights of Primary? I can count one-- the four Primary category pilots at the Rebel completed four flights and what do you know? Giles Henderson won all of them in his Cassutt Racer. That is somewhat of a foregone result that doesn't require four flights to conclude; however, the experience for the group making four turns in the box was of great benefit and much appreciated by them.
Contest Director and Unlimited pilot Mike Rinker joined three of the Primary flights and entertained all with a 1932 Curtiss-Wright B-14-B Speedwing open cockpit biplane. Only two of this particular model, with 300hp Wright R-975, nine cylinder Whirlwind engines were built. This survivor was displayed for some time at the Aerospace Museum of California in McClellan, then sold. Flying Magazine publicized the sale in the April, 2014 issue, including a nice aerial photo.
Sportsman pilot Michael Tipton carried two seconds and a first with his Yak-55 to win. Chris Rudd won the first flight and his first competition medal. Shiloh Dudley won the third flight and overall second place with the Patty Wagstaff Flight School Super Decathlon. The Rebel had a Van's RV-4 in competition for Sportsman. Pilot William McLean flew it to a very respectable fifth place. His Sportsman free had a push out of forty-five and an inverted spin. Asked why an inverted spin, he said, "Well, it spins better inverted." Says Tom Adams, "All airplanes spin better inverted."
Speaking of Tom, he chiefed the Intermediate and Unlimited categories and judged the rest. Tom coaches the Advanced category winner, Steve Johnson, who carried all three flights against Stan Moye. Stan kept Steve honest, giving him no room for a zero nor as much as a low scoring figure. Steve flies an MXS. Stan flies an Extra 300S.
But we skipped Intermediate. John Wacker took all three flights of Intermediate from a field of four. He flies an Extra 300L.
Unlimited was a battle of four pilots. Brett Hunter from Ohio beat the field on the Known and Unknown, and overall with his MXS. Steven Grohsmeyer took second on every flight. Andy Macha won the Free.
Judges were Kenneth Hunt, Steve Johnson, Stan Moye, Liz Weaver, Thomas Hartvigsen, Tom Adams, Giles Henderson, Andy Macha, and Chris Rudd.  Fred Weaver chiefed Primary, Sportsman, and Advanced.
Contest participants got to tour the Discovery Park of America and banquet with the dinosaurs. A great wrap-up to a great weekend of fun, flying, and comraderie.
Winner recap, Rebel Regional, Union City, Tennessee
Primary, Giles Henderson, Cassutt Racer
Sportsman, Michael Tipton, Yak 55M
Intermediate, John Wacker, Extra 300L
Advanced, Steve Johnson, MX2
Unlimited, Brett Hunter, MXS
Find full results for the Rebel Regional posted at https://iaccdb.iac.org/contests/444
Be sure to check the IAC Contest Calendar for the next contest near you! Coming up this weekend, four contests!
The great meeting of the Northeast, Mid-America, and Eastern Canadian aerobatic minded at Olean, New York courtesy of the Bufallo Wings Chapter 126. It's the The Bill Thomas U.S./Canada Aerobatic Challenge.
Just southwest of our national capital, the East Coast Aerobatic Contest directed by Adam Cope of IAC Chapter 11 in beautiful Warrenton, Virginia.
Over in the Northwest, the Apple Turnover must be apple country in Ephrata, Washington.
And back in the middle, we're in Kansas at the Harold Neumann Barnstormer.