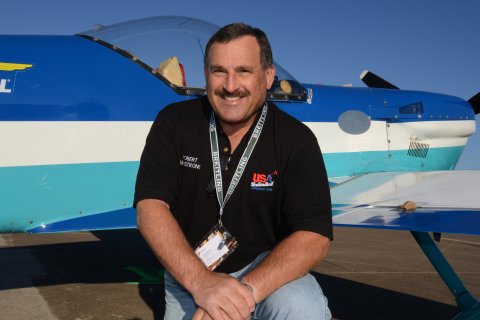 Robert Armstrong has been selected by the IAC Hall of Fame committee and the Board of Directors to be inducted into the International Aerobatic Hall of Fame for 2016. The official ceremonies will take place in Oshkosh, Wisconsin on November 9, 2016.
Robert Armstrong "blames" his aviation career on the local Athens, Georgia Board of Education.  A junior high school had been built next to the Athens airport just before the family moved to Athens in 1968.  Of course, his parents made Robert attend that school, which lead to him gazing longingly at the airport through the schoolroom window.  Already fascinated with airplanes, he began swapping manual labor and airplane washings for flying time.  He obtained his Private Pilot's license before his senior year in high school.  He received his Airframe & Powerplant (A&P) Mechanics license the summer after high school graduation.
Robert began building his S-1C Pitts Special as a budget project with no aspiration of ever flying in any competitions.  When the Pitts was finished he flew it first to Oshkosh, then down to Fond du Lac for his first aerobatic contest.  He didn't win, but several of the pilots Robert competed against in the Sportsman category were also first time competitors.  Robert was the highest scoring first time competitor in Sportsman, and he counts that trophy as one of his most cherished.
In 1982 there were not many books on aerobatics, and even less on competitive flying.  From that first contest at Fond du Lac Robert met many fellow aerobatic enthusiasts involved with the IAC, finding them an amazing group of the most helpful and friendly people.  They offered to help him get his feet wet.  From then he was hooked and never wanted to leave.
The S-1C received a little "upgrade " when a 200 hp+ engine was added.  Robert returned again and again to competition flying, winning the Advanced category twice.  In 1988 he competed in the US Nationals for the first time.  He had a wonderful relaxing contest and managed to finish second on all individual flights, and won 2nd overall.  The only competitor ahead of Robert was an energetic man from California named Sean D. Tucker, who would later go on to become one of the top airshow performers of all time and the Chairman of EAA's Young Eagles program.  
John Morrissey was Robert's trainer and coach for the 1992, 1994 and 1996 World Aerobatic Championships (WAC). He says of Robert, "....he was a jewel to work with.  He excelled in obtaining the best performance possible from his Pitts S-1C at Le Havre, in the Streaker at Debrecen, and in the Pitts S-1-11B at Page Field.  He willingly supported and adapted to the emphasis the training staff placed on the importance of sequence presentation.  He was an effective and gregarious leader in his classes during his many training camps at Harold Krier Field in Ashland, Kansas.  His unselfish leadership and willingness to help all of his Team and class members with their flying as well as maintenance made my job a lot easier ... and more effective".
"His dominance during Unlimited Unknown Compulsory programs became legendary" Morrissey continues.  "He was a superb international representative of, and for, our Republic during those highly competitive international competitions.  He was a respected gentleman competitor at home and abroad. Not the easiest of tasks."
During the 1992 WAC, Robert's enthusiasm and open speaking style gained him many international friends, including then Russian Team member, Nikolay Timofeev.  Nikolay is an aeronautical engineer and test pilot in addition to being a competition pilot.  During the incomplete 1992 WAC there were long days of sitting and doing nothing due to unfavorable weather.  Nikolay discovered that Robert was a really interesting and informed personality.  The two would spend hours talking about aerodynamics, modern top level aerobatic planes, ways of developing the next generation of aerobatic programs, and potential changes of contest rules.  Nikolay was impressed by Robert's ability to do a great job on minimum budget.  Nikolay was amazed when he saw Robert flying his 2-aileron Pitts with a gracious, artistic type of flying.  He tried to find out if there was some special trick, trying to understand "why a Pitts, with 2 ailerons and not 4?"  Robert's answer knocked Nikolay back when, with a big smile on his face, he told Nikolay, "Hey, brother, that is the only plane that I can afford".
Life took an interesting turn later when Nikolay, who moved to Florida in 2000, would have the privilege of flying with Robert on the USA team in 2013.  Nikolay says, "Nothing had changed. Robert was still a really great pilot with golden hands." 
One time Robert was late to training camp and again with big smile, "Sorry, Bro, I just found a serious crack on the main spar in my CAP 231. It took 3 days of almost non-stop work with no sleep but, I fixed it."  Robert is one of those people who loves fixing things.  He learned, listened, and read books to find solutions to problems with airplanes.  Robert comes off a bit back-woods at first, but in truth he is very well read and intensely curious, and he feels that you can usually find the solution(s) you need in a book somewhere if you will just take the time.  He can be quite tenacious when researching something.
As he would soon learn, the airplanes were never really "finished" and Robert would continue to change the S-1C and the CAP 231 for as long as he flew them.
In 1994 Robert's reputation with the Pitts had spread.  Thirteen years from the time he made the first flight in his homebuilt S-1C, Robert got a call from Curtis Pitts in Homestead asking him if he would come to Homestead and evaluate his new airplane, the Super Stinker. 
The Super Stinker design took a 2-seat, 6-cylinder engine Pitts Special and stripped it down to just 1 seat, adding heavily modified wings and flight controls.  Curtis Pitts designed the aircraft to take on the monoplanes that were taking over aerobatic competition.  The name was a takeoff on "Little Stinker," the second Pitts ever made, which helped Betty Skelton win her championships in the late 40's.  Little Stinker is now hanging in the Smithsonian.
Robert flew different airplanes in the WAC of 1994 (Streaker) and 1996 (Super Stinker).  Realizing the model C was at the end of its competitive life in the Unlimited category, Robert and hometown friend Brantley Coile began looking for a reasonable 6-cylinder monoplane to continue Robert's quest for the gold at WAC.  They found an early French CAP 231 (1990) that needed work.  For Robert, the challenge of aircraft repair and restoration brings as much satisfaction as does the aerobatic flying.
Robert believes that there are two ways to get an airplane.  You can spend a lot of money and very little time, or you can spend a lot of time and very little money.  The CAP 231, like the Model S-1C, became a better airplane under the care of Robert and by 1998, he captured the IAC Unlimited Championship trophy at Fond du Lac.
1999 was a special year for Robert.  He wanted to defend his Unlimited title at Fond du Lac and compete at the US Nationals in September.  A week before the Fond du Lac contest, he discovered a broken spar on the CAP.  He called former National Champion Phil Knight who he had been training with, told him the problem and asked if he knew of an Extra he could rent for the Fond du Lac contest and if he would he be able to teach him how to fly it in the next few days. The answer was yes and Robert placed 7th at Fond du Lac.
The US National contest was coming up in a month and he still had a broken spar on the CAP.  He worked 18 hours a day for 14 days repairing the airplane.  He finished tweaking, test flying and painting the CAP 231 over the final 3 days before flying to Texas.  After 5 days of practice before the contest and nearly a month of not flying the CAP, he took 1st place and became the 1999 National Champion and was a member again of the USA team heading to the WAC 2000 in France.
In 2000 the changes to the CAP 231 include a hot rod engine and a change in the engine mount geometry, which makes the airplane fly straight and eliminates rudder corrections normally required when the engine is canted opposite the direction of the engine rotation.  The French pilots tell Robert they are seeing the changes Robert is making in his 1990 CAP 231 in the way it flies.  Like Nikolay said during the 1992 WAC in France, Robert is "… a great pilot with golden hands."
The 2001 WAC was held in Spain.  The first day there, Robert became very sick after the opening night ceremonies.  Although so sick that sometimes he felt like he was nearly passing out, by afternoon of the first competition day, he began to feel better and decided to go to the contest site and see what time he would fly.  While watching the flying, he heard the chief say, "It looks like we will be able to fly everyone today!"  Horrors!  His team scrambles to get something in Robert's stomach. How will he ever do it?  The sun doesn't set till after l0:00pm in Spain at this time of year and it has been extremely hot all day.  No matter.  As the US team watches, Robert foregoes the optional time for practice.  He dives right into the box, rocking his wings to begin, with the US team in disbelief.
He flies through the Q program almost in tears ... but he knows that if he doesn't fly now, he will have to go home. He ends up with a 12th place finish for the Q and goes on to fly the rest of the competition, ending up on the podium as he places 2nd overall for ALL flights and wins the Hillard trophy for being the highest scoring US pilot at the contest.
In 2003, the WAC was in Lakeland, Florida and Robert finished 3rd and won his 2nd Hillard trophy.  He continued to fly WAC's through 2013, with the exception of 2011.  He will fly a total of 10 World Aerobatic Championships in his aerobatic career.
Robert is currently living in Bishop, Georgia and still flying aerobatics.  Although he says he has been less than diligent with logging all of his flying time by his rough calculation he shows a total time of 17,000+ with 5,000+ being in general aviation.  This includes 1,600 of actual aerobatic time.  The list of aircraft types he has flown exceeds 80.  Robert is a "retired" airline pilot having flown the 717 (Formerly the MD-80/90 series aircraft, now owned by Boeing.) for twelve years at AirTran.
Today he continues flying a Citation XLS for a local company since early in 2015 giving him the unusual benefit of going to the same airport to work and play!