Origin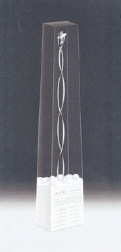 ​This award was donated in the memory of Kathleen Jaffe. Her spirit and enthusiasm for aerobatics and the aerobatic community were truly remarkable. She was president of IAC Chapter 52, contest director, newsletter editor, and contributor to Sport Aerobatics magazine. Kathy also gave lectures to everyone from aviation-related groups to schoolchildren on the joy of flying and especially aerobatics. She was also a competition pilot. She died in 1999.
Criteria

Purpose of the award is to recognize an outstanding volunteer during the previous year. General guidelines are that this person is one who consistently, unselfishly and eagerly accepts more responsibilities than he or she can handle, meets these responsibilities with tireless effort, efficiency and a smile, and who places the needs of others above his or her own, making the sport of aerobatics more enjoyable for everyone.
Procedures
The Awards Administration Chairman will solicit nominations from the general membership using the following communication channels; letters to IAC Chapters, an article in Sport Aerobatics and via the Internet. The Awards Chairman will collect nominations submitted by individuals and/or IAC Chapters. The nominations are presented to the IAC Board of Directors for voting. The winner is selected by secret balloting of the Board. A plaque, recognizing the annual award winner, is ordered by the Executive Director.
Presentation

The Master trophy and the annual recipient trophies will be funded by the Kathy Jaffe Memorial Fund. The recipient trophy will consist of a plaque with the individual's name engraved on it. The Master trophy will be on display at the IAC pavilion in Oshkosh, Wisconsin. It will be engraved with each annual recipient's name. The recipient plaque is presented at the IAC Annual Gathering Dinner at EAA Air Venture.
RECIPIENTS
1999 - Ray and Lois Rose

2000 - Ann Salcedo

2001 - Joanne Johnson

2002 - Maryilnn Holland

2003 – Hal Raish

2004 – Bob Buckley

2005 – Julia Wood

2006 – Gary Mack

2007 – Phil Schacht

2008 – Randy Owens

2009 – Ann Salcedo

2010 – Liza Weaver

2011 -  Lorrie Penner

2012 - Gary DeBaun

2013 - DJ Molny

2014 - Lynn Bowes

2015 - Tom Adams

2016 - Bob Hart

2017 - Alice Johnson

2018 - Cleta Sweeney

2019 - Teri Branstitre

2020 -------