For Outstanding Contribution as a Chief Judge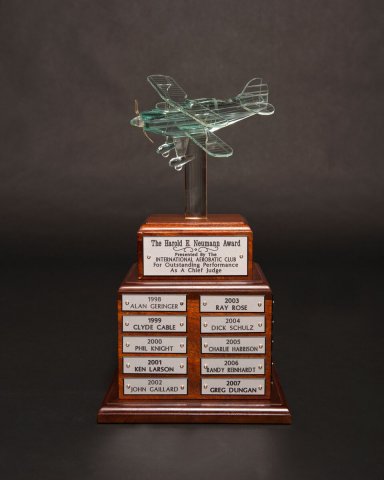 Origin

A number of IAC members collaborated in conceiving the idea for presenting a trophy to the outstanding chief judge each year. The family of Harold E. Neumann has provided the permanent trophy in 1998 to recognize the outstanding chief judge and to honor the name of Harold E. Neumann, Collier Aviation Trophy recipient, Thompson Trophy Race winner, active IAC competitor and judge until well into his 70's.
Criteria

The Award is given annually for outstanding contribution as a Chief Judge during the prior contest year. General guidelines, though not requirements, for the award include a person known for leadership qualities and fairness on the judges line. This person conducts each contest flight in a professional manner and is widely respected for his or her knowledge and experience of IAC rules and judging criteria. Additionally, this person uses each flight program as an educational opportunity for competitors and judges with preflight and post-flight briefings.​
Procedures

Nominees are sought each spring by the Awards Administration Chairman from the Chapters and members through Sport Aerobatics. The Chairman reviews the nominations and presents them to the Board for voting. The winner is selected by secret balloting of the IAC Board of Directors prior to the U.S. Nationals.
Presentation

The recipient receives a plaque and the master trophy remains on display in the IAC Pavilion in Oshkosh. The recipient plaque is presented at the IAC Annual Gathering Dinner at EAA Air Venture in the year following the contest year for which it is presented.
​
THE HAROLD E. NEUMANN TROPHY - CHRONOLOGY OF RECIPIENTS

1998 - Alan Geringer

1999 - Clyde Cable

2000 - Phil Knight

2001 - Ken Larson

2002 - John Gaillard

2003 – Ray Rose

2004 – Dick Schulz

2005 – Charlie Harrison

2006 – Randy Reinhard

2007 – Greg Dungan

2008 – Kevin Campbell

2009 – Greg Dungan



2010 – Fred Weaver

2011 -  Jim Ward

2012 - Lynne Stoltenberg

2013 - Jim Wells

2014 - Sandy Langworthy

2015 - Charlie Harrison

2016 - John Morrissey

2017 - Michael Church

2018 - Peggy Riedinger

2019 - Hector Ramirez

2020 -----