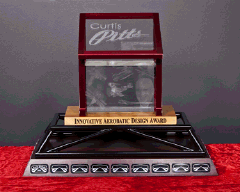 Origin:
This award was donated by the Pitts family in the memory of Curtis Pitts. From the first design called the "Little Stinker" in 1944 to the Model 14 designed just before his death in 2005, Curtis Pitts was one of the most prolific aircraft designers in aviation history. His designs, and their descendants, forever changed the world of aerobatics.
Criteria:
The purpose of this award is to recognize an outstanding contribution to aerobatics through product design. General guidelines are that this person or company is one that has created a product, or products, that has made a lasting impression on the world of aerobatics.
Procedures: 
The first issuance of the award was nominated and approved by the IAC Board of Directors in the spring of 2009. In all future years, the IAC Awards Administration Chairman solicits nominations from the general membership through letters to the IAC Chapters and via the Internet. The IAC Awards Chairman will collect the nominations and present them to the IAC Board of Directors for voting. The winner is selected by secret balloting of the IAC Board of Directors.
Presentation: 
The master trophy and the annual recipient trophies will be funded by the Pitts family. The recipient trophy will consist of a plaque with the individual's name engraved on it. The master trophy will be on display at the EAA Museum in Oshkosh, Wisconsin. It will be engraved with each annual recipient's name. For the initial year, the plaque was presented at Sun 'n Fun by the Pitts family. The recipient plaque in future years is presented at the IAC Annual Gathering Dinner at EAA Air Venture.
Recipients
2008 – Kevin Kimball

2009 – Herb Andersen

2010 – Gerd Muehlbauer

2011 -  Walter Extra

2012 - Jim Rust

2013 - Philipp Steinbach

2014 - Bill Bainbridge

2015 - Eddie Saurenman

2016 - Frank Christensen

2017 - Dan Rihn

2018 - Richard Giles

2019 - Anthony Horvath

2020 -------