Tailwheel Endorsement leads to Aerobatics
By Zinnia Kilkenny, IAC 437244
ZK: The San Diego Hammerheads recently held a high-octane, three-aerobatic hold contest, the California Classic. Your third contest where you flew Sportsman. 
During a brief moment of respite on the judge's line at the Classic, we made our acquaintance; I recall you saying, "If you told me I'd be flying a Warbird in aerobatics, I would never have believed you."
JM:  I grew up in a military family, and my grandfather was a towering figure. In WWII, he was a B-17 pilot and led the first daylight raid on Berlin. He retired in Colorado Springs, which meant my childhood vacations were mostly spent walking the Air Force Academy grounds and dreaming of flying. However, my eyesight was never good enough to be a pilot in the military, so those dreams faded, and the lack of time and money kept me grounded altogether.
Then, in my mid-30s, I married into an aviation family. My father-in-law was Bob Reiss, a well-known San Diego aviator. Bob flew around the world four times in his turbine Bonanza. I was there to meet him as he landed at Montgomery Field on his final lap in 2003. My interaction with him re-ignited my passion and pushed me to get my private pilot
'
s certificate. He also introduced me to Carl Hayes and Jill Gernetzke, the premier Yaksmiths at M14P. At the time, I had no interest in the Yak; I was distracted by the flashy panel lights and gentle composite comforts of the Diamond Star DA40. Unfortunately, Bob Reiss died in 2004, and after a divorce and job change, I put flying on the back burner again.  
I took a position at Ionis Pharmaceuticals in Carlsbad, CA, in 2013 and my office happened to have a very large window overlooking short-final into Palomar Airport. I'd get distracted whenever planes were landing, and I realized there was just no way I could remain grounded. So, one day at lunch, I went over to Pinnacle Aviation, signed up for some refresher flights, and completed my BFR. After that, I joined Plus One Flyers Club and decided,
"
I
'
m going to get myself a Cessna 195."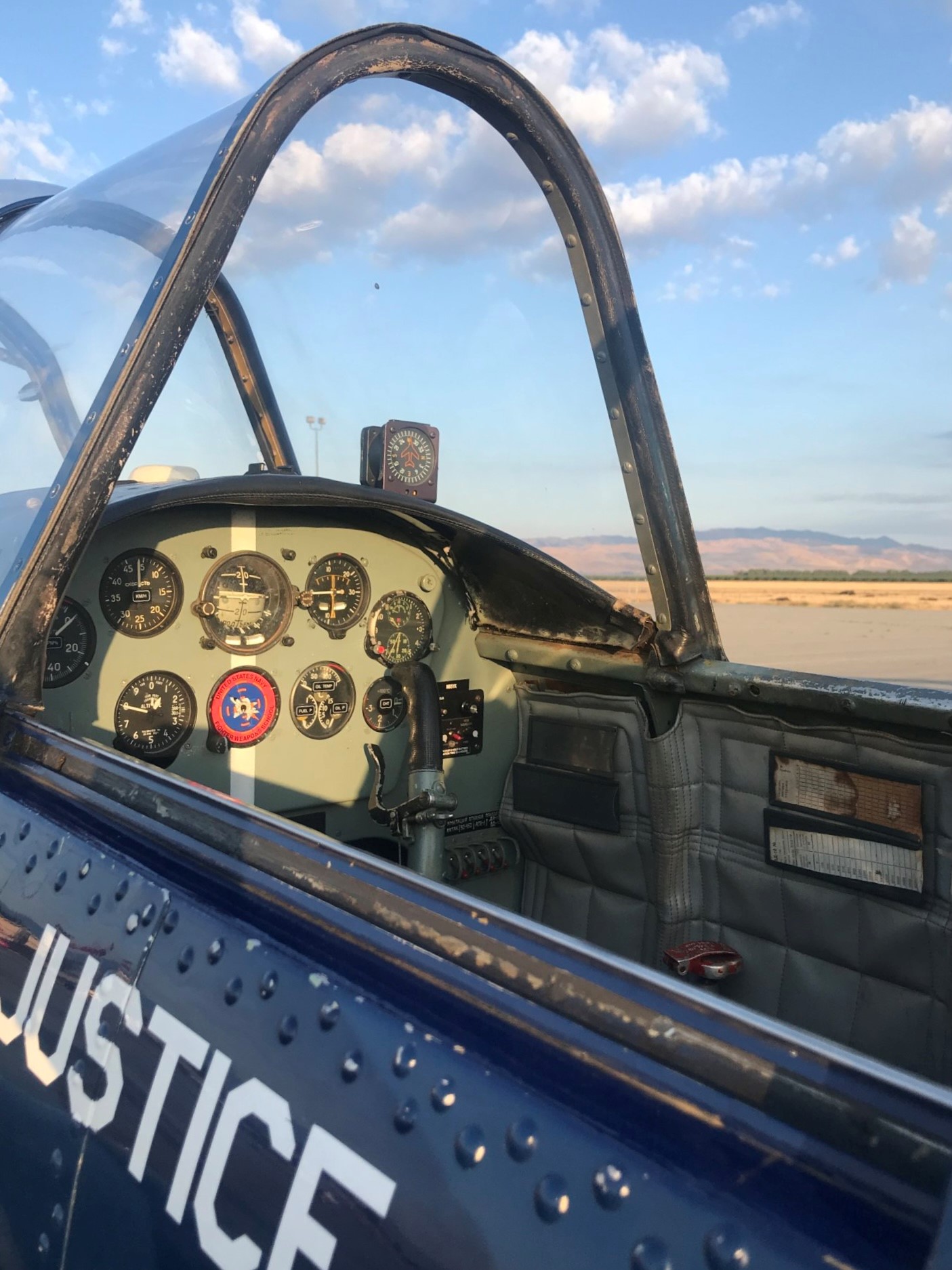 Shortly after, I started tailwheel endorsement training with CFI Mark Henshall in Brian Jones
'
Great Lakes. The first day I showed up, Mark said,
"
You wanna try something different?" The next thing I knew, I was vertical performing my first Hammerhead.  That was it. I knew that was what I wanted to do. Then after that, I moved over to Paul
"
Miko
'
s" Great Lakes, which became the gateway drug to the Yak. Miko owned the Yak and the Great Lakes, and he had a kid on the way, so he was now a
"
Yak dealer."  He took me up for a taste - it was love at first loop.
The other great influence is my father, who spent his entire life studying Russia and the Soviet Union. His career as an Army Officer in military intelligence would put us behind the Berlin Wall in the mid-80s. So, I experienced Soviet communism first-hand as a teenager. Today, I find Soviet-era propaganda oddly nostalgic. The fact that I get to fly a Soviet-era plane that was built in the Soviet Union when I was living in Berlin is truly a unique privilege.  
ZK: You have successfully combined your passion for Warbirds and aerobatics; it appears you have a third passion, songwriting. Great works of art have been borne from challenging times; what was the inspiration for "Got a Tesla Wish I Had a Cessna (195)?"
*Lyrics in part:  ...wife made me buy this Tesla... what I really wanted was a Cessna...
JM: I wrote that song from the heart. I really didn
'
t want to buy a Tesla, and I really do want a Cessna 195. It is the most beautiful airplane ever made, and someday, I hope to own one. However, marriage is a delicate balance between choosing
what you want
and
what you need.
So, one way to deal with that is to play music and maybe write a song.  Also, I wrote this during the pandemics peak, so I was going a bit crazy in the house.    
After I wrote the song, I was invited to the Cessna 195 fly-in, and several owners offered me a ride.  So, I believe it has already paid off!  
ZK: Speak it into existence; what's next?
JM:  I just completed my seaplane rating from Bob Del Valle at Coeur d'Alene Seaplanes, a great outfit in the beautiful Idaho Panhandle. I'm planning some backcountry flying up in Idaho next summer.  As for the Yak, I
'
m excited about the April contest at Borrego. I will continue to fly Sportsman and try my best to keep it in the box!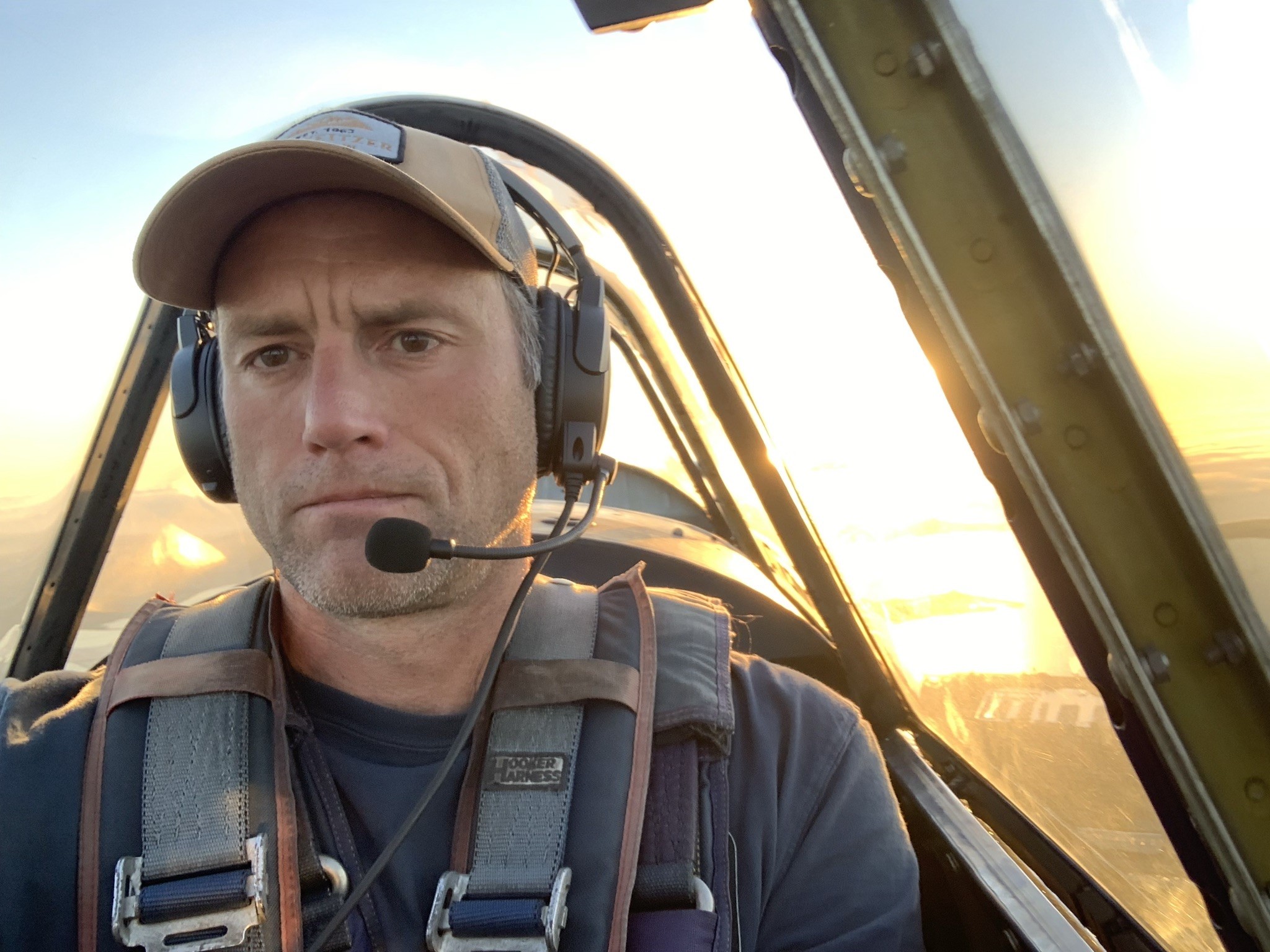 Chapter: 36
Occupation: CEO of La Jolla Labs, Inc., a biotech company developing RNA therapeutics