Few people, either male or female, have accumulated the list of credits, world records and honors we could describe in discussing Betty's accomplishments. There isn't time to cover them all, but we'll touch on some of the highlights in her truly remarkable career.
There aren't many of us who were ready to solo an airplane at the age of 12, but Betty was – and did. She repeated the feat, this time legally when she was 16. That was in 1942, and it marked the beginning of an ambitious series of achievements. She became the first pilot to compete and perform in a Pitts Special. It was serial number two and aside from Curtis Pitts, Betty was the first owner of a Pitts Special which was the smallest, lightest biplane in the world at that time. She did a lot to popularize the Pitts Special both as a competitive and air show aircraft.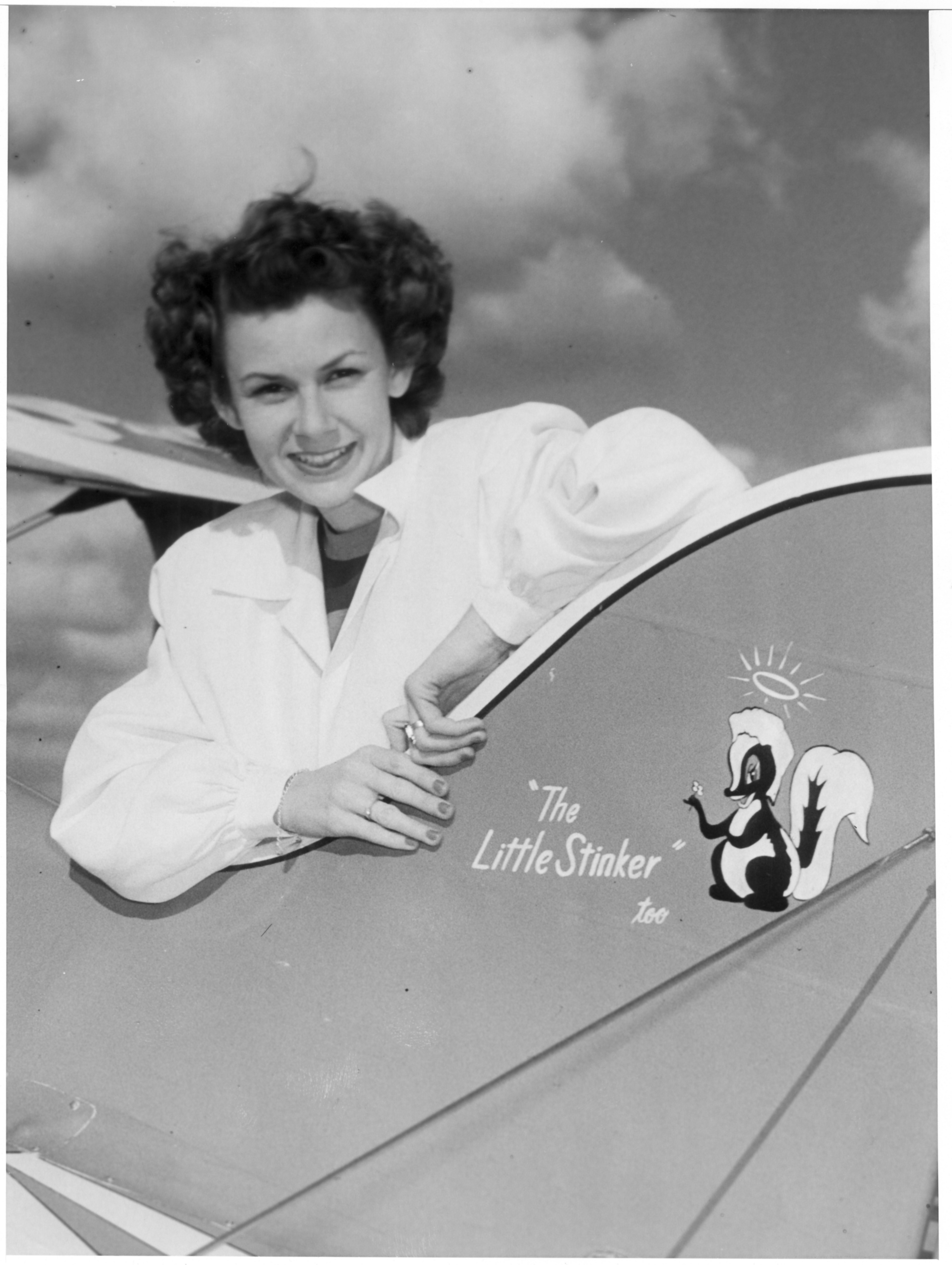 She took possession of the Pitts Special, which she dubbed LITTLE STINKER in 1948 and entered the All American Air Maneuvers in Miami that same year. She then became the first woman to win the title of International Feminine Aerobatic Champion three times in a row, 1948, '49, '50.
Between the trophies she was collecting, Betty took LITTLE STINKER with her on the QUEEN MARY to England where she performed for the Royal Family and became famous for flying the smallest airplane across the Irish Sea. Back home, she was the first woman to fly an inverted ribbon cut. LITTLE STINKER became so famous in this country and abroad that it was accepted by and put on display at the Smithsonian's National Air and Air and Space Museum.
In addition, Betty broke the sex barriers at the Cleveland Air Races, set several altitude records and went for a world speed record in a P-51.
She was a co-founder of the Civil Air Patrol and achieved the rank of Major. She worked for Eastern Airlines while also obtaining her commercial, flight instructor, single engine lane and sea and multi-engine ratings. Betty became a test pilot, flew helicopters, jets, blimps and gliders. She was presented honorary US Navy Wings by Admiral JW Reeves in 1949 and she received honorary Royal Air Force Wings when she was in Ireland. The Navy's first Blue Angel's Team selected Betty as its first "Sweetheart of the Navy Blue Angels". In 1947 she was selected "Miss Florida Aviation".
Betty is the first woman to undergo the same physical and psychological testing given by NASA to the original seven astronauts, a feat that saw her on the cover of LOOK magazine in 1960.
In the automotive field, Betty broke the world land speed record for women four times. She was the first to drive a jet car over 300 miles per hour, first to drive an Indy 500 race car, first to receive an AAA race drivers license, first to drive jump boats at Cypress Gardens and the first woman to become a test driver for the auto industry.
Betty established more records for aviation and automotive combined than any other person, male or female, living or dead.
Betty Skelton Frankman is a pilot's pilot, a driver's driver. If the name of the game is speed, records or breaking new ground in an exciting or advertuous way, Betty has been an outstanding player – a doer – someone who knows how to transform dreams into reality.
It is appropriate and timely to welcome Betty to the Aerobatics Hall of Fame.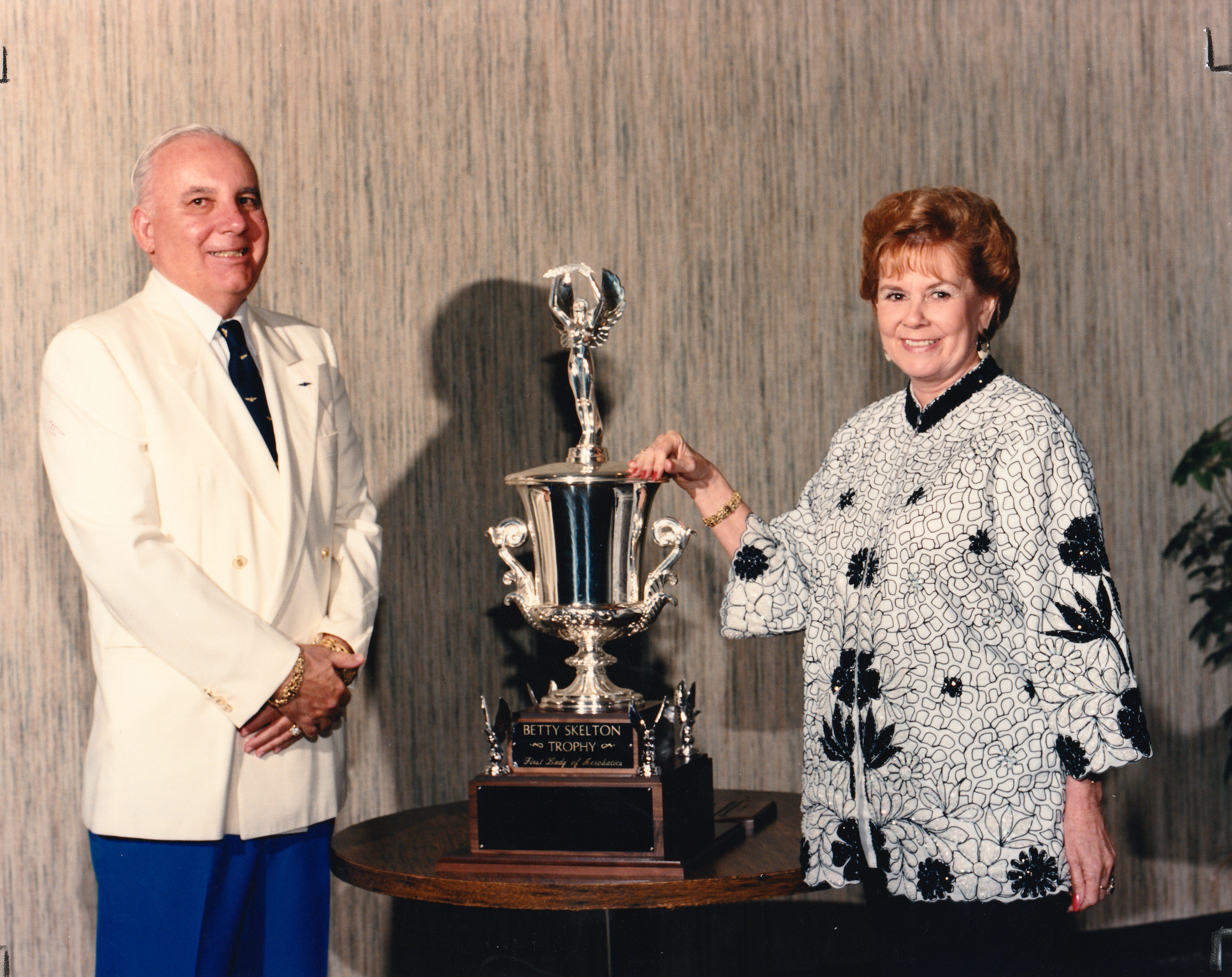 Betty Skelton and Don Frankman with the award named in her honor which is presented to the top placing woman in the powered Unlimited category at the U. S. National Aerobatic Championships. The trophy was conceived and donated by Betty and presented to its first recipient Patty Wagstaff in 1988.
March 2022 Plane & Pilot Magazine article - Betty Skelton: A Groundbreaking Aerobatic Star
November 2021 National Air and Space Museum article - Meet Betty Skelton