(From "Sport Aerobatics", 8 December, 1989)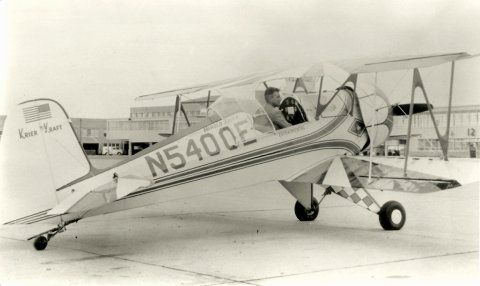 Harold Krier - US Team 1966                                                                     photo from Mike Heuer
For the third year in a row, the International aerobatic Club held induction ceremonies and an awards banquet for the International Aerobatics Hall of Fame. This program, begun by IAC in 1986, has become one of our most important and will be a keystone in the new aerobatic wing we hope will be built onto the EAA Aviation Museum in the next decade.
Since the beginning of the Hall of Fame, it has been a great honor to participate as a speaker at these ceremonies and to personally present the awards to the inductees or their families. To see the looks in their eyes, often filled with tears, as they are recognized for helping make our sport what it is today has been a real emotional experience for me. My strong feeling about properly honoring our sport's pioneers has dedicated me to the building of the museum wing and the Hall of Fame which will be housed in it. It is imperative that we always remember those who have given us so much – and so often selflessly, without recognition, and without financial rewards.
Harold Krier
Born in 1922, Harold Krier got into aviation the hard way – as a US Army Air Corps crew chief assigned to B-17 and B-24 bombers during World War II. He went on to get his pilot's license in 1945. By 1950, he had seen enough of airshows to know that he wanted to be a part of the action. His first step was a good one. He contacted Frank Price in search of help. Frank had a major influence in the development and refinement of Harold's talent.
It didn't take long for Harold to establish and build upon a solid reputation for precision and inventiveness.
Feeling the need to establish some kind of regular competition for like-minded pilots, Harold worked with Frank and Bob Taylor of the Antique Airplane Association to establish EAA's annual aerobatic competitions at Ottumwa, Iowa. Harold proved his flying was as good as his administrative talents when he won the first three championships – in 1958, 1959, and 1960.
By the beginning of the decade of the sixties, Harold Krier had become a dominant figure in the airshow industry. He started in a Clipped Wing Cub and became the operator of the Garden City Airport in Kansas. Later he moved up to the aircraft that assured his fame in aerobatics – a highly modified Great Lakes 2T-1A in which he installed a 185 horsepower Warner engine. His gift at flying really surfaced with the Lakes.
In 1962, he decided he could build a better aerobatic airplane himself and set out to develop a biplane he dubbed the "Krier Kraft." His objective was to construct a much lighter airplane than the Great Lakes and he was successful in that regard. For its time, the Krier Kraft had superior vertical performance and roll rate. He took that airplane to the World Championships in 1964 – the first of three world contest he participated in – but he realized when he got there that monoplanes seemed to have a distinct advantage. He came home, sold the Krier Kraft to Charlie Hillard, who flew it in Moscow in 1966, and started work on a "Super Chipmunk." He and Art Scholl both took Chipmunks to the WAC in 1966 and 1968.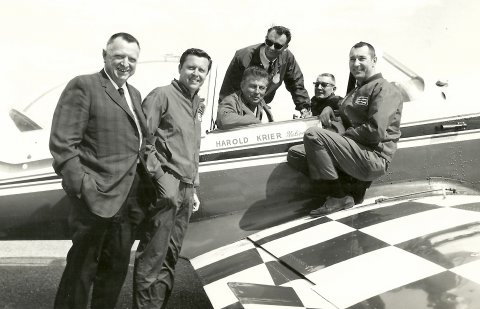 (left to right): Mike Murphy, Charlie Hillard, Harold Krier (sitting in Chipmunk's cockpit),                   photo from Mike Heuer
Art Scholl (standing behind Harold), someone unknown, and Bob Herendeen on the far right.
After the conclusion of the WAC in 1964, Harold stayed behind in Europe to study the Aresti Aerocryptographic System and then brought his knowledge back to the US where he freely shared it with other pilots. It was typical Harold – he was always ready and willing to share his knowledge and experience, whether it be in the aerobatic shorthand, maneuver refinement, or aircraft design. He had an excellent eye and an articulate manner that made him many friends among aerobatic pilots. He subsequently became and FAI International Judge.
Harold was the US National Aerobatic Champion in 1965 and 1968. He was All American Aerobatic Champion in 1967. In 1963, EAA presented Harold with an Outstanding Achievement Award and he was also a recipient of the Rolly Cole Memorial Trophy. He was honored with the Mike Murphy Trophy for Aerobatic Excellence in 1967.
Unfortunately, the aerobatic industry, to which he had contributed so much, became his undoing. He died in the same year – 1971 – which took Bevo Howard from us while testing a new aerobatic design. Like Bevo, Harold Krier was an aggressive, active, and gifted pilot, who made a mark on the sport and science of aerobatics that we will all cherish.
It is with warmth, respect, and admiration that we add the name of Harold Krier to the distinguished list of honorees in the Aerobatics Hall of Fame. We will always remember and appreciate Harold Krier.