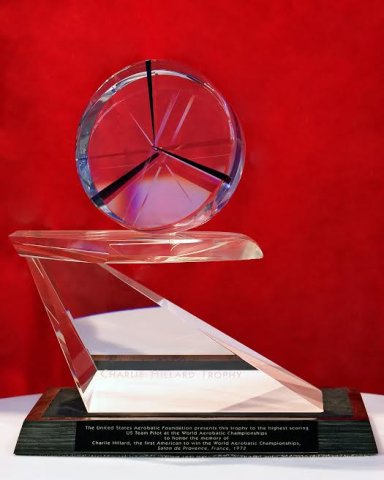 Origin
The Charlie HIllard Trophy was created by the US Aerobatic Foundation, but is now presented by the IAC. The trophy was conceived to honor the memory of Mr. Hillard's accomplishment of becoming the World Aerobatic Champion in 1972 in Salon de Provence, France. The first  American to capture the title of World Aerobatic Champion.
Criteria
The purpose of the award is to recognize the highest placing American at the most recent World Aerobatic Championship.
Procedures
The name of the recipient is received when the final scores from the World Aerobatic Championship is completed. The recipient's plaque is ordered by the Executive Director.
Presentation
Recipient trophies are funded by IAC and consist of a laser cut plaque with a photograph of the permanent trophy set in the plaque.  The master trophy remains on display in the atrium of the EAA AirVenture Museum in Oshkosh, Wisconsin. The plaque is presented at the IAC Annual Gathering Dinner at EAA Air Venture.
| | |
| --- | --- |
|   |   |
| THE CHARLIE HILLARD TROPHY – RECIPIENTS |   |
|   |   |
1998 - Patty Wagstaff
1999 - Matt Chapman
2000 - David Martin
2001 - Robert Armstrong
2003 - Robert Armstrong
2005 - Kirby Chambliss
2007 - Michael Racy
2009 - Jeff Boerboon
2011 - Goody Thomas
2013 - Rob Holland
2015 - Jeff Boerboon
2017 - Rob Holland
2019 - Rob Holland
2022- Rob Holland