Aerobatics Hall of Fame Biographies
An Address by Tom Poberezny  President EAA Aviation Foundation
Frank Price
Frank Price is a pilot – one of the most important this country has known. None can say that they have loved the sport more or been active in it at a more critical time. Frank Price is the type of individual who allows us to redefine words like dedication, vision, tenacity, and charisma. He is a person who gives a very special meaning to the concept of patriotism.
To understand Frank's contribution, we have to go back to 1947. Aerobatic contest were rare – so were pilots and good airplanes. The Gulf Oil Company created an annual competition called the Miami All-American Air Maneuvers National Aerobatic Championship, later shortened to International Championship. The event lasted for six years and then died in 1952. Frank Price thought the Gulf Trophy was the neatest thing going in aviation and he was anxious to see something like it continued.
As he grew up, acquired a 185 horsepower Great Lakes , taught himself to fly aerobatics and began looking for a chance to compete, he saw that there was little or nothing around and no one to turn to. So consumed was he with the desire to fly in competition that he began writing to England to learn about the Lockheed Trophy contest. He contemplated going over to participate, even though he wasn't sure how he could get there. He kept trying to figure out a way.
In 1960, he heard about the creation of a new type of competition called the World Aerobatic Championships, scheduled to take place in Czechoslovakia. He knew immediately that he had to go. Someone had to represent the United States. This country could not be left out.
He looked for financial help to go over, but no one responded. So, he used his own funds to ship his Great Lakes over. Whatever Frank may have lacked in talent and equipment, he made up for in personality.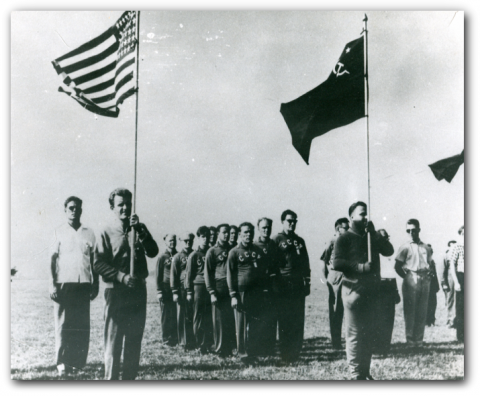 photo from Mike Heuer
The above is a photograph of Frank standing alone (left), but proud, behind the American flag at Bratislava. Next to him is a column of 10 Russian pilots. It's impossible to look at that photo and not feel a sense of gratitude for Frank's determination to make this country a part of the World Aerobatic Championships from the very beginning.
When he came home, he brought with him valuable information on the advanced state of aerobatics in Europe and Russia. He also brought back the Lomcovak, which he learned from Jaromir Hulka, the beginnings of the Aresti system which had been explained to him by Jose Aresti, and, most important of all, he brought back a plan to form an aerobatics club based on the British Tiger Club to promote and organize aerobatics in the United States.
One thing he did not bring home was his airplane. He had to go back to work at crop-dusting for seven months to raise enough cash to get the machine shipped back home.
Frank went back to the World Aerobatic Championships four years later as a pilot and again as a Team Manager. His affable personality and big-as-Texas smile have made a significant contribution to America's standing in the world arena.
Frank has remained active in aerobatics and has coached and given advice to countless competition pilots over the years. It is his outstanding character, his loyalty to our national honor and his goodness as a human being that make Frank David Price an exemplary choice for inclusion in our Aerobatics Hall of Fame. He is a gifted pilot and magnificent person.
FOUNDER
FRANK PRICE – IAC#10
By Doug McConnell, IAC Director, Sport Aerobatics, 14 September, 1995
There is a picture of Frank Price in the EAA Air Adventure Museum along with a very select group of aerobatics dignitaries who belong to the "Aerobatics Hall of Fame". Frank was in the very first group (in 1987) and earned that recognition because of his pioneering activities in aerobatics….long before the founding of the IAC. The original inductees into the Aerobatics Hall of Fame were Frank Price, Jose Luis Aresti, Duane Cole, and Curtis Pitts.
Frank Price, 73, is now retired and, along with his wife Celesta and family, is restoring a 105 year old Victorian home in the little town of Moody, Texas, but he still flies his collection of six Bucker Jungmeisters. It should be mentioned that Frank Price is often identified with the Bucker Jungmeister in this country due to his avid interest in this design. The Jungmann was developed in Germany as a 2-place trainer in 1933, followed by the advanced single-place trainer Jungmeister in 1935. The Jungmeister helped Luftwaffe pilots move directly to the Me-109 and Fw-190 advanced fighters. Frank has been building and marketing 2-place versions of the advanced Jungmeister using a Jim Swick conversion for quite a number of years.
Frank states, "Everything I have collected is rare stuff that you can't sell to anybody unless you can find somebody that is as crazy as you are! I put things up for sale occasionally and utilize the funds to keep the old house restoration going. They say restoring an old house is supposed to be fun, but after two-plus years I stand around and ask everybody to tell me when I am having fun!" But if restoring houses is not Frank's first love, aviation certainly is!! The conversation shifts to airplanes, Frank's eyes light up as he fondly recounts his early experiences that brought him to love aerobatics.
The event that sparked his enthusiasm for airplanes is still a fresh memory. When Frank was only 8 years old his father took him for a ride in an early Ford Tri-Motor. He still clearly remembers the sights and sounds of that first ride and was especially impressed with the wicker seats. This was the "barnstormer" era before World War II, and a very exciting time for a young boy! Frank says, "The excitement of that Ford Tri-Motor ride has stayed with me all these years!"
As Frank got a little older he volunteered to help the barnstormers and hot air balloonists when they came around each summer. The balloon exhibitions in those days were far more complicated and perilous than the modern propane types. The hot air balloons were inflated by a stationary ground fire which produced enough lift for a one-shot (and very short) ride. Frank felt honored just to help dig the ditches for the fires… it was fun to be involved!
He was always hanging around airplanes but did not solo until entering the military soon after the invasion of Pearl Harbor, becoming qualified as a combat glider pilot. When he came out of the military, he started crop dusting and doing airshows. Frank and Celesta worked in the crop dusting business for 20 years all over the Southwest. During that time both of Frank's sons (Charlie and John) grew up in his shop learning the aviation business from the ground up. Frank says that the crop dusting business got a little easier when Celesta got her pilot's license. According to Frank, he is proud and thankful to have retired alive (even if not rich.)
The airshow business was operated in conjunction with the crop dusting business. Back in those days two of the famous airshows were produced by the Cole Brothers and by Bill Sweet. Frank remembers that his good friends Harold Krier and Charlie Hillard were a big part of the Bill Sweet airshows for many years.
Frank's original airshow ship was a 110 Monocoupe which he acquired in 1950. He would run his crop dusting business during the week and then perform airshows on the weekends anywhere within a 500 mile radius. He developed a 10 – 15 act show similar to the Cole Brothers and Bill Sweet, but did not travel coast-to-coast like they did due to the confinement of his crop dusting contracts. In 1954, Frank switched to a Great Lakes with a 185 hp Warner, the same airplane that Rod Jocelyn had used in the early '50's to win the National which were held in conjunction with the old Miami Air Races.
While crop dusting and performing airshows, Frank was keeping an eye on the British Lockheed International Aerobatic Contest held in Coventry, England each year, but crop dusting always seemed to interfere. In 1960, the temptation was finally too strong. Frank decided to take a gamble and to leave the crop dusting season (and all of the profits it would bring) and go to Bratislava, Czechoslovakia, for his first competition.
(NOTE: "There were no contests going in America after a fellow went into a crowd in Flaglor, Colorado in 1948. He killed 28 people." – Frank Price, Interviewed by Jean Sorg, Sport Aerobatics, 22 May 1991)
Getting an aerobatic airplane to Europe has always been a challenge, but it was especially difficult in those days. Frank went to Love Field in Dallas to see if his Great Lakes could be "shipped" to England, but the freight authorities could not guarantee that it would be off the boat in time for the contest. Not deterred, Frank flew the Great Lakes to Washington, DC to get a visa and arrange for official designation as the US representative for the contest. He met with the National Aeronautic Association which was recognized by the FAI to authorize such matters (just as it still is today) in the United States. He then flew the Great Lakes to New York. It took some special arrangements to land at Idlewild Airport (now JFK) without a radio. He had to be led in by a radio equipped airplane.
The next challenge was to obtain an export license for the airplane. Frank went to the Empire State building, obtained the license, and had the Great Lakes disassembled for loading into a commercial transport. It was then carried to Munich, Germany, where it was unloaded and reassembled with the help of a German test pilot. Frank then flew down the Danube to Bratislava, Czechoslovakia.
When he landed in Bratislava (with rows of MIG fighters on the field) there was quite a commotion. Everyone was astonished! They all asked, "What in the world are you doing this far from Texas??!" Frank spent two very interesting weeks representing the USA. He still remembers the opening ceremonies of the contest when he was standing there, with a total of nine countries participating, holding the American flag as the sole US representative!
An interesting story that came from that early event happened on the first day. Frank was seated in the stands when the opening airshow started. Being a seasoned airshow professional himself, he thought it would be fun and interesting for the crowd of he could participate (his Great Lakes airshow machine was equipped with a smoke system!). So, as the show was in progress, Frank got permission to fly, but he had to hurry to get ready immediately. Frank jumped in the Great Lakes and took off…forgetting about the spare parts he had stowed for the trip. As he started his first maneuver (aileron roll), out came the exhaust stack! On the next maneuver, out came the magneto!...so Frank landed to take care of the problem of loose parts floating around when they grounded him, not letting him complete his routine. A Russian General was heard to say, "Just like all Americans, always late and never ready!!" Although it was a lot of fun, Frank remembers being a little nervous since the Francis Gary Powers spy trial was going on in Moscow and Americans were being picked up in many of the Communist countries just to harass them. Luckily he was treated well during his visit in Czechoslovakia!
Frank returned to Europe four years later (in 1964) to participate in the international contest held in Bilbao, Spain, along with Harold Krier and Bob Nance. Once again the US did not win…others had been practicing over the contest site for over two years and that year Spain was the winner. Incidentally, this was Frank's first introduction to the Aresti system for grading. The US did not win an international event until Mary Gaffaney won the Women's World Championship and Charlie Hillard won the Men's World Championship both in Salon, France, in 1972…12 years after his first World competition.
Frank went to Europe a total of four times. He determined that one big advantage the Europeans had over the US was the existence of a national aerobatic club…the US had no such club. Frank felt it would be a very beneficial if such a club could be formed to help with organizing and fostering the sport, so in 1960 he took the initiative and formed the first American club taking the basic structure from the British Tiger Club.
The British Tiger Club was founded by Norman Jones and as Frank explains, "It pretty well governed all the air racing and aerobatic flying in England." Norman Jones suggested to Frank that he go back home to Texas and form an organization similar to his, so he did and named it the "American Tiger Club." The American Tiger Club followed the same rule book as the British Tiger Club and the first rule was "You must never use an airplane for any disrespectful act."
For 25 years, Frank held an annual "Tiger Days" fly-in in Waco, Texas, that attracted (at one time or another) every aerobatic pilot in America plus a lot of foreign visitors. Frank still has a sign-in board which shows 27 foreign countries, mostly pilots who then stayed to take aerobatic courses before going home. The "Tiger Days" included two full days of aerobatic exhibitions held simultaneously in four quadrants. The fly-ins were discontinued in 1985, however, because the cost of the liability insurance and other factors became prohibitive. The American Tiger Club is still going today, but there are no longer any fly-ins.
When it came to helping foster sport aviation, Frank could be counted on. In 1954 he helped get the EAA going in his corner of the world by forming a Chapter in Waco, Texas. He also went to the EAA conventions which were held in Rockford (they hadn't moved to Oshkosh yet). Frank states, "I used to take off from my crop dusting business to go up there and do some airshows to help get the organization moving!"
He was also very involved in helping establish the ACA, working with Tony Malman and Ralph Whitner. The ACA was financed by Pappy Spinks in Ft. Worth. But, according to Frank, "Like most organizations, as the ACA grew, people became more vocal and more political…growing pains began to set in. So after several years, Bob Heuer and his sons Mike and Mark got a bunch of us together (including Marion Cole) to form the IAC. We figured they were serious so we all pitched in. They came down and spent two days with us and then went over and visited Marion and formulated the rules, etc. The rules were formulated so that politically it would be a 'grass roots' club.' There were ten of us in the chronology that first formed the IAC."
Frank is still a current member of the IAC, but no longer involved in competition. He continued his airshow routine until, 1980, including flying every night at the World Aerobatic Championships held in Oshkosh in 1980. He retired his act after that except for "coming out of hiding" in 1991 and 1992 to help found the museum for the National Biplane Association. In addition, Frank flew for Hollywood doing aerobatics in the movie, "The Great Waldo Pepper." Frank says, "Art Scholl did the outside loop in 'Waldo Pepper' and I did the other aerobatic flying…flew some of the Jennys and what not." He also did some of the sequences for "The Fall Guy" for 20th Century Fox, and earlier flew a documentary in Spain along with Harold Krier (on the side) when in Spain for the international competition.
When asked to comment about the IAC today Frank relates, "All organizations have their good sides and bad sides. All large organizations start becoming political…it's an unavoidable event. The more folks you have, the more politics you have. But the wonderful thing about the IAC that I have always said all of these years is that the IAC gave new people the opportunity to fly under stringent safety rules, with safe altitudes, parachutes, and meeting various other safety requirements long enough to get good enough to fly airshows. The reason I say that is because almost everybody flying airplanes has a vanity side of the brain. Almost everybody I knew had in the back of his mind doing exhibitions before others. So, if you jump in and do it without supervision or help it could be very hazardous. But with the IAC, people become knowledgeable making them far better and safer pilots…that is the number one benefit of the IAC!"
AKRO PERSONALITIES
FRANK PRICE
Interview by Jean Sorg, Sport Aerobatics, 22 May 1991
Editor's Note: Frank Price was inducted into the International Aerobatics Hall of Fame in 1987 and was part of the first group of inductees. This was very appropriate in Frank's case because his achievements in aerobatics have been singular indeed. He was the first American to compete in the World Aerobatic Championships in 1960 and he was alone. In those days, no aerobatic organization existed nor was there a body like the US Aerobatic Foundation to help fund the trip. Thus, the responsibility fell to Frank to fund the trip entirely himself, to learn the ropes of competing in Europe, and to get his airplane there and back. Considering the vast differences in communication and transportation thirty years ago, this is an even more remarkable achievement. But his contributions go beyond that. He later formed the American Tiger Club – the first aerobatic organization in the US – and began selling the Aresti catalogue in this country. For years, he was the sole supplier of this book and was an important link to Europe. He also gave aerobatic instruction, flew airshows, and headed up the Bucker Club. He helped to popularize the Jungmeister in this country and even sold plans for the airplane at one time. This interview was conducted in Oshkosh in 1987.
SPORT AEROBATICS: Frank, can you tell us something of your history? When you became interested in airplanes and that sort of thing?
PRICE: Jean, you asked me for little background, chronologically, because you say you know quite a bit about me but it's been from the various excerpts along the way. And I think one good way is just to tell you of my interest in flying in general and how I grew to love aerobatics and of a few things I have done in aerobatics. Actually, I first became interested in airplanes when I was between six and eight years old – I've tried to pinpoint it and that is as accurate as I can be. My father took me out and let me ride with some of the early barnstormers – actually barnstormers who had landed in the fields. And I'm sure that instilled in me a love of flying. I'm sure I was frightened as normal people should be.
From that time on, I was extremely interested in it and lived in many, many places – I always worked at the airport and was fascinated by the barnstormers and the people who did aerobatic flying or used the machine for other than just circles around the field. I still feel today that an airplane should either be up doing something or it should be going some place. And I can't see just flying around in circles for nothing. So that's probably why I like aerobatics – it's the desire to make the machine fly patterns and perhaps the attempt to master the machine. I've always said we never master aerobatics; we work toward it.
The first time I did more exotic, advanced maneuvers was in the US Army Air Corps in 1942 in the PT-19. That's where I first got away from slopping through maneuvers and doing a loop and thinking it was aerobatics. I got into more advanced snap rolls and more exotic maneuvers for that time – snap and half and that sort of thing.
I actually didn't start earning a living other than what ever flying I would work for until I came out of the service in 1945. I was a glider pilot in World War II. When I came out in '45 I started in the crop-dusting business. I also started in the airshow business. So I did airshows from 1945 on.
SPORT AEROBATICS: Are you still flying?
PRICE: Yes, I'm still doing aerobatics. I still teach aerobatics but I quit doing airshows. In August of 1980 at the world meet in Oshkosh I flew in every afternoon exhibition. I elected to quit flying airshows not because I was getting too old to do them but because I dwindled from forty shows a year down to five or seven shows a year; therefore, there was no money in it. By that time, I had all the fame and glory I needed and it was literally terrifying getting to the show site and from the show site. If you were flying out of Texas to New York, you had to leave a week early and take a week to get back due to the nature of flying a little biplane with only a hour and a half fuel range – I was using Bucker Jungmeister – and therefore, I was flying in bad weather, endangering myself, and staying frightened.
Now my airshow was a routine up to 20 minutes long. I even had a traveling show that stayed within a small radius of Texas. I had this at the time the Cole Brothers had their traveling show and Bill Sweet had his show. I used the airshows to supplement my living and it just wasn't there anymore. As you grow older – and you're only working five to seven shows a year – why, it just wasn't worth it, so that's why I quit.
I did gain a lot of proficiency. I think I first started doing airshows in a 110 Monocoupe. But I think I gained a lot of proficiency when I bought Rod Jocelyn's 185 hp, four – aileron Great Lakes. I bought that airplane in 1952.
SPORT AEROBATICS: That's the one you took to the World Championships in 1960?
PRICE: This is the airplane I took to Bratislava, Czechoslovakia in 1960 to represent the United States under the auspices of NAA, our national aero club, in Washington. I was in the middle of a crop-dusting season. I had tried to take the Great Lakes to England that same year but they couldn't guarantee it would get there in time for the British International Aerobatic contest. So, they were having the first World Championships behind the Iron Curtain and I thought it was deplorable to not have any American representation – not enough interest. I took off in the middle of my crop-dusting season, went at my own expense and by myself, disassembled the aircraft and took it to Czechoslovakia.
I didn't win, by any means, but I was ahead of some of the countries. We had nine of them competing. I learned a lot because the eastern countries had elevated aerobatics to a higher degree and standard than we were familiar with in the United States. With the advent of the Ziln – and the cleanliness of it – they were working vertically.
So in 1964, I went again with the late Harold Krier and Bob Nance and other famous pilots on our team to Bilbao, Spain to represent the United States.
And, again, we met people who had practiced for two years daily – straight – and our quality of flying had been updated over what we had been doing. But it took us 12 years after my first effort before we made a great showing in the World Championships when Charlie Hillard became Overall World Champion and Mary Gaffaney won the Woman's Championship. She's not mentioned frequently, but I admired Mary very much for her hard work – she was the first Women's individual World Champion.
I continued – I formed the Tiger Club in America (called the American Tiger Club) under the auspices of the English Tiger Club, to start aerobatics again in America.
SPORT AEROBATICS: Does that name refer to "Tiger Moth"?
PRICE: It was named originally by Norman Jones. He bought all of the "Tiger Moths" so he named his club the "Tiger Club". They had control over all air racing and aerobatics, mostly underwritten by this very wealthy Englishman, a wonderful man, Norman Jones.
When we were over in Europe together, he said to me several times, "Why don't you go home and form up a Tiger Club?" I did. We catered to aerobatics – whether or not you flew – and I set up contests all over the United states.
There were no contests going in America after a fellow went into a crowd in Flaglor, Colorado in 1948. He killed 28 people.
We were the only people having aerobatic contests and they were held by the Aresti rules because I'd become acquainted with Jose Aresti and he'd been sending me his material since 1960. In 1962, Duane Cole set up the first NAA – sanctioned national contest in Phoenix, Arizona and we all went out there. Ours were not sanctioned.
SPORT AEROBATICS: And what about your flying today?
PRICE: I'm still teaching aerobatics and I still get to airshows – if they're casual get-togethers and not too formal. I still get up and do the Lomcevak into the five-turn inverted spin and just have a lot of fun. But I quit doing a lot of shows because I think I've had enough "thrills" and frights doing aerobatics.
SPORT AEROBATICS: What else did you learn in Europe?
PRICE: The Lomcevaks. I learned those from the Czechs in the Zlin in Bratislava. I came back over and started doing it. So, all the rest of the gang started.
SPORT AEROBATICS: Are you one of the first US pilots to do the Lomcevak?
PRICE: Well, I brought it back from Czechoslovakia. I am the first pilot to do the Lomcevak here.
SPORT AEROBATICS: Don't you get any thrills and frights from teaching aerobatics?
PRICE: No, because I have such safety standards and have abided by them through all these years. That's why aerobatics has been safe for me. I stay up high, I wear a parachute, and I only use aircraft stressed for aerobatic flying. These are my cardinal rules and I try to impart that knowledge to people going into aerobatics. Believer it or not, I find all forms of aerobatics safe. In fact, I'm a founding member of the Aerobatic Club of America. I'm a founding member of the IAC. And I love both organizations for one thing more than any – it allows a new person fascinated with aerobatic flying the privilege of being controlled and asked to be safe. They are required to be safe by our safety regulations until they become proficient in the air, as well as his mind, to do safe airshows.
The greatest achievement of the Tiger Club is last year we had a 25th annual fly-in. But then I quit because of liability. Liability today is stifling freedom in the United States. I can no longer make myself liable for creating events where you can have a bus man's holiday and do what you want.
But in the old days and all through the history of the Tiger Club, the great and famous aerobatic pilots came down. It was not a public event. We all had fun for three days – do what you want, anything you want. New people who came to impress these old-timers found that if they flew over their heads and couldn't do what they were trying to achieve, these people ignored them- they didn't admire them. So this helped a lot of young people take a better attitude, a safer attitude in their approach to aerobatic flying. So a great thing about the Tiger Club was the safety it imparted to new people. I feel the same way about the Aerobatic Club of America and the IAC. We always kept the fatalities down by education.
SPORT AEROBATICS: What types of aircraft did you fly during your aerobatic career in airshows and competition?
PRICE: The first one was the 110 Monocoupe which became famous after they clipped the wings. Mine was a long 110. But I flew country, small airshows in the 110 because it had a tremendous climb performance. Then I bought the Great Lakes, as I mentioned before, from Rod Jocelyn. He was the 1951 National Aerobatic Champion at the old Miami air races. I bought it the next year and he built up a clipped-wing Dart.
The Great Lakes was a wonderful airplane – both for airshows and competition. I flew the Great Lakes but I always had a secret desire for the Bucker Jungmeister – as did many aerobatic pilots back to Tex Rankin and Bevo Howard. The airplane had been developed for the Luftwaffe prior to World War II. So we had secret desires for these airplanes and I began to search the world over for them and I finally bought one from Jose L. Aresti in Spain. I developed it slowly into what could even be a contest airplane today. I put big engines on them and changed the airfoil section.
SPORT AEROBATICS: What year did you switch to the Jungmeister?
PRICE: In 1962. I bought the airplane in Spain and took it back to Bilbao in 1964. I let Aresti fly it with a modern engine in it. He decided to trade me another Jungmeister for my engine installation so that's how I wound up with part of a Bucker collection I own. When I teach I use the Chipmunk and Monocoupe.
The Jungmeister I still fly for my own amusement and it's still one of the nicest flying, best balanced airplanes in the world. The way I've updated it, it's still an Unlimited competitor. With the updates to the airfoil , it will go around similar diameter loops – inside and outside. It still retains the snapping qualities of the original Jungmeister. The airplane also had to be cleaned up so it will work vertically. So by the time I got around to all these features, I really lost a great deal of interest, for various reasons, in competition flying.
Now, both of my sons fly for a living. One is a corporate jet pilot. The other one is a crop-duster for the US government, in research, at Texas A & M. They never were interested in airshow or competition flying – though they do fly aerobatics, they do it for the pure love and fun of it.
SPORT AEROBATICS: Can you tell us of some of your experiences at the first world competition? Share some stories with us – we understand you had a very interesting trip getting your airplane home, having landed in a field and staying with some people who couldn't speak English!
PRICE: Well, to touch on that last point, on my first trip to Europe, I never spent a night in a hotel. I stayed with many people – we couldn't converse other than in sign language and a big smile. So it was really funny…
SPORT AEROBATICS: What did you do? Literally drop in out of the sky and land in their fields?
PRICE: Yes, I did, believe it or not. And flew down their castle courtyards because I really went over to have fun and all of my life it has been a matter of enjoying it.
Now, to give you a fast resume again – I was in the west Texas cotton fields and the art of getting to Czechoslovakia was an experience. I didn't have room for any baggage other than a soft parachute bag. I loaded it up and flew to Washington, DC, to finalize the trip and get the proper papers to represent the United States. Then I took it out to Idlewild (Now JFK). Some of the guys would come and hold things for me while I disassembled the aircraft. Without crating it, I put it inside a Pan American freighter, sent it to Munich, Germany, and flew aboard with it. We did that because cattle trainers can go with their cattle, and I thought I ought to go, so we broke a few regulations getting there.
I re-assembled it with the help of a Messerschmitt mechanic and pilot – neither could speak English. Again, I spent nights in their homes. We assembled this old biplane for a crazy Texan to go and fly all over their country and, of course, everywhere you went you were quite welcome. Fifteen years before that time, we'd been dropping bombs on them and yet you landed, you got with real people or the true people of any country and I found that people are all alike. Governments differ.
They never seemed perturbed. I'm sure some of the castle courtyard owners were I scattered the chickens thought harshly about me because they didn't have airplanes doing that every day.
We would make it known that I was going behind the Iron Curtain to fly in an aerobatic contest. Under those circumstances, you are accepted anywhere and I always smiled and laughed a lot – that'll get you anywhere in the world. And it's more fun to go.
I went back on the Team to Bilbao and we had more trouble with ground crews trying to disassemble and assemble those airplanes and get along with foreign countries than I ever had by myself.
To me, it was fun. We had no problems and people were always willing to help. So just by being an adventurer, it was great for the people and it was great for me. And I had a lot of fun.
As I flew down the Danube, near Budapest and Bratislava across the river, I turned into the big Czech airfield. There were rows and rows of Russian MIG's with the big red stars on them. I said, "Well, here's a poor boy from Texas and you may be out of your element here."
But we had the contest out on a grass field. I learned that only about ten percent of the people in the satellite countries at that time were hard-core communists. I had an interpreter assigned to me the whole time in Czechoslovakia, to eat meals with me, interpret, and we had a lot of fun. Right off, he said, "Well, I thought you might bring your car with you." And I said, "Well, Johnny, do you realize how far 6,000 miles is?" He started laughing. I said, "Now, while I'm over here, there will be people who ask me political questions. You tell them I came as a sportsman and how could I win a political argument in another man's country anyway?" He thought that was very funny and he did tell a couple of the hard-core people that to irritate them. But that's exactly how I got along. Just had fun.
I went around on a Russian weapons carrier and we had what was estimated to be 250,000 people at the show. They were told to come to the show and they all did. That was very curious. Everywhere I went, if they got into politics, I asked them not to because how could I win an argument in their country?
They let me fly the Zlin. They verified my analysis of the Lomcevak. It was created by Ladislav Bezak who won the first meet. He is now in Canada and was the team trainer for the Canadian Team in 1980.
SPORT AEROBATICS: Didn't you come home and leave your airplane over there?
PRICE: Well, actually it was a real simple matter. Actually, I'd paid my own way over there and it cost me a little over $4,000. I had broken off in the middle of my cotton-dusting season, which cost me another $30,000, and I had arrived over there with insufficient funds at those high prices, even in those days, to get the airplane home. So I stored the airplane in Frankfurt, West Germany, and came home, had a crop-dusting season, and seven months later I had the old Great Lakes sent back to America.
SPORT AEROBATICS: Tell us of your reactions to the development of the sport since your days of flying competition as far as airplane and maneuver development is concerned. You have been talking about torque rolls here. Did you fly torque rolls yourself?
PRICE: No. The torque was developed here in America by Don Pittman and the late Dean Case of Kansas.
SPORT AEROBATICS: What year?
PRICE: It's very difficult for me to say. It was many, many years ago. They developed it for Joyce Case, Dean's daughter, who flew aerobatics at Rockford and other places we were. I learned about the maneuver because an airshow spectator came up and asked me about it and asked me if I thought Joyce fell out of a maneuver. I said, "Well, I won't know until I talk to her." So I asked her once. She said, "No, Dad and Don Pittman worked the maneuver up and the control movements and they were going to call it the Torque Roll." My airplane had a long fuselage and the first two or three I didn't do too well. I decided it couldn't do it under any circumstance and I never had. I took the maneuver, however, and taught it to Bob Schnuerle, who was seventh in the world in Hullavington, England in 1970, and he became the torque roll king of America just by me teaching him the maneuver on the ground. To this day, I still have never done a successful torque roll personally. I can do it quite well in the classroom with a model airplane.
Then Bob Heuer became the torque roll king of America. And then, as we all know, Charlie Hillard had the guts to use it in the 1972 world contest in France in the four minute free group and elevated himself from fourth position to win first.
SPORT AEROBATICS: To get back to my earlier question, what is your reaction to the developments in aircraft today and maneuvers since you've been flying?
PRICE: Well, the development in airplanes is really phenomenal. It's obvious to us all that once Aresti came out with his coefficient system that counted the vertical maneuvers so highly, then anything with low speed bleed-off, very streamlined, was bound to be successful. Hence, the Zlin doing well at the first world contest and up until 1972. The Zlin did wonderfully due to the vertical capability of the aircraft.
Now, even today, some biplanes work extremely well vertically and retain the snapping qualities that are necessary. I am just amazed at the improvements in aerobatic airplanes. People never change, though. I find people think they're the ones who are changing, and they're not. The people in the old days flew as well as the people do today if you consider the amount of practice and time. The great pilots like Bevo Howard, Tex Rankin – those people were human. We're still talking about a human limitation. So people are better today, in aerobatic terms, because of having the opportunity to use better tools. What we have today is better tools. You haven't changed people or human nature. Therefore, with the same amount of practice, why, the people are all still the same and the real, real development has been in aerobatic aircraft.
SPORT AEROBATICS: Do you regret that you did not have the opportunity to fly in this day and age with some of these types of airplanes?
PRICE: Not really. As you grow older, you grow wiser and there is so much work connected with being a top notch, in the top ten Unlimited, world championship class pilot. In fact, it had developed by the time Bob Nance, Harold Krier, and I flew in Spain. The Russians had practiced two years straight. The Spanish Air Force had practiced over the site for over a year, daily, up to three hours a day. The quality and precision of the flying had been elevated with improved tools and practice. It had become more than an individual effort. It had become a country, or a government effort to improve the image politically.
So the individual from the cotton field in west Texas requires a super tool, as well as super practice. The individuals are still the same. If they have the time, desire, and money, they can do well. So we can't change individuals.
SPORT AEROBATICS: You were glad, then you went through in the day and age that you did?
PRICE: I wanted to be World Champion. I wouldn't spend all my money to go over there. Here in America we'd been doing vertical rolls in the old Great Lakes – Harold Krier and myself – and other people who used those high – drag airplanes. We could do a vertical roll and we didn't know that people in the world arena could do vertical rolls.
With that high – drag equipment, we could pull it up real quick and roll, sometimes using a cloud. The days you didn't have clouds, you didn't do a vertical roll. But when I got over there, they had developed streamlined airplanes, better tools for Aresti-type contest flying, and, yes, I went to win. I went to beat them and I also went to enjoy my life because I just – somebody – had to pioneer those things.
It'll be difficult for you to believe but after I quit contest flying, I didn't have any regrets because of the nature of the difficulty, how much money it costs, and whether that is logical. But, of course, it's not logical to take your money and go all over the world at your own expense. That's not logical.
I had a harder chore than they do in their own way today. Today they have to practice three hours a day for a year to even hope to be in the top ten in Unlimited, no matter how much natural talent you might have. And yet I had the opportunity to go face the world by myself. I've always been an individual – as these pilots are, too – but to devote all life to being the World Aerobatic Champion really wasn't my bag. I had to enjoy life as I went along.
I did learn this. When I was doing aerobatics, I learned that the best ten pilots in any country that had trained for a contest – any one of them could have been the World Champion. This is a true statement, in my opinion.
That told me something I knew but hadn't faced. That is, we all think we are better than anybody in the world. But not necessarily so. So once you realize you could achieve a higher degree of proficiency than anyone else could, there's a great deal of satisfaction in that. You learn that any one of a group of the best could be the top, depending on circumstances, practice money, tools. Anyone could achieve that. The winner of a world contest is not superhuman.
SPORT AEROBATICS: How did you feel when you got the word you would be inducted into the Hall of Fame? You were one of the first four going in.
PRICE: Well, I am going to honest with you. I've never been a trophy man. I do like achievement. I've been proud to achieve different things. But I've never, really, cared too much about personal glory, despite what some people may think. If you do things and try, why, you'll get your fair share. I was impressed but then I said, "How exclusive is this going to be?"
Then they wrote me and said I had been selected and that we first were going to select five. That dwindled to four. So, truthfully, it's a great honor for me and it's a tremendous honor for my family. They came from all parts of the country. My two sons took off from their flying jobs; my wife is a nurse, my daughter is an administrator at a giant hospital in Dallas. And they all took off from their jobs – they had to be here That's how close we are.
After I found out how exclusive it was – and the people who were selected – I was quite pleased with that. These are these characters I said I had always worked with in my life who did things in flying. To me, aviation is something you work at for a living – flying is something you do for fun.
Yes, I have become more and more honored as I realized how exclusive it was I realized how qualified the Selection Committee really was…so I realized the task of this Selection Committee and am quite impressed with the people I've been selected with. Because of those people and my respect for them, it has made me more appreciative of the honor they're giving me.
SPORT AEROBATICS: Who are some of the other greats in the sport you have flown with?
PRICE: I will tell you some of the people I admire… the late Bevo Howard and Tex Rankin. He goes so far back that most of our modern aerobatic pilots don't even know who he is. ….and the people I've admired in my life, were people who did things for others, who loved flying so much and what they were doing, they were willing to impart that knowledge to other people.
Tex Rankin was such a person. He wrote articles through a ghost writer – helped people. I even created a maneuver from something he described one time. It's very difficult to create an original maneuver. In my whole life's career of flying, I've only created one, I believe.
SPORT AEROBATICS: What one was that?
PRICE: Well, it's reversing from an outside spin to an inside without stopping rotation or doing it the other way. I was so afraid of spins in the old days because we had so many fatalities. I went out of my way to become expert and write articles. I wrote articles for IAC and AIR PROGRESS – everybody in the world. But I became expert at inverted spins. I wrote a lot of early stories on them for that reason.
Bevo Howard. He was a personal friend ….the ones I admired most were people who helped others and shared their skies with them. So, that's the type of person I've admired so much.
SPORT AEROBATICS: Did you ever fly a Pitts?
PRICE: Yes, I've flown a number of shows in a Pitts but you have to remember, I am a large person and I don't fit in a Pitts well. Yes, I flew Joyce Case's Pitts and after Bob Schnuerle became the test pilot for Curtis Pitts, I flew his in some shows. Of course, a Pitts meets the grading criteria so well… it's a wonderful tool and a world beater. It will make a mediocre aerobatic pilot look good.
I think anyone who can fly a Cub as Giles Henderson flies it – if you see anybody fly these airplanes with a high degree of precision, you know they've been practicing and they're also terribly good aerobatic pilots.
SPORT AEROBATICS: How do you feel about the monoplane taking over? Do you think the pendulum is going to swing back to biplanes?
PRICE: After my trip to Czechoslovakia and my viewing the Zlin and taking a lot of pictures of it, Harold Krier had developed the Krier Kraft – a very light airplane. It flew well but it was so light it showed every gust. So he came home and decided to go the monoplane route. In fact, he was one of the first. He took a Chipmunk and modified it with a Ranger engine.
The other thing that really pushed it over the hill – both Harold and I saw it – was Margaret Ritchie flying the Stephens Akro. Margaret flew it exceptionally well. Meeting the grading criteria – that has everything in the world with what you use in a contest. Where you can set lines, do maneuvers, and still set lines and then fly away. This is important under …any grading system that will be used in the future.
I love biplanes. Biplanes are my favorite.
Development of the Pitts concept has carried it so far. Pitts could easily win the contest today but they are being challenged by something with even lower drag…..
And, of course, the concept in general of a biplane is high drag. As people develop lower and lower drag homebuilt biplanes, maybe it will go back to biplanes. I am not picking one or the other.
NEWS BREIFS
INDUSTRY – PEOPLE – PLACES – WHAT'S NEW - AIRPLANES
Frank Price, IAC#10, Passes Away
Compiled by Karen Diamond, Editor, Sport Aerobatics, 8 October, 1999
Perhaps the most recognized pioneer in American aerobatics, Frank Price died September 9 at age 77. Price was well known for his self-financed 1960 journey to Europe for the 1st World Aerobatic Championships. At his own expense, he shipped his Great Lakes from New York to Munich, reassembled it and flew to Bratislava for the contest. There, he participated, as the lone UAS competitor at the first WAC.
Frank Price soloed as a combat glider pilot. After leaving the military, he started his crop dusting business and flew airshows on the weekends. But after that first competition experience in Europe, he decided aerobatics in America could benefit by an organized effort to promote the sport. He then formed the very first American aerobatic club – the American Tiger Club. The club sponsored the yearly "Tiger Days" fly-ins for 25 years at Waco, Texas. They featured two days of aerobatic exhibitions and instruction and drew hundreds of pilots, including visitors from some 27 foreign countries.
Frank Price was also instrumental in helping with the formation of the Aerobatic Club of America or "ACA". In 1970, he was one of the original ten people who started the International Aerobatic Club, thus Frank's IAC number of 10.
After retiring from airshow flying, Frank Price and his wife Celesta turned their attention to restoring a century-old Victorian home in Moody, Texas. In 1987, Mr. Price was inducted into the International Aerobatics Hall of Fame – one of the four original inductees, along with Jose Aresti, Duane Cole, and Curtis Pitts.