Each year, the membership of the IAC nominates outstanding volunteers to be recognized for their contribution to the sport of aerobatics. The award winners are selected by a secret ballot of the IAC Board of Directors.
Nomination period for the 2019 flying season is Open.

Click here submit a nomination for the 2019 flying season, or click here to download an IAC nomination form.  Deadline will be in June 7, 2020.
Frank Price Cup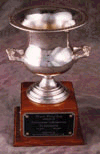 The purpose of this award is to recognize the person who has contributed the most to the sport of aerobatics in the previous year. The award is presented annually and will be selected by a secret ballot of the IAC Board of Directors. Nominations can be submitted by any IAC member. The award was conceived and donated by R. J. Rouse of Texas. It was created to recognize outstanding individuals in aerobatics and in honor of aerobatic pioneer Frank Price, the first American to compete in the World Aerobatic Championships. details
Robert L. Heuer Award for Judging Excellence
Member Sam Burgess of San Antonio, Texas conceived the idea for presenting a trophy to the outstanding aerobatic judge each year. He provided the permanent trophy to recognize the outstanding achievements made to competition aerobatics by the judges. The Award is given annually for outstanding performance as an aerobatic judge during the contest year. General guidelines, though not requirements, for the award include National Judgeship and having judged a minimum of three contests, one of which should have been the IAC Championships or the U. S. Nationals. details






Kathy Jaffe Volunteer Award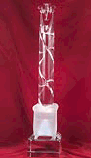 This award recognizes an outstanding volunteer during the previous year. The award was donated in memory of Kathleen Jaffe. Her spirit and enthusiasm for aerobatics and the aerobatic community were truly remarkable. She was president of IAC Chapter 52, contest director, newsletter editor, and contributor to Sport Aerobatics magazine. Kathy also gave lectures to everyone from aviation related groups to schoolchildren on the joy of flying and especially aerobatics. She was also a competition pilot. She died in 1999. details
Harold E. Neumann Award for Outstanding Contribution as a Chief Judge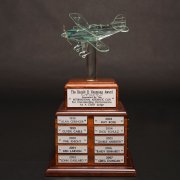 The family of Harold E. Neumann has provided the permanent trophy in 1998 to recognize the outstanding chief judge and to honor the name of Harold E. Neumann, Collier Aviation Trophy recipient, Thompson Trophy Race winner, active IAC competitor and judge until well into his 70's. The Award is given annually for outstanding contribution as a Chief Judge during the prior contest year. General guidelines, though not requirements, for the award include a person known for leadership qualities and fairness on the judges line. details
Curtis Pitts Memorial Trophy

This award was donated by the Pitts family in the memory of Curtis Pitts. From the first design called the "Little Stinker" in 1944 to the Model 14 designed just before his death in 2005, Curtis Pitts was one of the most prolific aircraft designers in aviation history. His designs, and their descendants, forever changed the world of aerobatics. details